The spokesman for the ISIS terrorist group, Abu Hassan al-Muhajir, has been killed in a joint operation between Syrian Kurdish forces and U.S. troops in northern Syria—just hours after the group's leader, Abu Bakr al-Baghdadi, was killed, according to a Kurdish commander.
Mazloum Abdi, the commander of the Kurdish-led Syrian Democratic Forces made the comments on Oct. 28, describing how his group's intelligence cooperated with the U.S. military to target al-Baghdadi's aide. His comments follow a White House speech from President Donald Trump on Oct. 27, where he announced the killing of al-Baghdadi by U.S. forces.
The death of al-Muhajir has left ISIS without an obvious leader—a major setback for a terror organization that in March was forced by American troops and Kurdish forces out of the last portion of its self-declared "caliphate," which once spanned a swath of Iraq and Syria.
Abdi said the operation targeted al-Muhajir in a village near Jarablus, a town in northwestern Syria. He said it was part of ongoing operations to hunt down ISIS leaders.
The White House and the Pentagon did not immediately respond to a request by The Epoch Times for confirmation of the death of al-Muhajir.
The Britain-based Syrian Observatory for Human Rights also reported al-Muhajir's death, saying he was traveling in a convoy of an oil tanker and a sedan. The bodies of those killed in the attack were charred and it wasn't immediately clear how al-Muhajir's identity could have been confirmed.
The capturing or killing of the fugitive leader of the ISIS terrorist group was a top national security priority under the Trump administration, the president said from the White House.
Trump noted that no U.S. personnel died in the risky nighttime raid carried out by Special Operations forces in northwestern Syria over the night of Oct. 26. A large number of al-Baghdadi's fighters and companions were killed along with him.
Syrian Kurdish forces spokesman Mustafa Bali said his fighters believe al-Muhajir was in Jarablus to facilitate al-Baghdadi's travel to the area, which is administered by Turkey-backed fighters.
"More (ISIS terrorists) remain hiding in the area," Bali said late on Oct. 27.
Al-Muhajir was also reportedly believed to be a possible successor to al-Baghdadi.
Trump said that al-Baghdadi's identity was confirmed by DNA test results that "gave certain and positive identification."
U.S. forces stayed in the area for approximately two hours after the mission was done, where they took "highly sensitive material and information from the raid," Trump said. Al-Baghdadi has led ISIS for the last five years.
The president told reporters he watched the raid as it happened with Vice President Mike Pence and others in the White House Situation Room.
Defense Secretary Mark Esper said in an interview on ABC that Trump made the decision to launch the raid against al-Baghdadi. Esper said there were several options available to Trump with regard to the kinds of operations, with the president deciding to launch a ground raid.
Esper said there were less than one hundred U.S. forces on the ground but that there were others involved in other parts of the operation.
He said after years of trying to track Baghdadi, they finally got their break after some "very good intelligence work," adding that they had cooperation from other partners.
"We did have a number of aircraft, different types. I don't want to get into details but principally the CH-47s helicopters … to put the raid force on the ground and they were on the ground for two-plus hours."
"Our troops are the best in the world," Esper said. "They know what they're doing. They've done this hundreds of times and it was a brilliantly executed operation. And the president deserves credit for giving it the green light."
The Associated Press contributed to this report
---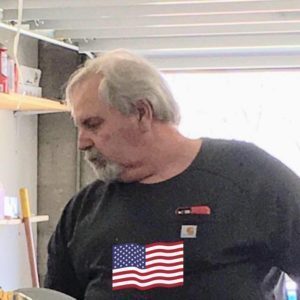 Frank Sturgill is a Citizen Journalist for C-VINE News Network. A former Police Officer, Frank"s hobbies include Old School Motorcycles, Computers, and Ham Radio.