Inquiry into origins of investigations of Trump campaign expand to Italy, Australia, the United Kingdom
The Department of Justice (DOJ) investigation into spying on the campaign of President Donald Trump is going global, with Attorney General William Barr and U.S. Attorney John Durham communicating and meeting with officials from Italy, Australia, the UK, and other nations.
Australian Prime Minister Scott Morrison told Trump during a phone call that his government is ready to assist with the investigation, a spokesperson from Morrison's office confirmed to The Epoch Times. Australia had offered to help Barr with the investigation as early as May 28, just two weeks after the attorney general appointed Durham to lead the probe, according to a letter addressed to Barr from Joe Hockey, Australia's ambassador to the United States.
"The Australian government has always been ready to assist and cooperate with efforts that help shed further light on the matters under investigation," the Morrison spokesperson said.
"The Prime Minister confirmed this readiness once again in conversation with the president," the spokesperson said, referring to a phone call that was the subject of a report by The New York Times.
Trump made the introductions to Australia and Italy at Barr's request, a DOJ official told ABC on Oct. 1. Barr and Durham met with senior Italian intelligence officials during a trip to Italy on the week of Aug. 26, the same official confirmed.
"As the Department of Justice has previously announced, a team led by U.S. Attorney John Durham is investigating the origins of the U.S. counterintelligence probe of the Trump 2016 presidential campaign. Mr. Durham is gathering information from numerous sources, including a number of foreign countries," DOJ spokeswoman Kerri Kupec said in a statement, according to ABC.
"At Attorney General Barr's request, the President has contacted other countries to ask them to introduce the Attorney General and Mr. Durham to appropriate officials."
The DOJ didn't respond to a request from The Epoch Times to confirm the statements provided to ABC.
Durham also is reviewing information his team received from private individuals in Ukraine, a DOJ spokesperson confirmed to The Epoch Times.
Durham's investigation is going global at the same time as Barr and Trump are under growing attacks by congressional Democrats and their media allies about a phone call the president had with Ukrainian leader Volodymyr Zelensky. During the phone call, Trump inquired about a server tied to the cybersecurity firm CrowdStrike, which analyzed the Democratic National Committee server after it was allegedly hacked by Russian intelligence operatives.
"Barr is following the facts where they lead about how the false collusion narrative started," Rep. Jim Jordan (R-Ohio) wrote on Twitter. "This effort requires talking to intelligence agencies around the world. That's why he's gathering information from our allies, like Australia, Britain, and Italy.
"Democrats are running scared of what Barr's fact-finding will uncover. That's why they're trying to undermine him. But he'll get to the truth."
The FBI counterintelligence of the Trump campaign officially started on July 31, 2016, based on a tip about a conversation between senior Trump campaign associate George Papadopoulos and Australian diplomat Alexander Downer. Papadopoulos told Downer during a meeting in London that Russians had "dirt" on then-candidate Hillary Clinton.
The FBI investigators eventually secured a Foreign Intelligence Surveillance Act (FISA) warrant on Trump campaign associate Carter Page. While the extent of the spying granted still isn't public, it's possible the communications of the entire campaign were captured via the Page FISA warrant.
The warrant application relied heavily on an opposition research dossier on then-candidate Trump compiled by former UK spy Christopher Steele, with whom the bureau cut ties after learning that he was leaking to the media. Steele paid second- and thirdhand sources with ties to the Kremlin for information in the dossier; the Clinton campaign and the Democratic National Committee paid for the Steele dossier via the Perkins Coie law firm.
The Steele dossier was widely distributed to the media and Obama administration officials before and after the 2016 election. An FBI official in Italy was one of the first to receive a copy.
The FBI investigation of the Trump campaign evolved into the special counsel probe led by Robert Mueller, after Trump fired FBI Director James Comey in May 2017. Mueller finished his investigation in March, concluding that there wasn't enough evidence to establish that Trump colluded with Russia to influence the 2016 election.
Some of the same media outlets that perpetuated the now-debunked Trump–Russia conspiracy theory are now criticizing Barr's inquiry. The Washington Post suggested that Barr's overtures to Italy and Australia have "a conspiratorial focus," while a New York Times reporter, without evidence, wrote that Trump "is using federal law enforcement powers to aid his political prospects" and "settle scores with his perceived 'deep state' enemies."
"Bill Barr is doing exactly what he should: investigate and get to the bottom of how a collusion conspiracy, with no real basis, spread through senior levels of our Justice Department and gripped America for 3 years," Rep. Mark Meadows (R-N.C.) wrote on Twitter.
"One has to wonder why the people who were the loudest in spreading the Russian collusion hoax are now the same people most vehemently opposed to investigating its true origins. Troubling."
The Durham investigation for some time ran alongside a separate, extensive review centered on the Page FISA application, conducted by DOJ Inspector General Michael Horowitz. In a Sept. 13 letter to lawmakers, Horowitz said that he had submitted a draft copy of the report to the DOJ. His team had reviewed more than 1 million records and conducted more than 100 interviews.
Horowitz is obliged to forward evidence of any criminality to Durham, who has the power to bring charges against any alleged perpetrators. Horowitz told lawmakers recently that he has been in contact with Durham.
Top Democrats and their media allies are painting the Barr–Durham inquiry as a political weapon wielded by Trump as part of his 2020 campaign. In doing so, both the media and those lawmakers have at times resorted to omissions and falsehoods.
For example, some media reporting on Trump's call with Zelensky skipped over several hundred words from the transcript in an apparent effort to tie Trump's request for a "favor" to his request to look into potential impropriety by former Vice President Joe Biden, who's a 2020 presidential candidate. The portion which the media skipped over referred to Trump's comments about the CrowdStrike server.
In addition, Rep. Adam Schiff (D-Calif.) made up portions of the Trump–Zelensky transcript during his statement at a hearing of the House Intelligence Committee, which he chairs. Schiff's fabricated version of the transcript created the appearance that Trump pressured Zelensky to investigate Biden. After being called out for it, Schiff said he did so in jest. In response, Trump called on Schiff to resign for making false statements to Congress.
On Oct. 2 the president suggested for the first time that the ongoing investigations may result in a "major lawsuit."
"I've been looking at that long and hard for a long period of time. How it started, why it started, it should never happen to another president, ever. But I've been talking about it from the standpoint of bringing a major lawsuit, and I've been talking about it for a long time. We've been investigating the corruption having to do with what they did to my people. They destroyed many people," Trump said.
Follow Ivan on Twitter: @ivanpentchoukov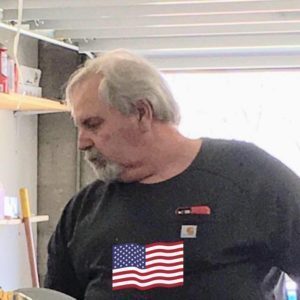 Frank Sturgill is a Citizen Journalist for C-VINE News Network. A former Police Officer, Frank"s hobbies include Old School Motorcycles, Computers, and Ham Radio.