Former first lady, secretary of state, and presidential contender Hillary Clinton dismissed women and girls who have expressed how uncomfortable they became when touched by former vice president and current presidential hopeful Joe Biden.
Clinton, 71, was with her daughter Chelsea Clinton, 39, promoting the new book they wrote together.
"For goodness' sake, I'm sorry, I have to jump in because I've heard a little bit about that," Clinton told People magazine. "I mean, I don't think that the Twitterverse is the American electorate, but there are lots of vocal voices that say all kinds of things."
She said Biden, 76, "is a thoroughly decent human being who has served our country honorably and well for decades."
"You could take any person who sticks their little head above the parapet and says, 'I'm going to run for president,' and find something that … a little annoying habit or other kind of behavior that people are going to pick apart and disagree with," she continued.
Biden for years has come under scrutiny for his physical contact that includes repeatedly touching women and girls he comes into contact with, although some women, like Stephanie Carter, have defended him.
On the other side, former Nevada lieutenant governor candidate Lucy Flores wrote an essay in March describing a 2014 interaction with Biden, who attended a political event to endorse Flores.
She said Biden came up behind her and put his hands on her shoulders before leaning in and inhaling her hair.
"I was mortified," she wrote. "I thought to myself … 'What in the actual [expletive]? Why is the vice-president of the United States smelling my hair?'"
She was embarrassed and shocked, she wrote, and even more so when he kissed the back of her head, leaving her temporarily paralyzed.
"He made me feel uneasy, gross, and confused. The vice-president of the United States of America had just touched me in an intimate way reserved for close friends, family, or romantic partners—and I felt powerless to do anything about it," Flores wrote.
Biden released a statement saying he'd never acted inappropriately.
"In my many years on the campaign trail and in public life, I have offered countless handshakes, hugs, expressions of affection, support and comfort," Biden said. "And not once—never—did I believe I acted inappropriately. If it is suggested I did so, I will listen respectfully. But it was never my intention. I may not recall these moments the same way, and I may be surprised at what I hear."
Biden said in a Twitter video he would change his behavior, citing changing social norms, but soon after touched a 10-year-old while at a campaign event.
Soon after, several other women, including 43-year-old Amy Lappos, said Biden touched them inappropriately.
Lappos said Biden grabbed her during a 2009 fundraiser.
"It wasn't sexual, but he did grab me by the head," Lappos said. "He put his hand around my neck and pulled me in to rub noses with me. When he was pulling me in, I thought he was going to kiss me on the mouth."
In a Facebook post, she blasted people who think the "grossness of men invading women's boundaries to sniff and touch is debatable."
Follow Zachary on Twitter: @zackstieber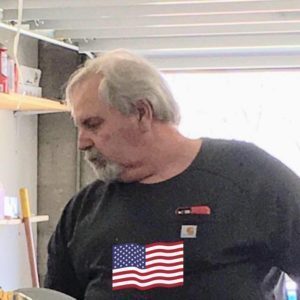 Frank Sturgill is a Citizen Journalist for C-VINE News Network. A former Police Officer, Frank"s hobbies include Old School Motorcycles, Computers, and Ham Radio.