BY 
Oct 7,2019
Sen. Graham Says He'll Introduce Sanctions After Syria Pullback: 'A Disaster in the Making'
Sen. Lindsey Graham (R-S.C.) said he will introduce bipartisan sanctions against Turkey should it cross the Syrian border and attack Kurdish forces.
The move came after President Donald Trump announced that U.S. troops are being withdrawn from the border region in Syria.
"I hope and expect sanctions against Turkey—if necessary—would be veto-proof," Graham said

.

"This decision to abandon our Kurdish allies and turn Syria over to Russia, Iran, & Turkey will put every radical Islamist on steroids. Shot in the arm to the bad guys. Devastating for the good guys," the senator also tweeted, adding: "If press reports are accurate this is a disaster in the making."
He said he spoke with Sen. Chris Van Hollen (D-Md.) to introduce sanctions.
"We will introduce bipartisan sanctions against Turkey if they invade Syria and will call for their suspension from NATO if they attack Kurdish forces who assisted the U.S. in the destruction of the ISIS Caliphate," he wrote.
On the morning of Oct. 7, Trump dug in his heels following the decision to withdraw the troops amid backlash from former Obama administration officials, several former Trump administration officials, and some lawmakers.
"I was elected on getting out of these ridiculous endless wars, where our great Military functions as a policing operation to the benefit of people who don't even like the USA. The two most unhappy countries at this move are Russia & China, because they love seeing us bogged down," he wrote on Twitter.
Trump then panned the "endless and ridiculous" wars, adding that the U.S. military was "totally depleted" before he took office.
Opponents of the move said that the United States was abandoning its Kurdish allies, claiming that the ISIS terrorist group would return to the region.
Trump said that the Kurds "fought with us" but were paid large amounts of money and were provided equipment to do so.
Rep. Liz Cheney (R-Wyo.) wrote that withdrawing American forces from Syria "is a catastrophic mistake that puts our gains against ISIS at risk," adding that it ignores the "lesson of 9/11" that "terrorists thousands of miles away can and will use their safe-havens to launch attacks against America."
Trump called for a complete withdrawal from Syria last year but reversed course after pushback from the Pentagon.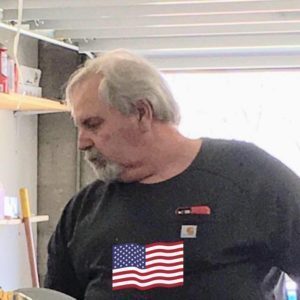 Frank Sturgill is a Citizen Journalist for C-VINE News Network. A former Police Officer, Frank"s hobbies include Old School Motorcycles, Computers, and Ham Radio.