September 27, 2019
The Ukranian prosecutor that resigned in 2016 says he was forced out because of then-U.S. Vice President Joe Biden.
Biden bragged last year that he got the prosecutor, Viktor Shokin, dismissed.
In a newly published sworn affidavit, obtained by The Hill, Shokin said he was told the reason he was forced out in March 2016: Biden wasn't pleased with the investigations into Burisma, an energy company for which Biden's son, Hunter Biden, served on the board.
Shokin said he tendered his resignation at the request of President Petro Poroshenko, who "asked me to resign due to pressure from the U.S. presidential administration, in particular from Joe Biden."
"Biden was threatening to withhold USD$ 1 billion in subsidies to Ukraine until I was removed from office."
Biden in 2018 told an audience at the Council of Foreign Relations event what happened in 2016.
"I remember going over, convincing our team, our leaders to—convincing that we should be providing for loan guarantees. And I went over, I guess, the 12th, 13th time to Kiev. And I was supposed to announce that there was another billion-dollar loan guarantee. And I had gotten a commitment from Poroshenko and from Yatsenyuk that they would take action against the state prosecutor. And they didn't," Biden said.
"So they said they had—they were walking out to a press conference. I said, nah, I'm not going to—or, we're not going to give you the billion dollars. They said, you have no authority. You're not the president. The president said—I said, call him. I said, I'm telling you, you're not getting the billion dollars. I said, you're not getting the billion," he continued.
"I'm going to be leaving here in, I think it was about six hours. I looked at them and said: I'm leaving in six hours. If the prosecutor is not fired, you're not getting the money. Well, son of a [expletive]. He got fired. And they put in place someone who was solid at the time."
Biden did not mention that the prosecutor was probing Burisma or that his son, Hunter Biden, was on Burisma's board.
In the newly published affidavit, Shokin, the prosecutor, said that the official reason stated for his dismissal was allegedly failing to secure the public trust. He asserted that neither Poroshenko, other state officials, or officials in the Obama administration had previously complained about his work.
"The truth is that I was forced out because I was leading a wide-ranging corruption probe into Burisma Holdings, a natural gas firm active in Ukraine, and Joe Biden's son, Hunter Biden, was a member of the Board of Directors," Shokin wrote.
"I assume Burisma, which was connected with gas extraction, had the support of the of the US Vice-President Joe Biden because his son was on the Board of Directors."
Shokin said Poroshenko, Ukraine's president at the time, came to him multiple times and asked him to close down the probe into Burisma but the prosecutor refused.
"In my conversations with Poroshenko at the time, he was emphatic that I should cease my investigations regarding Burisma. When I did not, he said that the U.S. (via Biden) were refusing to release the USD$ 1 billion promised to Ukraine. He said that he had no choice."
Shokin said that he agreed to resign because he wanted to do what was best for Ukraine but changed his mind after the fact after Biden bragged about getting him removed in 2018.
Follow Zachary on Twitter: @zackstieber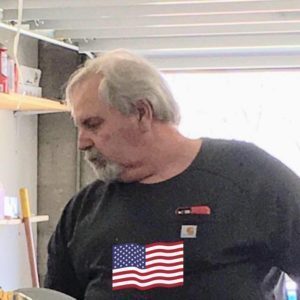 Frank Sturgill is a Citizen Journalist for C-VINE News Network. A former Police Officer, Frank is also a Ham Radio Operator.