Texas Fed Judge Says Trump's Emergency Declaration For Border Wall Funding Was 'Unlawful'
A U.S. judge in Texas ruled against President Donald Trump's national emergency declaration in February that enabled funds to be directed toward building the southern border wall.
In a Friday ruling Judge David Briones of the Western District of Texas granted a preliminary injunction in a lawsuit filed by El Paso County, Texas, and the Border Network for Human Rights, an immigrant rights group.
Briones called Trump's emergency declaration to divert military funding to the border wall "unlawful," alleging that doing so had violated the Consolidated Appropriations Act (CAA).
"Here we have far more than 'indicia' or legislative history establishing Congressional expectations as to how the funds are spent: the plain text of the CAA restricts the amount and location of funding for border barrier construction," Briones wrote.
"The congressional language in the CAA itself reveals Congress's intent to limit the border barrier funding," he reiterated later.
He ordered the plaintiffs to propose the scope of the injunction within 10 days and will let the administration respond to the proposal within five days.
The two groups are seeking to stop Trump's efforts to reallocate funds toward building the border wall beyond the $1.375 billion that had been approved by Congress.
According to Politico, lawyers for the plaintiffs said they plan to propose an order to block a combined $6.1 billion in funding for the border wall—$3.6 billion enabled through the emergency declaration, and $2.5 billion that was reallocated from counterdrug activities.
But Briones noted that his ruling would not address the funds that did not require a national emergency declaration to be reallocated.
$8.1 Billion Toward Border Wall
Congress on Feb. 14 approved $1.375 billion for construction of "primary pedestrian fencing" along the border in southeastern Texas after a protracted political battle that triggered a 35-day partial shutdown of the federal government. The shutdown between Dec. 22 and Jan. 25 was the longest in U.S. history.
While it was well short of Trump's demands, he signed the funding and said that he would get the money another way to address the humanitarian crisis on the southwest border.
Trump declared a national emergency on Feb. 15, and the move enabled him to redirect $3.6 billion of Department of Defense funds—originally slated for military construction projects—toward building the U.S.-Mexico border wall. Such funds are beyond what Congress approved.
Trump also reallocated funds from other departments totaling $3.1 billion: $2.5 billion from Defense Department counterdrug activities, and $601 million from the Treasury Department's asset forfeiture fund. Such funds didn't require declaring a national emergency to be available.
The above numbers amount to a total of about $8.1 billion the White House secured toward border wall construction.
Since taking office, Trump has demanded that Congress fund construction of a wall on the southern border—his landmark campaign promise.
The White House said in November 2018 that about 2,000 illegal immigrants enter the United States each day, many of whom have criminal histories or are gang members.
According to the Drug Enforcement Administration (DEA), Mexican cartels have been taking advantage of the porous southern border to smuggle vast amounts of drugs into the country, contributing to an already devastating opioid crisis.
According to a former Department of Homeland Security (DHS) agent, some 10,000 children are trafficked across the border every year to be sold as sex slaves.
In July, the Supreme Court cleared the way for the $2.5 billion in defense department funds to go toward more than 100 miles of fencing. A lower California court had temporarily prevented Trump from unilaterally appropriating the funds.
In early September, Defense Secretary Mark Esper approved the diverting of the $3.6 billion that was slated toward military construction projects to building some 175 miles of wall along the U.S.-Mexico border.
Ivan Pentchoukov and Petr Svab contributed to this report.
Follow Mimi on Twitter: @MimiNguyenLy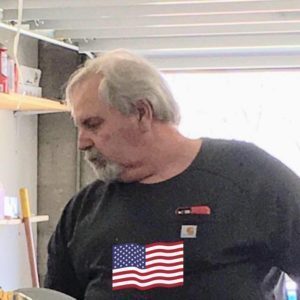 Frank Sturgill is a Citizen Journalist for C-VINE News Network. A former Police Officer, Frank"s hobbies include Old School Motorcycles, Computers, and Ham Radio.