BY 
October 8, 2019
Updated: October 8, 2019
President Donald Trump's 2020 campaign is accusing the mayor of Minneapolis of abusing his office by trying to block an upcoming rally in the Minnesota city.
Trump is slated to appear at the Target Center on Oct. 10.
According to the campaign, Mayor Jacob Frey "is abusing the power of his office and attempting to extort President Trump's re-election campaign by conjuring a phony and outlandish bill for security in an effort to block a scheduled Keep America Great rally."
The city government told the Target Center that it had to put up $530,000 for security and other costs linked to the event, despite the campaign telling the center that the U.S. Secret Service would be coordinating security, according to the campaign.
That was more than 26 times the estimated security costs for a healthcare rally held by President Barack Obama at the center in 2009.
The Target Center told the Trump campaign that it would have to pay the $530,000. If it did not, the rally could not be held at the center.
The costs are a matter between the city and the Secret Service, according to the Trump campaign. It's threatening a lawsuit

.

"We are well aware of Mayor Frey's vocal partisan opposition to President Trump and calls to disrupt the rally," read a letter from Trump law firm Jones Day to the Target Center's management firm. "This last-minute squeeze seems to be nothing but a pretextual political effort with serious First Amendment ramifications."

"This is an outrageous abuse of power by a liberal mayor trying to deny the rights of his own city's residents just because he hates the President," said Trump campaign manager Brad Parscale in a statement. "People want to hear from their President, and no mayor looking to beef up his resume for a run for higher office should stand in the way."
Neither Frey, other city officials, nor the Target Center has directly responded to the campaign's accusations.
City officials previously told the Minneapolis Star-Tribune that they didn't know how much the rally would cost the city but thought the event would be expensive.
Minneapolis City Attorney Susan Segal said "it's not fair" for the city to pay the costs associated with the rally and other events, such as sporting events.
"It's an unfunded expense and it should be borne by those who are putting on the event or at least the venue operators, it's an expense that should be accounted for," Segal said. "It doesn't matter who the candidate is or what the event is, if it's anticipated that there will be a need for additional response … a source of revenue for that needs to be found."
About the rally, she added that "we're optimistic that we will be able to recover much of the costs."
Duluth spokeswoman Kate Van Daele told the paper that the city didn't send the campaign an invoice for Trump's 2018 rally there because, historically, elected officials, "regardless of party" do not respond to such invoices.
Trump and Frey traded shots on Twitter on Monday. Trump called Frey a "lightweight mayor" and called on Minnesota to "dump Frey and [Rep. Ilhan] Omar" and "Make America Great Again!"
Frey responded by saying: "Yawn… Welcome to Minneapolis where we pay our bills, we govern with integrity, and we love all of our neighbors."
A day prior, Frey shared a message from Minnesota's Democratic-Farmer-Labor party that called on people to donate in response to Trump visiting Minnesota.
"Trump is coming to Minnesota this week to break our blue wall and flip our state red in 2020. That can't happen. We're launching a #MoneyBlizzard to make sure we have the resources to fight back against his hateful campaign," the leftwing party stated.
The party noted that Trump only lost to Hillary Clinton in Minnesota by 1.5 percentage points in 2016 and called Trump's visit "bad news for Dems everywhere."
"Trump almost winning Minnesota was not a fluke. Minnesota, one of the last bastions of progressivism in the Midwest, has been trending more and more red in the last few presidential elections," the party said.
After saying the Trump campaign is hiring so many staffers in Minnesota that "we just can't keep up," the party added: "Here's the bottom line: There is no path to a Democratic victory in the Presidential race without Minnesota in the blue column. If Trump flips MN red by flooding our state with money and campaign staff, we are guaranteed to have four more years of President Donald Trump."
"We've seen this playbook before. Trying to drive a wedge between Minneapolis and Greater Minnesota didn't work in 2018 and—with your help—it won't work in 2020," Frey wrote while sharing the party's message, angering some Minneapolis Trump supporters on Twitter.
The contention between Minneapolis and the Trump campaign comes after the city's police department banned officers from wearing their uniforms while supporting candidates at events or in advertisements.
Frey celebrated the move, saying: "Our police department is not a political organization, neither Democrat nor Republican. I support Chief Arradondo's vision for keeping the department apolitical & his new policy banning the use of the MPD uniform for political campaigning & union activities."
The decision was criticized by some, including Lt. Bob Kroll, head of the Police Officers Federation of Minnesota.
He said during a recent appearance on Fox News: "If you look in the past, when Bill Clinton appeared here, he was lined with blue because they directed our officers against their will to be behind him in the backdrop. They made sure they had a diverse-looking crew of uniformed officers behind Bill Clinton when he was here and this one is exactly the opposite with President Trump coming."
Kroll said that police officers support Trump.
"He stands with police and military, it's self-explanatory, so my members are outraged. A lot of them want to be there, they want to be in the backdrop, have an opportunity to meet him," he said. "He's shown he's a very pro-law enforcement president."
Follow Zachary on Twitter: @zackstieber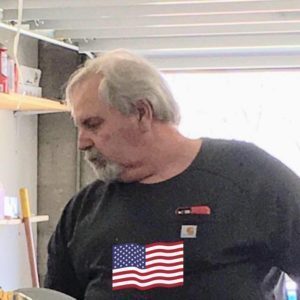 Frank Sturgill is a Citizen Journalist for C-VINE News Network. A former Police Officer, Frank"s hobbies include Old School Motorcycles, Computers, and Ham Radio.