The ruling means the mandate is back in effect in 26 states.
December 15, 2021 By Zachary Stieber ~
A federal appeals court on Wednesday reversed a nationwide ban on President Joe Biden's COVID-19 vaccine mandate for some 17 million health care workers.
The emergency rule will take effect in 26 states due to the ruling from a three-judge panel on the 5th U.S. Circuit Court of Appeals.
Two federal judges last month blocked the mandate. The first ruling applied to just 10 states; the second expanded the preliminary injunction across the nation.
But the appeals court said it found "little justification" for the second move in the opinion issued by U.S. District Judge Terry Doughty, a Trump nominee, on Nov. 30.
Doughty's order lacked a "constitutional uniformity principle" seen in previous cases like Texas v. United States or concerns outlined in that case and others "that patchwork rulings would undermine an injunction limited to certain jurisdictions," they said in a 6-page opinion.
The panel that put forth the ruling consisted of Judges Leslie Southwich, a George W. Bush nominee; James Graves Jr., an Obama nominee; and Gregg Costa, another Obama nominee.
The mandate, issued last month by the Centers for Medicare and Medicaid Services (CMS), covers roughly 17 million workers. It requires facilities that receive Medicare or Medicaid funding to force workers to get vaccinated. It has no testing opt-out.
The deadline for meeting the mandate is Jan. 4, 2022.
It remains blocked under Doughty's order in Alabama, Arizona, Georgia, Idaho, Indiana, Kentucky, Louisiana, Mississippi, Montana, Oklahoma, Ohio, South Carolina, West Virginia, and Utah.
It remains blocked under a separate order from U.S. District Judge Matthew Schelp, a Trump nominee, in Alaska, Arkansas, Iowa, Kansas, Missouri, Nebraska, New Hampshire, North Dakota, South Dakota, and Wyoming.
A preliminary injunction is temporary while a case is resolved.
"This court action does not change anything for Louisiana's healthcare heroes; they remain protected by Judge Doughty's injunction," Louisiana Attorney General Jeff Landry, a Republican who is leading the challenge to the mandate, told The Epoch Times in an email.
CMS did not immediately respond to a request for comment.
The agency had last week suspended enforcement of the mandate but top officials said they remained confident they would ultimately prevail against the litigation.
Two other appeals courts ruled against the Biden administration in similar cases this week.
The Eighth Circuit U.S. Court of Appeals rebuffed an effort by the administration to lift the injunction entered by Schelp. The Sixth Circuit Court of Appeals, meanwhile, on Wednesday denied requests for the full court to hear the consolidated challenges to the vaccine mandate promulgated by the Department of Labor's Occupational Safety and Health Administration (OSHA).
"Less than a majority of the active judges of this court having voted in favor of initial hearing en banc," the court said in a brief filing.
The OSHA rule, which was suspended after being blocked by a nationwide preliminary injunction, will now be considered by a three-judge panel on the Sixth Circuit.
C-VINE News Volunteer Citizen Journalists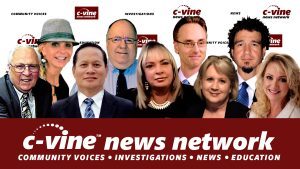 Please click and bookmark:
 C-VINE Social Media Channels 
 *C-VINE.Com, https://c-vine.com
*C-VINE-Telegram,  https://t.me/CVINENEWS
*C-VINE-MeWe, https://mewe.com/join/C-VINE
*C-VINE-Rumble,  https://rumble.com/user/CVINE
*C-VINE YouTube Channel,  https://www.youtube.com/c/CVINENewsNetwork/videos
*C-VINE Commentary & Analysis, https://www.facebook.com/groups/895771901163001/
(The Commentary group, above link, is censored by Facebook and anti-NWO agenda posts / comments carry the risk of personal profile deletion.)
*C-VINE Business Network,  https://www.facebook.com/groups/1242625425864710
*C-VINE Natural Health News Network, https://www.facebook.com/groups/cvinehealth
*C-VINE Patriot Prayer Brigade, https://www.facebook.com/groups/4826437259486216