By JoLynn Live
March 8, 2021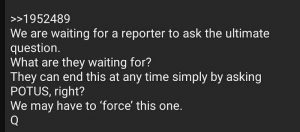 There is no such thing as QAnon, however there is Q and there are Anons.  
Grant Stinchfield of Newsmax set out to debunk the Mainstream Media's rumors and conspiracy theories in this October 17, 2020 tweet. The media calls Q a cult group that believes in Satanic Sex rings, calls to violence, vampires and inter-dimensional beings.
Stinchfield researched the 4,880 Q posts to date and found Zero mention of any of those things adding, "The media lies to hurt Donald J. Trump."  The fictional account is clearly coming from the media, not Q nor the Anons! Stinchfield could not find one post encouraging a meet-up proposing violence … not one!
Anons are simply 'We the People,' who researched topics posted on the Q boards.  
If the Media knows all about Q and has given them the description above, wouldn't they at least know the accurate name the movement is called?  
Followers of the movement are not a cult as Wikipedia suggests but are Patriots (We the People) around the globe who simply want to explore the truth of historical and current events.  Some of what is being uncovered is exactly opposite of what is being reported.
For instance, Jeffery Epstein was said to be a wealthy math professor, living within elite circles. He owned millions of dollars in properties around the world including, Little St. James Island, in the U.S. Virgin Islands.
Anons who were labeled, 'Conspiracy Theorists,' begged the questions: "How could a math professor gain so much wealth? Who funded his luxurous lifestyle? Are claims of young girls taken to the island being held for their 'services,' actually true?" 
These are the questions Anons (We the People) are asking, researching, and investigating. Why is the MSM shutting down research by crying, "Conspiracy Theory," and are trying to link Donald J. Trump to it? 
What factual basis do they have to label Anons as "Conspiracy Theorists," if some of what Anon's research suggests has come true in a court of law?
We now know Jeffery Epstein and his lover, Ghislaine Maxwell, gained wealth by providing underage prostitution to numerous wealthy aristocrats of society. They were arrested… conspiracy, no more! 
What other Conspiracy Theories are yet to be uncovered by Anons (We the People) who simply want the truth? Anons are not out to lie about things, but are about uncovering lies with facts, evidence and certainty. It's not a conspiracy if its the truth!
No matter if they are called, Anons, We the People or Patriots,  there are loyalists around the globe who will not stop searching for truth. Is there any harm in that? Apparently, the fake news media think so!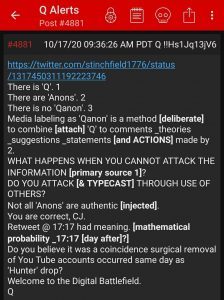 Opinion: JoLynn Live, C-VINE Contributor
Linda Forsythe contributed to this story.
---


Rep. Boebert Accuses Democrats of Being 'Obsessed With Conspiracy Theories'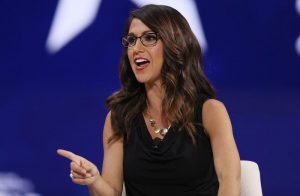 BY ZACHARY STIEBER
March 8, 2021 Updated: March 8, 2021
TheEpochTimes.com
Democrats' obsession with conspiracy theories is a major factor in fencing at the U.S. Capitol not coming down over two months after the Jan. 6 storming of the building, Rep. Lauren Boebert (R-Colo.) alleged Saturday.
"No one on the outside can get into the Capitol. It is only staffers and and members of Congress who are allowed at the people's house, at our nation's capital. This is complete bonkers, that we are keeping people out of the United States Capitol. There's clearly not a threat. There was nothing that happened on March 4. The Democrats are obsessed with conspiracy theories, and they won't let them go," Boebert said on Fox News' "Justice with Jeanine."
"We have a border fence around the people's house with miles of razor wire and Speaker Pelosi wants to keep it up," she said.
House Speaker Nancy Pelosi (D-Calif.)'s office has not returned requests for comment on whether she supports the fencing remaining in place indefinitely. She told reporters last week that thousands of National Guard troops, who have been in Washington since Jan. 6 and are patrolling openings in the fence, will stay "as long as they are needed."
The Capitol Police also last week requested the Pentagon extend the Guard support past March 12. The request came after the agency said it obtained intelligence showing a "possible plot to breach the Capitol by an identified militia group" on March 4. A joint intelligence bulletin issued on March 2 by the Justice Department, FBI, and Department of Homeland Security claimed that domestic violent extremists might target the Capitol on March 4 or March 20.
Nothing ended up happening on March 4.
A number of lawmakers have made certain allegations about the Jan. 6 Capitol breach, including alleging no Antifa activists were involved. At least one self-described activist was charged in the breach.
Lawmakers on both sides, meanwhile, oppose the fencing, arguing it's creating a totalitarian atmosphere.
"If we're not going to use a fence at the border, why should we use a fence at the Capitol?" Del. Eleanor Holmes Norton (D-D.C.) told The Epoch Times in February.
Boebert noted that Pelosi does not support a fence at the southern border while the Biden administration is pushing to curtail the number of deportations of illegal immigrants.
"And if they pass H.R. 1 through the Senate, the Democrats will have millions of illegal voters, some of them criminals, to help Democrats keep their control in 2022. I want the wall to come down. I want our National Guard to go home and stop this nonsense," she added.
House Democrats passed H.R. 1, or the For the People Act, on March 3. The bill would enact a number of voting system reforms. Its prospects are uncertain in the Senate, where Republicans hold half the seats.
---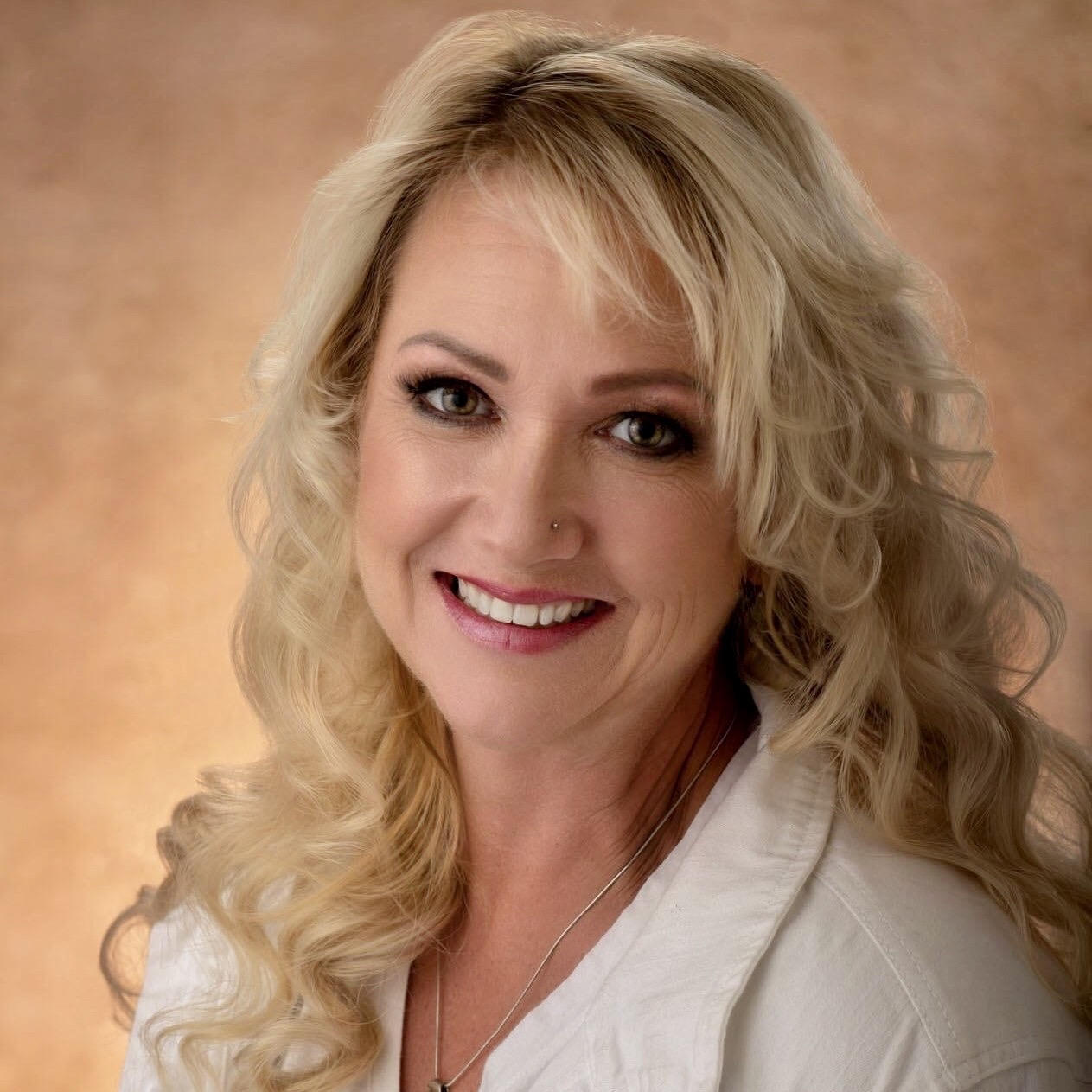 News Posted by: C-VINE Citizen Journalist, JoLynn Live! She is a Singer; a Wife of 37 years; Home-school mom to 10; Grandma to 11; Chicken Farmer; Patriot; and an active C-VINE News contributor.
Please click and bookmark:

 C-VINE Social Media Channels 
 *C-VINE.Com, https://c-vine.com
*C-VINE-MeWe, https://mewe.com/join/C-VINE
*C-VINE-Rumble,  https://rumble.com/user/CVINE
*C-VINE-Parler,  https://parler.com/profile/CVINE/posts
*C-VINE-Telegram,  https://t.me/CVINENEWS
*C-VINE YouTube Channel,  https://www.youtube.com/c/CVINENewsNetwork/videos
*C-VINE Commentary & Analysis, https://www.facebook.com/groups/895771901163001/
*C-VINE Business Network,  https://www.facebook.com/groups/1242625425864710
*C-VINE Natural Health News Network, https://www.facebook.com/groups/cvinehealth
*C-VINE Patriot Prayer Brigade, https://www.facebook.com/groups/482643725948621