August 10, 2019
Stay tuned!  C-Vine will have a live update by Linda Forsythe.
Bonnie Nirgude' for C-Vine
---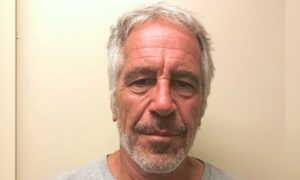 Jeffrey Epstein Reportedly Found Dead in His Jail Cell
August 10, 2019
Updated: August 10, 2019
Law enforcement sources told the New York Post that a call for a reported cardiac arrest at the Manhattan Correctional Center came in just before 6:40 a.m. on Aug. 10.
A gurney with a body that appeared to be Epstein was taken out of the center nearly an hour later.
Sources told ABC that Epstein committed suicide.
Epstein, 66, was recently denied bail while awaiting trial on sex trafficking charges. Authorities said he sexually abused and exploited dozens of girls, some of them as young as 14.
Thousands of documents relating to his alleged wrongdoing were unsealed on Friday.
Epstein was previously found injured in his cell on July 24. Authorities reportedly placed him on suicide watch following a medical examination.
A lawyer for three of Epstein's alleged victims said that the financier might be murdered before the trial took place.
Spencer Kuvin, who represented three Epstein accusers in a 2008 case, speculated to The Sun, a UK tabloid, that the 66-year-old may be targeted by his rich and powerful connections who may not want him to reveal details about them to the authorities.
In particular, Kuvin said that Epstein's life is "definitely in jeopardy" if he intends to "implicate anyone in power that has the ability to reach in and somehow get to him." He added, "It'll be interesting to see whether or not Mr. Epstein attempts again to get out on bail and if he does, whether he survives between now and the date of his trial

Jeffrey Epstein looks on near his lawyer Martin Weinberg and Judge Richard Berman during a status hearing in his sex trafficking case, in this court sketch in New York on July 31, 2019. (Jane Rosenberg/Reuters)
Epstein was arrested on July 6 and at the time was expected to be charged with sex trafficking minors and molesting dozens of underage girls.
Right after his arrest, Christine Pelosi—daughter of House Speaker Nancy Pelosi—warned on Twitter that it was "quite likely" that high-profile figures in U.S. politics could be implicated in the Epstein case.
"This Epstein case is horrific and the young women deserve justice. It is quite likely that some of our faves are implicated but we must follow the facts and let the chips fall where they may—whether on Republicans or Democrats."
While it remains unclear who exactly Pelosi was referring to, Epstein is known to have ties to many high profile figures, including the United Kingdom's Prince Andrew and former U.S. President Bill Clinton.
Epstein was charged on July 8 of having sexually abused and exploited dozens of girls, some as young as 14, in New York and Florida from around 2002 to 2005. He pleaded not guilty.
A judge ordered on July 18 that Epstein be held without bail while he awaited trial. Prior to the decision, Epstein had asked to be kept under house arrest under electronic monitoring and round-the-clock surveillance. On July 22, Epstein appealed the judge's decision.
On late July 24, Epstein was found semi-conscious, lying on the floor in his jail cell in a fetal position, injured and bearing marks on his neck, NBC New York reported, citing sources close to the situation. On the same day, Epstein was returned to his jail cell at Manhattan's Metropolitan Correctional Center and placed on suicide watch after he underwent a medical evaluation.

Jeffrey Epstein appears in court in West Palm Beach, Fla. on July 30, 2008. (Uma Sanghvi/Palm Beach Post via AP, File)
Lawyer's Speculations
Kuvin told The Sun: "I question whether or not it was a true suicide attempt that Mr. Epstein was involved in jail or whether or not there may be some powerful people who just don't want him to talk."
"If he goes on trial, everyone he's been in contact with will ultimately be fair game," Kuvin told the tabloid. "There's no doubt in my mind that no jail will protect you when there's powerful people that want to reach you—wherever you are.
"I do question whether it was a true suicide attempt. I mean, how do you choke yourself? It doesn't make any sense."
Two sources told NBC New York on July 24 that Epstein may have tried to hang himself, but another source speculated that he may have been trying to transfer out of the prison, adding that his injuries were not serious.
A different source told the news station that Epstein may have been assaulted, noting that another man who had been held in the same area was questioned about the incident.
Epoch Times reporter Mimi Nguyen Ly contributed to this report.