GUANTANAMO BAY NAVY BASE, Cuba — The Pentagon abruptly ended a 9/11 pretrial hearing Tuesday because the judge in the case had a health emergency, war court spokesmen said.
Marine Col. Keith Parrella's abrupt recess presented another pretrial delay in efforts to try the five men accused of plotting al-Qaida's Sept. 11, 2001 attacks that killed 2,976 people in New York, the Pentagon and a Pennsylvania field. The next hearings are scheduled for late March.
Court personnel declined to describe Parrella's health emergency, citing privacy, but his wife and other war court personnel said the colonel had a detached retina that required surgery in the United States. The judge was airlifted around noon Wednesday. Parrella's health situation was not life-threatening, but required emergency surgery, said defense attorney Jay Connell.
Ron Flesvig, court spokesman, and Guantanamo Naval Hospital spokeswoman Joycelyn Biggs declined to comment, citing privacy.
Parrella, who is in his mid-40s, got the death-penalty case in August and has held just three hearings. He replaced now-retired Army Col. James L. Pohl, who presided on the pretrial hearings from arraignment in May 2012. It is uncertain how long Parrella is to serve on the case. The 24-year career Marine officer, who has served as a military judge for more than two years, was selected to assume the post of commander of Marine forces responsible for embassy security worldwide in the summer, a position that's consider a plum assignment.
Parrella had planned to hear closed-court testimony from a former CIA interpreter on Wednesday, handle other Sept. 11 trial business and return with war court personnel to Washington on Saturday.
"Due to a medical issue impacting the military judge's ability to work, the rest of the session is cancelled," Flesvig said in a statement Tuesday night.
NOTE: Educational parts of this report was provided by the Miami Herald – HERE
By Linda Forsythe – Volunteer Citizen Journalist, News Commentator & Founder of the C-VINE International Foundation.
This rapidly growing, grass-roots effort is exciting to watch as Patriots join together to MAGA.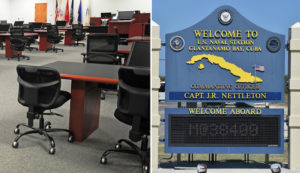 All this and future Military Tribunal information will be released to the public after Department of Defense final approval & posted on the C-VINE.com website.
---
This article was posted by our C-VINE team of volunteer workers, investigative reporters, and citizen journalists, who make certain all information is vetted for accuracy before publishing. C-VINE News is placed in a Foundation, also called a Charitable Trust and is run by, "We the People".
Conversations and discussions are being held on the C-VINE News Talk – Facebook Group Page. (Must be a Facebook member): C-VINE News Talk