May 23, 2023
Thank you to Patel Patriot, (Jon Herold) for informing the public they have easy access to GTMO proceedings and information!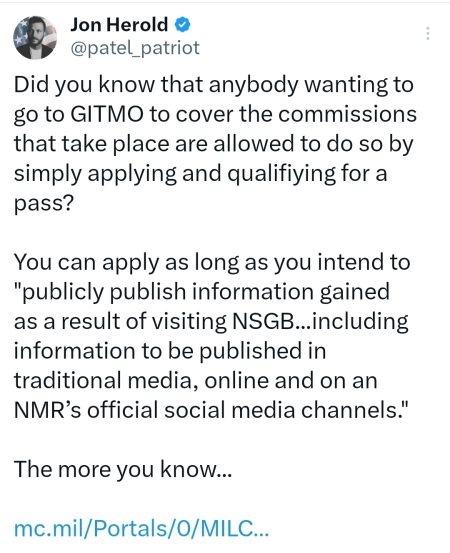 Also thank you Zak from Red Pill 78, for letting the public know C-VINE has been reporting on GTMO since January 2019 through this same process with the Office of Military Commissions.
You can watch the entire discussion here between the team. Zak mentions C-VINE at the 23:00 minute mark.
It is interesting to note that President Trump is the one who opened the GTMO proceedings to the public. In hindsight, I now know why.
Also, just before the proceedings in 2018… sudden disinformation about GTMO came out in spades. Sensationalized titles about Obama begging for his life or HRC was about to be executed, started to appear. In fact some of them actually were selling FALSE "insider" documents and people were believing a multitude of untruths!
C-VINE Volunteers watched helplessly as these false reports went viral. In fact one person spewing false reports stated they were working with us. We immediately reported this to the OMC to let them know we had no part in it.
The OMC let us know these individuals were never there, nor did they even apply for press approval. But the damage was already done. The information went viral and continues to this day with a variety of others doing the same.
Patel's reach is much further than mine. Thank you Jon and Zak for informing the public! Maybe now people will have their eyes opened. I've been continuously censored or banned from social media since the day we started. It was impossible to drown out the false reports.
One thing Jon didn't mention, was the public can now actually see the exact same Open GTMO proceedings in a special room on Ft. Meade Military base, LIVE via CCTV with a 40 second delay. That's what CVINE has been doing for awhile now.
C-VINE went through the same arduous process of OMC approval at first, until we found the exact same opportunity was open to the public at large.
Also as an FYI, you can view the GTMO calendar, court filings, transcripts and a wealth of additional information on the Office of Military Commissions Website:
Or, even call their phone number: +15713723713
Now the public can do their own fact checking!
Jordan Sather made me smile with his Twitter response.

That being said, all of the May proceedings for the KSM et al 911 pretrials were canceled again this month. This has been an on-going saga for the most part since March of 2020. Interesting history as to why.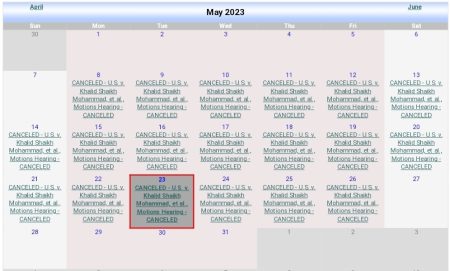 BUT… Starting in June for the first time in years, there are scheduled (back to back) trials for the next YEAR solid!
Something is brewing folks. Will be giving video and written report updates on our C-VINE Website and social media pages.
Become a C-VINE website member to receive newsletter updates.
Sounds like I'm going to be getting busy again!