Watch This Video for a FULL Report.  Below Are Links for Fact Checking and Resources….
There is MUCH going on BEHIND THE SCENES at GITMO. In fact… there has been MORE interesting information going on behind the curtain, than in the actual proceedings of the KSM et al Tribunals held during the week of April/May. Is all this DRAMA part of a Deep State plan to obstruct justice – OR – the swamp being drained? 
One important point we here at C-VINE News have found out is… Once you have waded through the endless "Motions" put out by the Prosecution or Defense Team… the constant arguments about the most minute circumstance, the appeals or postponements ad nauseam… Once you push that all aside and…
"Focus on the Steak instead of the Pea's"…
MULTIPLE PIECES OF A BEHIND THE SCENES PUZZLE -BEGIN TO PAINT A FASCINATING PICTURE!!! 
Observe the timing on each incident and final result. Some reports you may already know about… MOST of these I assure, you don't know.
"We the People"are going to use critical thinking and decide what is true!
The KSM et al Tribunal Transcripts for your study guide from the DoD Website are provided HERE: https://c-vine.com/blog/2019/05/28/gitmo-military-tribunal-transcripts-khalid-shaikh-mohammad-et-al-1-2-19-to-5-28-19/
---
Today's Discussion Points….
*News was recently reported about Judge Parrella from the KSM et al Tribunals a couple weeks ago? Is he going somewhere? Could there now be a problem?
During the April/May KSM et al Tribunal, on the last day. In the last transcription paragraph,  C-VINE Citizen Journalist and Licensed Investigator, Leonard Bacani, heard the following conversation between Defense Attorney Connell and Judge Parrella; from this short video: https://www.youtube.com/watch?v=ct1ySlbQUFY&t=8s 
---
*Judge Parrella was airlifted Stateside in the middle of the KSM et al proceedings for emergency surgery. Why and When in January? Timing?
https://www.miamiherald.com/news/nation-world/world/americas/guantanamo/article225257050.html#storylink=mainstage
---
*Was there a plane crash flying from Guantanamo Bay right after the last KSM et al proceedings when Judge Parrella made his announcement about leaving? Who was on that plane? A main Defense Attorney for al Balulchi from the KSM et al Tribunals.
---
*How many Military Tribunal Judges recently have retired in the middle of proceedings or have been reassigned in the last three months? Have there been any repercussions?
ANSWER: 4 either reassigned or retired. 3 from the al-Nashiri case, 1 from KSM et al; 
---
---
REPERCUSSIONS? YES
Abd al-Rahim al-Nashiri is accused of orchestrating the October 2000 bombing of the USS Cole, which killed 17 sailors and wounded 37. He could get the death penalty if convicted by the commission of charges that include terrorism and murder for his alleged role in the al-Qaida plot.Al-Nashiri, in U.S. custody since 2002, is being held at the U.S. Navy base at Guantánamo Bay, Cuba.
*Was there another delay with the case of al Baluchi in the KSM et al proceedings?
 Yes. What are the delays about and how many times has it happened? Is the answer critical to the American People?
On March 25, an explosive bit of information was released during an Open Session discussing how to move forward because of recordings taped by the FBI between planners and orchestrators of 9/11/2001 Terror Attacks.
It is printed in the tribunal transcripts, that 118 phone calls between 25 separate lines were recorded between April and October of 2001. Also, a linguist had identified the participants.
In other words… 5 MONTHS before the terrorist attacks, our GOVERNMENT KNEW what was coming, where and when. Some of you may dispute that because of being told differently by other sources, but you will change your thinking after listening to a further piece of proof at the end of this list.
---
*Fox reported Breaking News on May 13th that victims and family members of 9/11 are seriously angry – The FBI refuses to release the names and Institution recorded by them (and identified) that was planning the orchestration. A federal judge in New York was MAKING A RULING that very day on the release of these names. What was that important ruling? Can anyone find the answer? Link to Fox News Release: https://video.foxnews.com/v/6036100344001/?fbclid=IwAR1ZgydMJXTqwiEWHZGNxY-aaKBamiCg6aXgYSh4iEgQT6h5q-8DyMfRfUI#sp=show-c
---
*Historical Fact of Relevance: Judge Pohl (Previous Judge assigned to the KSM et al Tribunals before Judge Parrella) issued a secret order to prevent the Defense Team from learning about the taped phone calls by the FBI about 9/11 planners.
Military Tribunal Transcripts in Closed Proceedings Reveal Names. Previous Judge (Pohl) did a secret mandate: Quote: "The Defense Lawyer, Jay Connell, revealed the existence of the tapes as part of a protest over plans to use them as evidence at the death-penalty trial of the alleged conspirators.Defense lawyers had sought to investigate their origins and later discovered that the original trial judge, Army Col. James L. Pohl, had issued a secret order preventing them from knowing about the phone call collection system or asking questions about it. Connell, who is representing Mohammed's nephew, Ammar al-Baluchi, said prosecutors secretly obtained a ruling in August 2018 from Pohl forbidding defense lawyers from learning how the phone calls were collected or investigating that question.world/world/americas/guantanamo/article228434184.html#storylink=mainstage
---
Last, But Certainly NOT LEAST – In 2011 – a CIA Whistle Blower by the name of Susan Lindauer Spilled the Beans. Many listened with interest, but most looked at her as a Conspiracy Theorist. Someone you should not believe, even though she provided significant proof anyone could fact check.
Amazingly because of new information that has come out, and additional information that is available in these transcripts will corroborate her timeline. I highly recommend "We the People" take the time to watch this video with a new set of eyes.  We at C-VINE feel it is certainly of noteworthy interest! https://c-vine.com/blog/2019/05/27/cia-whistleblower-exposes-9-11-attack-secrets/
---
Franklin Grahm calls for a National Day of Prayer for President Trump on June 2nd:
https://c-vine.com/blog/2019/05/28/christian-leaders-call-for-special-day-of-prayer-for-the-president-june-2/
---
*Did POTUS say this was going to be the best July 4th ever? Did he just order a complete DECLAS? What are the chances the KSM et al tribunal in the end of June may be part of the whole about to be revealed?
---
It has been over 18 years since the catastrophic Terrorist Attacks of 9/11 and we are not much closer to finding all the orchestraters of this horrific attack, but the FBI KNOWS! Repeated efforts by 9/11 family members pressuring the FBI to release the names of US  insiders have failed thus far.
Be sure to go to our website and view a multitude of Breaking News Stories at https://c-vine.com/
AND remember to DONATE to the C-VINE Foundation because the next Tribunals are coming up in a few weeks on June 17th where Leonard Bacani and I will be attending the LIVE proceedings in Fort Meade, Maryland via CCTV from GITMO.  Remember we are NOT monetized and we pay out of pocket and take time off work for a week without pay in order to report these proceedings toO "We the People!": DONATION PAGE:  https://c-vine.com/c-vine-donation-page/
---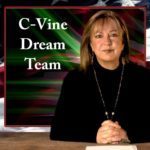 Linda Forsythe: is a Citizen Journalist and News Commentator in C-VINE News.
She is alsothe FOUNDER and architect of the C-VINE Network that includes Breaking News and an International Forum. The Network includes a section for Education and many Social Media pages where the public can discuss or research News Stories.  In addition, a Citizen Journalist Program and Licensed Investigators Team works closely in tandem with the public to bring Late Breaking News.
Linda saw the critical necessity of providing vetted information to the public that would be trusted, sources transparent and where the people could also be directly involved in fact checking the sources.  There was no better way to do this than to have the citizen's of the world be in charge of the news and education… NOT the Government or "For Profit" Main Stream Media.
Linda created the multi-media platform and systematized the integration of News Releases, Volunteers, Social Media Groups, and Educational Channels, so "We the People" could received vetted, but uncensored information.
C-VINE International is placed in a Charitable Trust to be run by the public and C-VINE Foundation Trustees. C-VINE is supported by donations, volunteers and revenue made from renting space on the Educational Channels. Zero advertising is allowed.
Click Here for Linda's Facebook Page.