November 14, 2021 By Allen Zhong ~
The Oklahoma National Guard's newly appointed commander declined to implement the COVID-19 vaccine mandate ordered by the Department of Defense (DoD).
"I hereby order that no Oklahoma Guardsmen be required to take the COVID-19 Vaccine, notwithstanding any other Federal requirement. Oklahoma Command's will continue to process Federal vaccine waivers in accordance with DoD policy. Additionally, no negative administrative or legal action will be taken against Guardsmen who refuse the COVID-19 Vaccine," Army Brig. Gen. Thomas Mancino wrote in a policy memorandum issued on Nov. 11, 2021.
Oklahoma Gov. J. Kevin Stitt has asked U.S. Defense Secretary Lloyd Austin for waivers of the vaccine mandate and is waiting for a decision, Mancino said in the memo.
Mancino issued the policy memo one day after he was appointed as the Adjutant General for Oklahoma and the commander of the Oklahoma Army and Air National Guard by Stitt to replace Gen. Michael Thompson.
Thompson is a vocal proponent of vaccinations and had said members and federal civilian employees refusing them would be counseled and subject to unspecified consequences.
Mancino has been a member of the National Guard for 35 years and has served as Assistant Adjutant General for the Oklahoma Army National Guard since September 2019.
A spokesperson for Stitt said the leadership change was not related to vaccination policy.
"The governor had been exploring making a change for a number of months, and (Gen.) Thompson had submitted his resignation," said Stitt spokesperson Carly Atchison.
"Once the governor selected (Gen.) Mancino as his replacement, the governor decided to move up the timeline."
In the memo, Mancino stated that Stitt is the "lawful Commander in Chief" of all Oklahoma national guardsmen unless they're federally mobilized under Title 10.
Mancino's memo reflects "the governor's ability to assert his command authority over the men and women of the Oklahoma National Guard while they are within the state's borders," not when they take part in activities operated by the U.S. Defense Department, Oklahoma National Guard spokesperson Lt. Col. Geoff Legler told The Oklahoman.
The Epoch Times has reached out to the Pentagon for comment.
The Associated Press contributed to the report.
C-VINE News Volunteer Citizen Journalists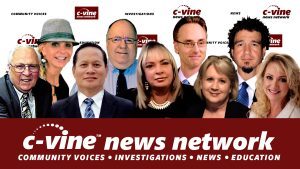 Please click and bookmark:
 C-VINE Social Media Channels 
 *C-VINE.Com, https://c-vine.com
*C-VINE-Telegram,  https://t.me/CVINENEWS
*C-VINE-MeWe, https://mewe.com/join/C-VINE
*C-VINE-Rumble,  https://rumble.com/user/CVINE
*C-VINE YouTube Channel,  https://www.youtube.com/c/CVINENewsNetwork/videos
*C-VINE Commentary & Analysis, https://www.facebook.com/groups/895771901163001/
*C-VINE Business Network,  https://www.facebook.com/groups/1242625425864710
*C-VINE Natural Health News Network, https://www.facebook.com/groups/cvinehealth
*C-VINE Patriot Prayer Brigade, https://www.facebook.com/groups/4826437259486216