March 11, 2020
The Lid is Off Pandora's Box –  This is only the beginning, and the criminal network of sex trafficking will continue to fall like dominoes.  Many well-known names will be in the news – convicted and sent to prison for crimes against humanity, especially against children.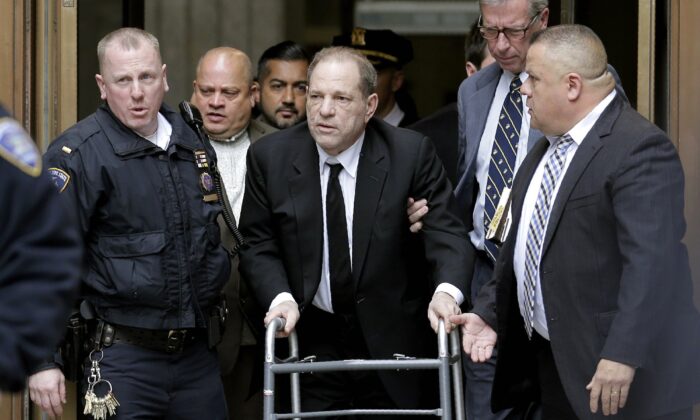 Weinstein Sentenced to 23 Years for Sexual Assaults
Both women that Weinstein was convicted of assaulting— a once-aspiring actress and a former TV and film production assistant—spoke in court Wednesday before Judge James Burke announced the sentence, confronting Weinstein again after their testimony helped seal his conviction at the trial.
Weinstein also spoke in court, saying he had fond memories of his accusers.
Burke also heard from Weinstein's lawyers, who pleaded for leniency because of his age and frail health, and prosecutors, who said the man once celebrated as a titan of Hollywood deserved a harsh sentence that would account for allegations of wrongdoing dating to the 1970s.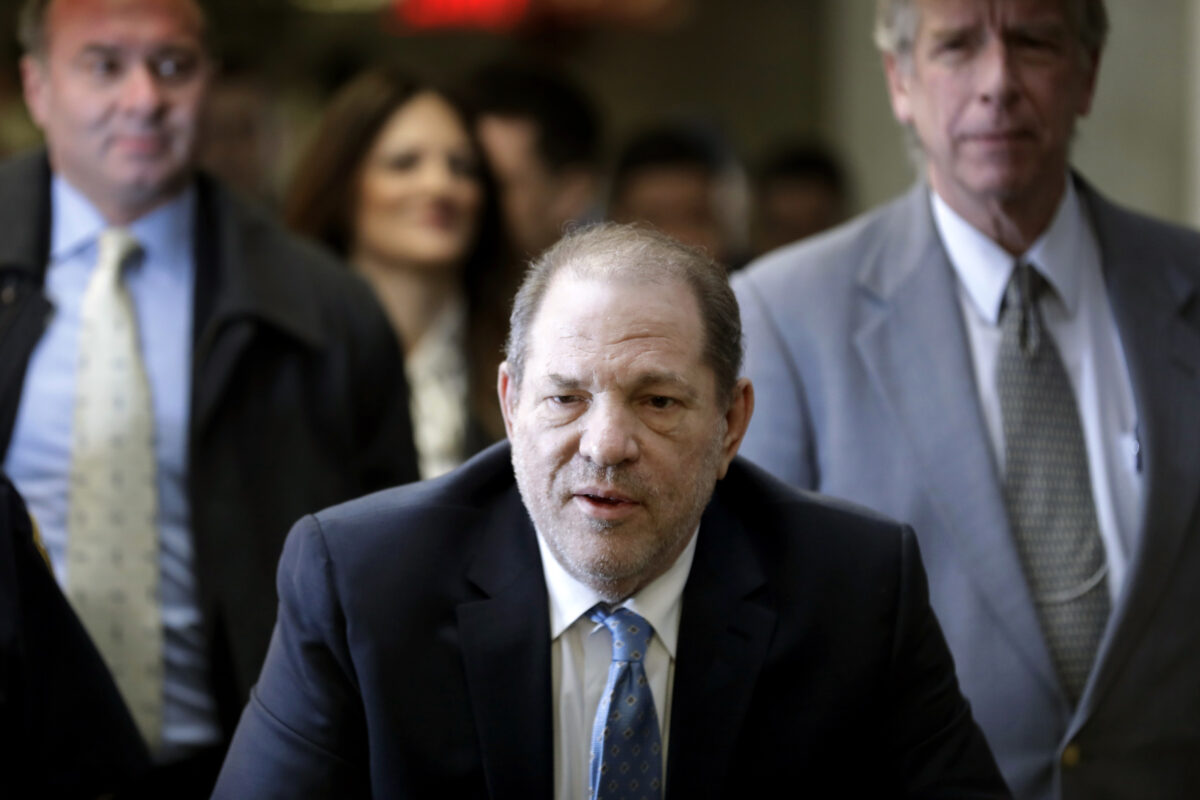 Under state law, Burke was able to consider evidence outside the scope of the trial in forming his sentence.
In their sentencing letter, prosecutors outlined 16 examples they said showed Weinstein "trapped women into his exclusive control" so he could sexually assault them, starting when he was working as a music producer in Buffalo in 1978.
Weinstein was sentenced a week shy of his 68th birthday, and his lawyers argued that a lengthy prison term would, in effect, be a life sentence. They sought a five-year sentence, the mandatory minimum on the more serious of the two charges that jurors found him guilty of.
Weinstein used a walker throughout the trial and arrived at the courthouse Wednesday in a wheelchair because of back problems from a car crash last summer, has a condition that requires shots in his eyes and last week had a stent placed to unblock an artery.
The agency that runs New York's state prisons said every inmate is evaluated to determine which facility meets his or her security, medical, mental health, and other needs.
The New York case was the first criminal matter to arise from accusations of more than 90 women, including actresses Gwyneth Paltrow, Salma Hayek, and Uma Thurman.
Weinstein was convicted on two counts: criminal sex act for the 2006 assault on the production assistant and rape in the third degree for a 2013 attack on another woman.
On the criminal sex act count, he faced a minimum of five years in prison and a maximum of 25 years in prison, while the third-degree rape count carried a maximum penalty of four years in prison.
He was acquitted of the more serious charges against him of first-degree rape and two counts of predatory sexual assault.
Three more sexual assault cases under investigation by the Los Angeles Police Department and Beverly Hills' police could mean that he'll face additional charges. No details have been provided on these cases.
By Michael R. Sisak, Tom Hays, and Jennifer Peltz
---
WEINSTEIN TIMELINE: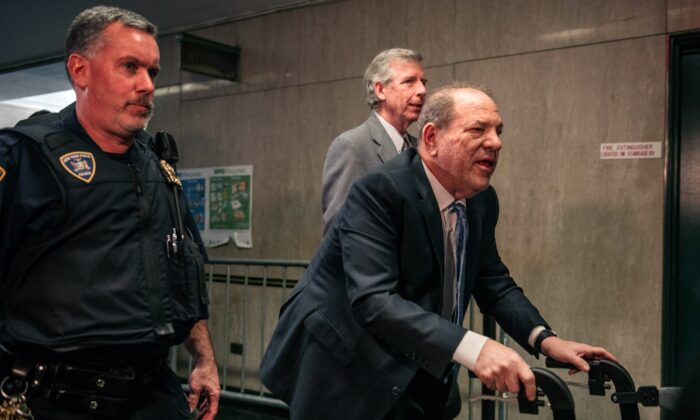 Harvey Weinstein Hospitalized on Way to Prison
Weinstein, a former Hollywood producer, was convicted of third-degree rape as well as a count of criminal sexual act in the first degree earlier on Feb. 24. During the transfer to Rikers Island following the guilty verdicts, he experienced chest pains, heart palpitations, and high blood pressure, said his attorney, Donna Rotunno.
Weinstein "is OK," she told CNN. While he remained in the prison ward at Bellevue, in the borough of Manhattan, as of the morning of Feb. 25, when he's released from medical care, he's expected to be sent to Rikers Island.
Weinstein faces between five and 29 years in prison. He's slated to be sentenced on March 11.
His lawyers have said they plan to appeal the verdicts.
"The evidence was not so powerful. Jurors normally don't deliberate for five days, over a weekend, so it's really seven days. So it wasn't so that there was such overpowering evidence," defense attorney Arthur Aidala said, according to WABC.
Manhattan District Attorney Cyrus Vance said that justice was served.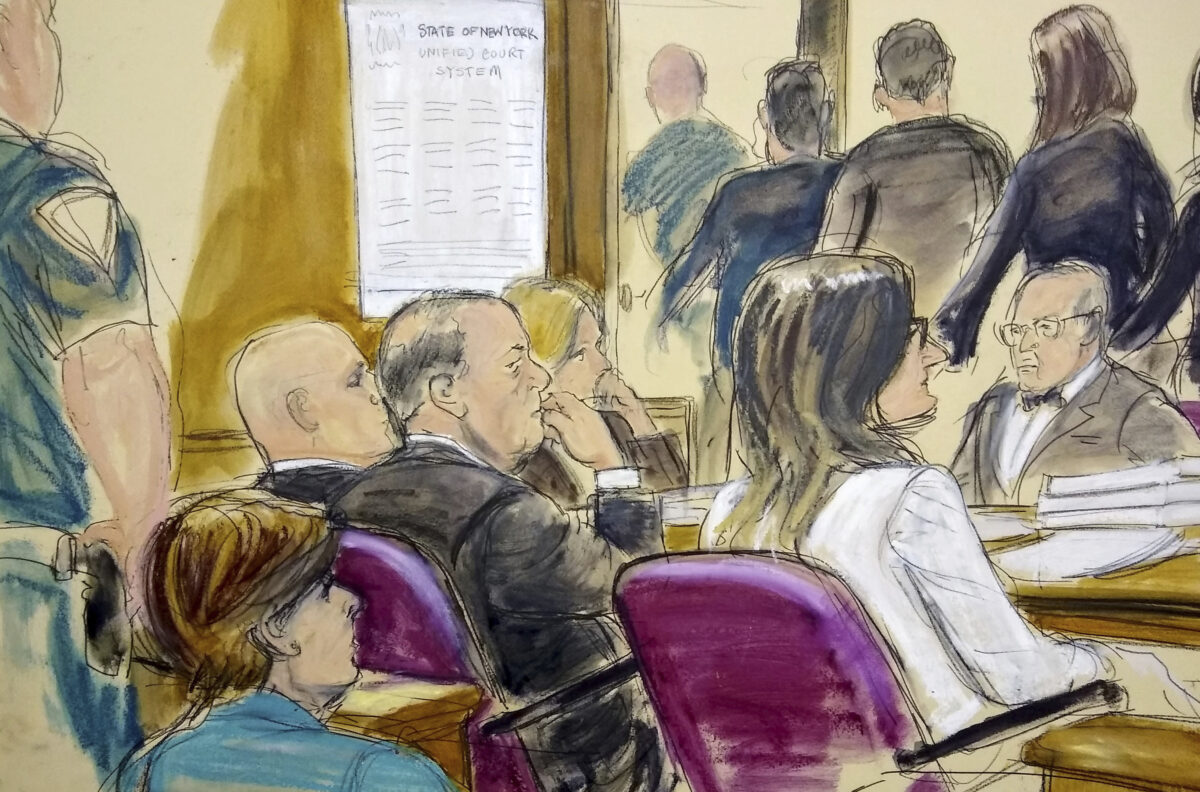 "These are eight women who pulled our justice system into the 21st century by declaring that rape is rape, and sexual assault is sexual assault, no matter what," he said at a press conference, naming the women who accused Weinstein of crimes.
"This is the new landscape for survivors of sexual assault in America. This is a new day. It's a new day because Harvey Weinstein has finally been held accountable for crimes he committed. The women who came forward courageously, and at great risk, made that happen.
"Weinstein is a vicious serial sexual predator who used his power to threaten, rape, assault, trick, humiliate, and silence his victims."
Weinstein could face additional time in prison if convicted on sex crime charges in Los Angeles. Los Angeles County District Attorney Jackie Lacey announced an indictment in January.
"We believe the evidence will show that the defendant used his power and influence to gain access to his victims and then commit violent crimes against them," Lacey said in a statement.
"I want to commend the victims who have come forward and bravely recounted what happened to them. It is my hope that all victims of sexual violence find strength and healing as they move forward."
The Los Angeles indictment alleges that Weinstein raped a woman in her hotel room in 2013 and that he sexually assaulted a woman in a hotel suite the next night. Weinstein has denied allegations of nonconsensual sexual activity related to those cases.
If convicted of all charges, Weinstein could face an additional sentence of up to 28 years.
---
---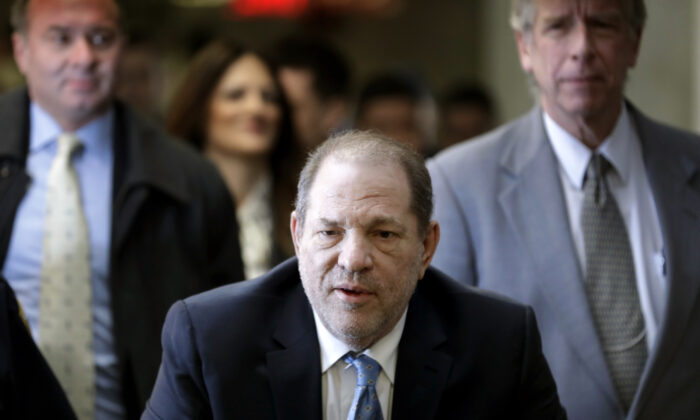 Harvey Weinstein Found Guilty of Rape and Sexual Assault, Acquitted of More Serious Crimes
Former Hollywood producer Harvey Weinstein was found guilty on Feb. 24 of rape in the third degree and criminal sexual act in the first degree. He was found not guilty of two counts of predatory sexual assault that would have carried a possible life sentence.
Weinstein was found guilty of criminal sexual act in the first degree for an incident involving former "Project Runway" production assistant Miriam "Mimi" Haley and rape in the third degree for the assault of hairstylist Jessica Mann.
The 67-year-old movie mogul has denied the allegations, saying the encounters were consensual.
During the trial, six women testified he had sexually assaulted them, although Weinstein only faced criminal charges in connection with two of them. The four others testified to establish that he showed a pattern of criminal behavior.
The jury of seven men and five women took five days to deliberate.
Weinstein's lawyers said they will appeal.
"Harvey is unbelievably strong. He took it like a man," defense attorney Donna Rotunno said. "He knows that we will continue to fight for him, and we know that this is not over."
Another of his lawyers, Arthur Aidala, quoted Weinstein as telling his legal team: "I'm innocent. I'm innocent. I'm innocent. How could this happen in America?"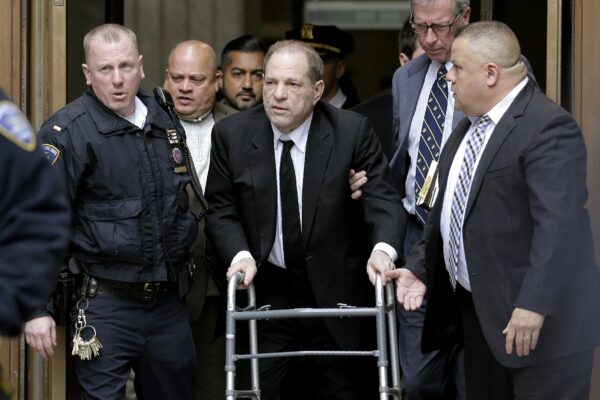 Judge James Burke ordered that Weinstein be taken to jail immediately. Court officers surrounded Weinstein, handcuffed him, and led him out of the courtroom via a side door without the use of the walker he'd relied on for much of the trial.
The judge said he will ask that Weinstein, who had been free on bail since his arrest nearly two years ago, be held in the infirmary after his lawyers said he needs medical attention following an unsuccessful back surgery.
The sexual assault charge carries up to 25 years in prison, while the third-degree rape count is punishable by up to four years. The sentencing is set for March 11.
"Here the rapist was at the pinnacle, at the very profession his victims strived to make a career in," Assistant District Attorney Meghan Hast said in her opening statement. "Thus, the power and balance he deviously exploited was not just physical, it was also professional and profoundly psychological."
While Weinstein did not testify, his lawyers said that any sexual contact was consensual and accused the women of trying to advance their careers. The defense seized on the fact that two of the women central to the case stayed in contact with Weinstein via emails and other means.
Rotunno said that prosecutors created an "alternate universe" where "women are not responsible for the parties they attend, the men they flirt with, the choices they made to further their own careers, the hotel room invitations, the plane tickets they accept, the jobs they ask for help to obtain," according to BuzzFeed.
"To the defendant, it has been said he was the master of his universe and the witnesses here were merely ants that he could step on without consequences," Manhattan Assistant DA Joan Illuzzi-Orbon said in her closing statements, the New York Post reported.
Weinstein, who has been recently photographed walking to a court in New York using a walker, faces up to 29 years in prison for the charges.
Dozens of women have accused Weinstein, including actresses Ashley Judd, Rose McGowan, and Gwyneth Paltrow, of various forms of misconduct. Last year, Weinstein reached a $44 million settlement with several of his accusers, according to reports at the time.
Weinstein's legal woes aren't yet over, as he was indicted for sexual misconduct in Los Angeles.
The Associated Press contributed to this report.
---
As a citizen journalist and investigative reporter, I am committed to accurately reporting the news. Wide awake, never asleep, I grew up in a 1960's patriotic household, aware of the truth behind the false narrative.