July 5, 2021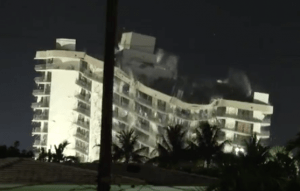 ---

Remaining Surfside Condo Structure Demolished Ahead of Tropical Storm
A demolition crew has collapsed the remaining structures of the collapsed condo in Surfside, Florida.
Explosives were set off at 10:30 p.m. ET at Champlain Towers South in a controlled operation that officials say will aid search and rescue efforts for the remaining 121 victims still missing following the June 24 collapse.
Officials say the detonation was also to manage risks of the damaged building falling on its own as Tropical Storm Elsa approaches.
"We want to make sure that we control which way the building falls, and not a hurricane," Mayor Charles Burkett of Surfside told reporters before the demolition.
Twenty-four people are known to have died. No one has yet to be found alive from the disaster as rescue efforts continue.
Burkett also told CBS News that the demolition would bring the building down in a westward direction so that the search and rescue area on the other side of the building with potential survivors is not affected.
He emphasized that the operation continues to be a search and rescue, not a recovery effort, citing a BBC documentary which outlines survivability after a building collapse.
"This rescue effort, as far as I'm concerned, will go on until everybody's pulled out of that debris," he said.
Demolition staff worked Saturday to drill holes for the explosives to bring the damaged building down.
A Miami-Dade fire official said previously that search teams could resume their work between 15 and 60 minutes after the demolition.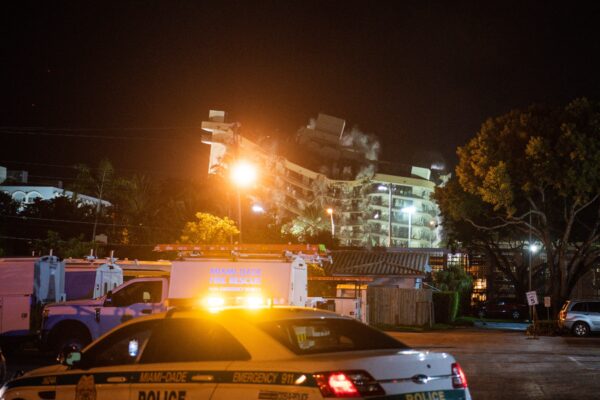 Speaking to reporters Sunday night, Miami-Dade County Mayor Daniella Levine Cava explained that the demolition method being used is called "energetic felling" and "uses small, strategically placed explosives and relies on gravity to bring the building down in place."
The method would bring the tower down and away from the debris, allowing an expanded search to previously inaccessible areas, she said.
Cava on Friday signed the emergency order to demolish the remaining part of the building. Officials previously said they expected it would take weeks for a demolition to be scheduled.
Prior to the demolition, Levine said nearby residents were urged to stay indoors as a precautionary measure due to dust and other particles that will be an "unavoidable byproduct" of the demolition.
Those living between 86th Street and 89th Street, Abbott Avenue and the shoreline were instructed to shelter in place between 7 p.m. ET until two hours after the demolition. They've been asked to keep their windows closed.
Investigators have yet to determine what caused a large section of the 40-year-old building to collapse in the early hours of June 24. However, in 2018 it was flagged by an engineering firm for "major structural damage."
The county requires buildings to undergo recertification starting at the 40-year mark and every 10 years thereafter. The Champlain Towers South was built in 1981.
Cava told reporters on Wednesday that she backs a probe by State Attorney Katherine Fernandez Rundle that would examine the factors that led to the collapse of the 12-story building.
"I have pledged my full cooperation as she moves forward," the mayor said. "I will do—and my team will do—everything possible to aid them in their efforts to continue that investigation."
Rundle said she would bring the matter before grand jurors soon.
"I am going to urge them to take a look at it," she told the Miami Herald. "Whether they do or not, it's completely their decision."
Tropical Storm Elsa is expected to arrive in South Florida on Tuesday, bringing wind speeds of 60 mph and heavy rain.
The Associated Press contributed to this report.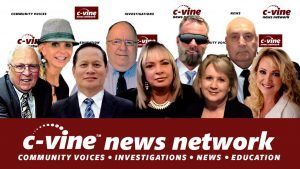 News Posted by: C-VINE Citizen Journalist, JoLynn Live! She is a Singer; a Wife of 37 years; Home-school mom to 10; Grandma to 11; Chicken Farmer; Patriot; and an active C-VINE News contributor.
Please click and bookmark:

 C-VINE Social Media Channels 
 *C-VINE.Com, https://c-vine.com
*C-VINE-Telegram,  https://t.me/CVINENEWS
*C-VINE-MeWe, https://mewe.com/join/C-VINE
*C-VINE-Rumble,  https://rumble.com/user/CVINE
*C-VINE YouTube Channel,  https://www.youtube.com/c/CVINENewsNetwork/videos
*C-VINE Commentary & Analysis, https://www.facebook.com/groups/895771901163001/
*C-VINE Business Network,  https://www.facebook.com/groups/1242625425864710
*C-VINE Natural Health News Network, https://www.facebook.com/groups/cvinehealth
*C-VINE Patriot Prayer Brigade, https://www.facebook.com/groups/4826437259486216