December 10, 2021 By Natalia Mittelstadt ~
Michigan, Ohio, Pennsylvania, New York, Illinois, and Indiana are the top six states for increased COVID-19 hospitalizations, together accounting for about 60% of new beds added over the past month.
The high hospitalization rates were recorded even though four of the six states — Michigan, Pennsylvania, New York, and Illinois — are run by Democratic governors who have imposed some of the most restrictive pandemic mitigation measures in the nation, and a fifth, Ohio, has a Republican governor who provoked the ire of fellow Republicans in the state for his aggressive lockdown and masking policies.
According to an NBC News analysis of Department of Health and Human Services data, these six neighboring states make up about 60% of added beds, even though together they're only 35% of the population of states with increased COVID hospitalizations.
In New York, Democratic Gov. Kathy Hochul has ensured that healthcare workers who refuse to comply with a state COVID vaccine mandate and are fired as a result will not be eligible for unemployment benefits.
The state also has a COVID-19 vaccination pass program that can be downloaded as an app on smartphones for people to verify their vaccine status.
During the pandemic, Democratic Michigan Gov. Gretchen Whitmer threatened criminal charges for visiting a secondary home or operating a motorboat, and banned stores larger than 50,000 square feet from selling gardening supplies. Professions such as barbers and landscapers were deemed "non-essential." She also vetoed a bill that would have forgiven state-issued COVID-19 fines if employers corrected the violations and required the state to refund those who already paid fines.
Earlier in November, Michigan issued a "face mask advisory," recommending that "everyone over the age of 2 should wear a face mask at indoor gatherings regardless of their vaccination status."
In sharp contrast, Indiana invited police officers from Illinois to move and join Indiana's police departments after Chicago Mayor Lori Lightfoot issued a mandate for vaccination or routine testing for the city's police, with the possibility of losing paychecks for noncompliance.
While Republican Ohio Gov. Mike DeWine was successful in his appeal to the state Board of Pharmacy to withdraw its order banning the use of hydroxychloroquine to treat COVID, fellow Republican state legislators issued articles of impeachment against him for closing and enforcing curfews on certain businesses and instituting a statewide mask mandate.
Some Ohio GOP state legislators have also introduced bills to ban local school mask mandates, allow for COVID vaccine exemptions, and prohibit employers or schools from requiring vaccines.
In Michigan, 75% of COVID patients are not vaccinated, according to Michigan Department of Health and Human Services spokesperson Chelsea Wuth, NBC News reported.
She added that 87% of COVID patients in one of the intensive care units in the state are unvaccinated, and 88% of those on a ventilator are also not vaccinated.
The director of Ohio's Department of Health, Dr. Bruce Vanderhoff, told NBC News that most hospitalized patients are unvaccinated.
The news outlet didn't mention the number of hospitalized patients who were vaccinated in the other four states, and those departments of health haven't responded to requests for comment from Just the News.
Dr. Robert Malone, an immunologist and epidemiologist who says he invented the mRNA technology that's used in the Pfizer and Moderna vaccines, tweeted in September that higher hospital admissions might not be associated with adult vaccination rate. He mentioned that other factors could be "Poverty, lack of hospital availability, health status, obesity, etc."
He also tweeted an article from October that mentioned Ireland having the highest number of patients hospitalized with COVID despite more than 91% of the population over the age of 12 being vaccinated.
C-VINE News Volunteer Citizen Journalists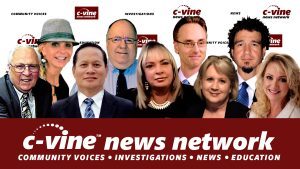 Please click and bookmark:
 C-VINE Social Media Channels 
 *C-VINE.Com, https://c-vine.com
*C-VINE-Telegram,  https://t.me/CVINENEWS
*C-VINE-MeWe, https://mewe.com/join/C-VINE
*C-VINE-Rumble,  https://rumble.com/user/CVINE
*C-VINE YouTube Channel,  https://www.youtube.com/c/CVINENewsNetwork/videos
*C-VINE Commentary & Analysis, https://www.facebook.com/groups/895771901163001/
(The Commentary group, above link, is censored by Facebook and anti-NWO agenda posts / comments carry the risk of personal profile deletion.)
*C-VINE Business Network,  https://www.facebook.com/groups/1242625425864710
*C-VINE Natural Health News Network, https://www.facebook.com/groups/cvinehealth
*C-VINE Patriot Prayer Brigade, https://www.facebook.com/groups/4826437259486216