November 27, 2019
---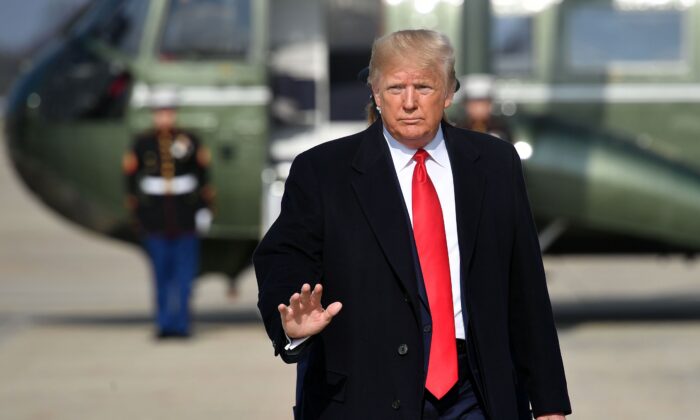 Trump Says Thanksgiving Won't Be Changed: 'They Don't Want to Use the Term'
November 27, 2019
President Donald 
Trump
 on Tuesday evening, at a Florida rally, vowed not to change the name of 
Thanksgiving
.
"As we gather together for Thanksgiving, you know, some people want to change the name Thanksgiving," Trump told a crowd. "They don't want to use the term Thanksgiving. And that was true also with Christmas. But now everybody's using Christmas again. Remember this?"
"But now we're going to have to do a little work on Thanksgiving," Trump continued at the Florida rally. "People have different ideas. Why it shouldn't be called Thanksgiving. But everybody in this room, I know, loves the name Thanksgiving. And we're not changing."
Trump claimed that Americans have a lot to be thankful for.
"The economy is booming. Wages are rising. Crime is falling. Poverty is plummeting. Confidence is soaring. And America is stronger than ever before," the president said.
He also touted his administration's work to create more jobs and provide more support to American workers.
"For years and years and years, I was like you. I was a civilian," Trump said of his prior Thanksgiving holiday celebrations.
He added: "I loved my life. My life was so much simpler. It was so nice and soft and easy. You build a building and you have fun. But I'd always see you turn on the news."
Trump recently switched his residency from New York to Florida.
While campaigning during the 2016 election, Trump said that he would ensure that people would be able  "say 'Merry Christmas' again" in stores and public places rather than "Happy Holidays," according to The Hill.
Since the early 1970s, Native Americans in New England have held a protest called the  National Day of Mourning on the same day as Thanksgiving.
Earlier in the day, Trump pardoned a turkey a the White House in front of a crowd.
"I hereby grant you a full and complete pardon," Trump said to the bird, named Butter.
"Bread and Butter have been raised … to be calm under any situation," he said prior. He then joked turkeys have received "subpoenas to appear" in House Intelligence Chairman Adam Schiff's "basement on Thursday."
"It seems the Democrats are accusing me of being too soft on Turkey," Trump quipped.
During the Tuesday rally, the president also blasted the impeachment inquiry led by House Democrats as being led by "maniacs" who are "deranged," The Associated Press reported.
"You see what's happening in the polls? Everybody said, 'That's really [expletive],'" he added of the past two weeks of impeachment hearings.
He also addressed the unfounded rumors that he had a medical emergency earlier this month when he made an unannounced visit to Walter Reed hospital in Maryland. Trump said that if he "didn't feel great," he "wouldn't be" at the rally speaking to the crowd.
---
As a citizen journalist and investigative reporter, I am committed to accurately reporting the news. Wide awake, never asleep, I grew up in a 1960's patriotic household, aware of the truth behind the false narrative.