April 3, 2022
The remaining AUMF Prisoners at GTMO, (Authorized Use of Military Force), have been approved for immediate "repatriation" to other countries. 37 are now left. Was over 800 initially.
Two weeks ago an AUMF prisoner was transferred… nick-named "the 20th 9/11 terrorist". He would have been added to the KSM et al 9/11 trials to be tried, but deemed too mentally unstable… so became one of the AUMF. Was repatriated to a Saudi mental institution 2 weeks ago.
Interestingly enough, Saudi executed 81 terrorists (all in one day) just three days AFTER his arrival there. It is unknown if he was one of them.
Keep in mind the AUMF prisoners are deemed THE MOST DANGEROUS and a number of them went back to their previous activities.
Remember that a previously released AUMF Prisoner is now the leader of the Taliban that took over Afghanistan.
In the attachment, an Algerian man imprisoned at the Guantanamo Bay detention center for nearly 20 years after being accused of being a bomb-making instructor for extremist groups, has just been the latest transfer and sent back to his homeland.
Nothing to see here Folks.
(You can read about the latest release here) ?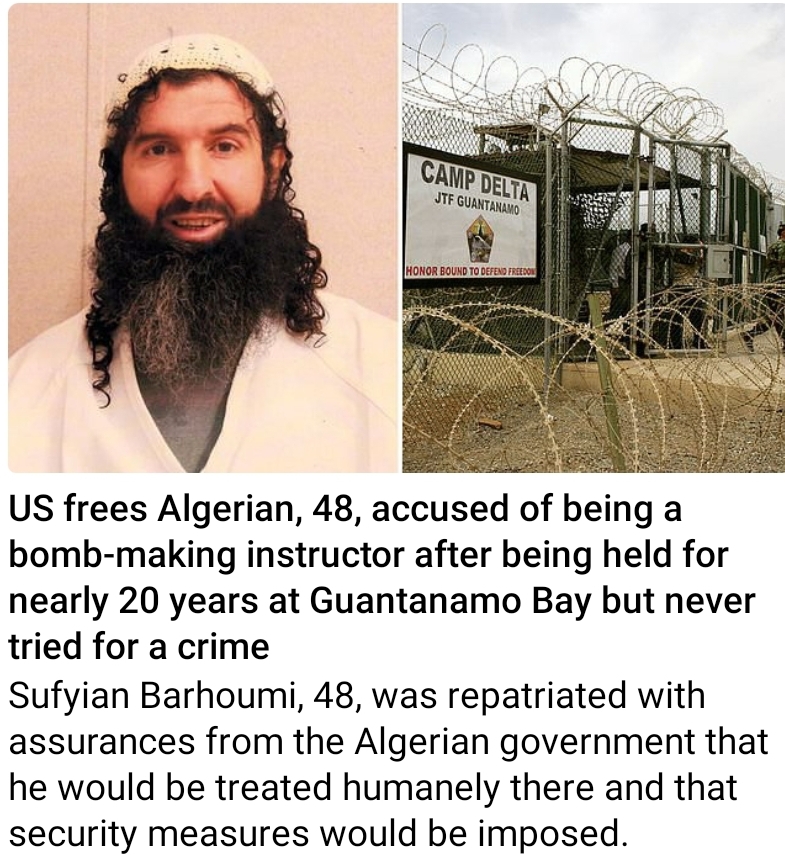 ~~~ Linda Forsythe
---
 Posts Are Written, Investigated and Broadcast, by C-VINE Volunteers