October 14, 2021 By Jack Phillips ~
A record number of U.S. workers voluntarily quit their jobs in August, led by bar and restaurant employees as well as retail staff, according to figures released Tuesday by the Department of Labor.
The Labor Department's monthly Job Openings and Labor Turnover Survey, known as the JOLTS report, showed that 4.3 million left their jobs. The quits rose to 2.9 percent, which is an increase of 242,000 from the previous month, and represents the highest figure in data that goes back to December 2000.
An increase of 157,000 quits was recorded in the accommodation and food services industry, while 26,000 more left the wholesale trade business, the figures show. State and local government education saw 25,000 more departures.
In comparison, employers laid off approximately 1.3 million workers in August, according to the agency.
Some analysts have speculated that workers were fearful of the COVID-19 Delta strain, causing them to quit their jobs. It's possible that some workers left their jobs due to COVID-19 vaccine mandates in certain markets, although the report focuses on data obtained in the month before President Joe Biden announced sweeping vaccination mandates for tens of millions of Americans.
United Airlines, which employs tens of thousands, announced its vaccine mandate in early August. The Chicago-based firm was one of the first companies to do so.
"The August JOLTS report shows employers and workers were anxious about the rising Delta COVID-19 wave two months ago," Robert Frick, corporate economist at the Navy Federal Credit Union said in a note obtained by several news outlets. "Workers quit, especially in retail, at a record rate to avoid exposure to possible infection. Job openings dropped, especially in leisure and hospitality, as travel dropped markedly due to Delta," Frick added.
In industries such as manufacturing, construction, transportation, and warehousing, quits barely increased. In professional and business services, which includes fields such as law, engineering, and architecture, where most employees can work from home, quitting was largely flat.
But the new data is "highlighting the immense problems businesses are dealing with," said Jennifer Lee, an economist at BMO Capital Markets, in an email. "Not enough people. Not enough equipment and/or parts. Meantime, customers are waiting for their orders, or waiting to place their orders. What a strange world this is."
Quits also rose the most in the South and Midwest, the Labor Department said, which were the two regions with the worst COVID-19 outbreaks in August.
It came after the government said late last week that job gains were weak for a second straight month in September, with total nonfarm payroll employment rising by 194,000 that month. The unemployment rate fell by 0.4 percent to 4.8 percent, the Labor Department's data shows.
COVID-19 is the illness caused by the CCP (Chinese Communist Party) virus.
The Associated Press contributed to this report.
C-VINE News Volunteer Citizen Journalists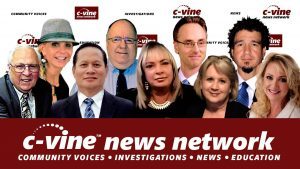 Please click and bookmark:
 C-VINE Social Media Channels 
 *C-VINE.Com, https://c-vine.com
*C-VINE-Telegram,  https://t.me/CVINENEWS
*C-VINE-MeWe, https://mewe.com/join/C-VINE
*C-VINE-Rumble,  https://rumble.com/user/CVINE
*C-VINE YouTube Channel,  https://www.youtube.com/c/CVINENewsNetwork/videos
*C-VINE Commentary & Analysis, https://www.facebook.com/groups/895771901163001/
*C-VINE Business Network,  https://www.facebook.com/groups/1242625425864710
*C-VINE Natural Health News Network, https://www.facebook.com/groups/cvinehealth
*C-VINE Patriot Prayer Brigade, https://www.facebook.com/groups/4826437259486216