By the way, while we're at it ….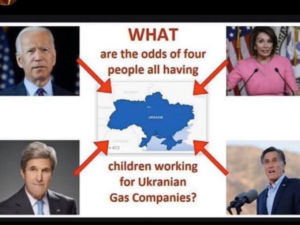 …what's up with this? 
March 18, 2020
In addition to discussing this week's Clinton appeal, the Judicial Watch Weekly Update focused on the Biden scandals, providing viewers with important updates on the status of the cases which Judicial Watch has brought forward. For now, we "haven't received any substantive responses to any document requests and lawsuits we've filed," Fitton states. 
As the Deep State and media work around the clock to "distract" Americans from the unresolved scandals pertaining to the Bidens, Judicial Watch is still in the fight for accountability and truth on the ex-VP's dealings with Ukraine and China. As you might recall. the anti-Trump impeachment fight was "based on the theory that President Trump demanded accountability for corruption related to Joe Biden." However, the Deep State was "so desperate to distract from that underlying corruption that they tried to remove the President from office for asking questions about it," Fitton continues. 
As a board member receiving "money not commensurate with his experience," Hunter Biden's Burisma connection smacks of "bribery," "money laundering," and "conspiracy," especially considering his time at the company during his father's vice-presidency. To top that off, "there's plenty of evidence that the Obama Administration," and more specifically the Deep State "was protecting Burma up until the President was acquitted." 
Judicial Watch is seeking records through 7 lawsuits and dozens of FOIA requests related to his dealings with the Ukrainian Burisma and the Chinese BHR Partners. Specifically we're asking about:
"The Biden-Burisma scandal and the whistleblower contacts on Ukraine."
"All cables and emails from the Ukraine Embassy about Burisma."
"Obama White House meeting in an effort to squelch the Burisma investigations and protect the Biden gang."
Records from the Committee on Foreign Investment in the United States for records on the Biden-China-Ukraine ties.

 

the investments made by BHR into Hunter Biden's firm, which "received a historic benefit" on the part of "Chinese communists."
$1 billion venture fund from the Bank of China to Biden's BHR, which bought a "Michigan car part company which produces technologies with an important military purpose" in 2015.
The firing of the former Ukrainian prosecutor who was investigating Hunter Biden.
The question remains – "is the Justice Department going to continue to protect Joe Biden or are they going to do a real investigation?" "Is the State Department and various other agencies we're suing going to protect Joe Biden by slow rolling the documents?" 
On the topic of investigations, Fitton reminds his viewers that while the "media wants you to forget about the Biden scandals," Judicial watch has stepped up and is "doing the heavy lifting, actually going to the Federal Court to try and get answers."
In Fitton words: "Just because you're running for office doesn't make you immune from scrutiny under the rule of law."