May 2, 2019
At the end of today's Military Tribunal proceedings, Judge Parrella, who has been presiding over the Khalid Sheik Mohammed et al. Military Tribunals… announced he has been reassigned. His reassignment will take effect on June 2019.  The next round of KSM et al proceedings are in June.
Judge Parrella is a 24-year career Marine officer, who has served as a military judge for more than two years.
Two months ago, Judge Parrella had planned to hear closed-court testimony from a former CIA interpreter of the al Baluchi case on Wednesday January 30th, handle other Sept. 11 trial business and then return with war court personnel to Washington on the following Saturday.
The Military Commission abruptly ended the  9/11 pretrial proceeding on January 29th because Judge Parrella had a health emergency of a Detached Retina and had to be airlifted Stateside for Emergency Surgery.
Col. Keith Parrella's abrupt recess presented another pretrial delay in efforts to try the five men accused of plotting al-Qaeda's Sept. 11, 2001 attacks that killed 2,976 people in New York, the Pentagon and a Pennsylvania field.
Parrella was able to return and preside over the March 2019 KSM et al proceedings where it was revealed that the CIA had intercepted Al Qaeda chatter from April 2001 to October 2001 and the CIA was aware of the 9/11/2001 attacks months in advance.  Discussion of taped chatter obtained from the CIA revealed terrorists discussing and planning the details of the forth coming attacks revealed from 118 phone calls and 25 different phone lines. The discussion in the March proceedings were about determining if these taped calls could be used in the court proceedings of the al Baluchi case. A linguist was able to identify the voices. One voice entity was from an "Institution".
This news story is evolving and we will update this report as additional information becomes available.
---
Linda Forsythe – Volunteer Citizen Journalist, News Commentator & Founder of the C-VINE International Charitable Trust.
This rapidly growing, grass-roots effort is exciting to watch as Patriots join together to MAGA! Continuing to look for volunteers to help with the many various duties that assist in running this massive movement. In addition we request financial assistance on our donation page, to cover the cost of travel expenses for reporting on the Military Tribunals and overhead costs for the C-VINE.COM website: https://c-vine.com/c-vine-donation-page/
Leonard Bacani is a retired Santa Ana Police Officer and the Founder of HOMELAND SECURITY SERVICES, INC. headquartered in Southern California.
HOMELAND SECURITY SERVICES, INC. is a Private Investigation, Private Security firm and State Authorized Training Facility. Contact Leonard at LBacani@hssinc.us for assistance or call the office: (714) 865-1135.          Website: http://www.homelandsecurityservices.com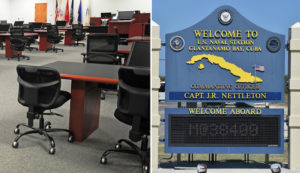 All this and future Military Tribunal information will be released to the public after Department of Defense final approval & posted on the C-VINE.com website.
---
This article was posted by our C-VINE team of volunteer workers, investigative reporters, and citizen journalists, who make certain all information is vetted for accuracy before publishing. C-VINE News is placed in a Foundation, also called a Charitable Trust and is run by, "We the People".
Conversations and discussions are being held on the C-VINE News Talk – Facebook Group Page. (Must be a Facebook member): C-VINE News Talk