Latest Sentiment; "A Humongous Inconvenience!"
With the wind dying down, Pacific Gas and Electric Co. completed the planned shutdown of power across nearly three dozen counties in California Thursday and initiated the arduous process getting electricity restored.
An estimated 2 million people — or 600,000 customers — were without power at the peak of the massive outage, which hit parts of 34 counties Wednesday and Thursday. Officials said those who have not experienced an outage will not lose electricity.
It could take days to restore power to all those affected.
Before turning the power back on, the utility needs to inspect 2,400 miles of transmission lines and 24,000 miles of distribution lines — a process requiring 45 helicopters and 6,300 people on the ground, according to the state's Office of Emergency Services.
The shutoffs started early Wednesday in the northernmost counties and then hit those farther south, including Alameda, Contra Costa and San Mateo, just before 11 p.m. Wednesday, nearly 11 hours after the company said they could begin. The initial warning prompted many schools and universities in the central Bay Area to close for the day, in anticipation of blackouts that didn't happen.
After the winds shifted south, PG&E started restoring power to northernmost counties, including 126,000 residences and businesses, 74,000 of them in Humboldt County. But by dawn Thursday, thousands more people in those areas were enduring a second day without power.
The power company said about 234,000 customers would be impacted during the second phase.
PG&E faced intense criticism from every angle, including a massive backlash on social media and rebukes from politicians.
Meanwhile in L.A. County….
Thousands Of Edison Customers Without Power Due To Safety Shutoffs; No Shutoffs Were Planned:
CHATSWORTH (CBSLA) – Nearly 13,000 Southern California Edison customers were without power Thursday after the utility implemented precautionary power shutoffs due to powerful winds.
Approximately 4,700 customers in Los Angeles County communities including Palmdale, Santa Clarita and unincorporated areas of Agua Dulce, Acton, Fern Ann Falls, Twin Lakes, Deer Lake Highlands, Chatsworth Lake Manor and Santa Susana Knolls were affected.
The shutoff also affected customers in Ventura, Kern and San Bernardino counties, according to the Edison website.
Experts say there are between two and three people for each electrical customer.
According to one Edison official, more than half of all fire starts in the last five years were due to objects flying into power lines.
"Not because our poles fell over or because the lines came down, but because a palm frond flies into the line and generates a spark, or a Mylar balloon flies into a line and generates a spark," said Edison's Don Daigler.
There was at least one report of downed power lines near Topanga Canyon and Devonshire in Chatsworth due to the winds. Several businesses in the area were without power and traffic lights were also offline, CBSLA's Amy Johnson reported.
Officials later indicated the outage was caused by a construction tarp that blew into nearby power lines.
The Santa Clarita Valley Sheriff's Station tweeted out a photo of a downed tree at Magic Mountain Parkway and McBean just off the 5 Freeway.
In a tweet Thursday morning, the Los Angeles Department of Water & Power said the utility had no plans to perform safety shutoffs similar to Edison's.
A red flag warning for the region was extended into Friday evening.
PG&E power shut-downs in Southern California are scheduled for 10/15.
---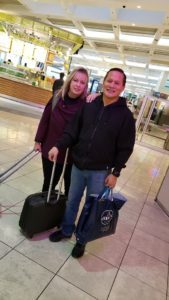 Linda Forsythe & Leonard Bacani are Patriot, Volunteer Citizen Journalists and News Commentators on C-VINE News.
Linda Forsythe is also the FOUNDER and architect of the C-VINE Network that includes Breaking News and an International Forum. She is not paid for any of this labor of love.
Leonard Bacani is a retired Santa Ana Police Officer and the Founder of HOMELAND SECURITY SERVICES, INC. headquartered in Southern California.HOMELAND SECURITY SERVICES, INC. is a Private Investigation, Private Security firm and State Authorized Training Facility. 
The C-VINE News Network includes a section for Education and many Social Media pages where the public can discuss or research News Stories.  In addition, a Citizen Journalist Program and Licensed Investigators Team works closely in tandem with the public to bring Late Breaking News. ALL are volunteers.
"We the People" of the world should be in charge of the news and or education… NOT the Government, or Career Politicians. And certainly not "For Profit"  or Large Corporate Entity, Main Stream Media.
C-VINE International is placed in a Charitable Trust to be run by the public and C-VINE Foundation Trustees. C-VINE is supported by donations, and volunteers. Zero advertising is allowed and is not monetized.
Click Here for Linda's Facebook Page.
Follow Linda on Twitter @LindaForsytheTV
Click Here for Leonard's Facebook Page
 Follow Leonard on Twitter @LeonardBacani1
Click Here for the C-VINE International News Network GROUP Page on Facebook: Members debate, discuss, research and assist with news story Investigations.