August 1, 2021 ~ By By
The Department of Justice's (DOJ) order on Friday to release former President Donald Trump's tax returns appears to be purely political and sets a dangerous precedent, Sen. Chuck Grassley (R-Iowa) said.
In 2019, the department said the returns did not have to be given to Rep. Richard Neal (D-Mass.), chairman of the House Ways and Means Committee, because Neal was "disingenuous" about the true purpose of seeking the returns.
On July 31, a lawyer in the department's Office of Legal Counsel (OLC) reversed that decision, alleging the panel "invoked facially valid reasons for its request."
Grassley was among those decrying the move.
"The federal government closely guards private taxpayer information for a reason. It seems to me that this new opinion from the Biden Justice Department is just politics. The Office of Legal Counsel is supposed to be a source of thoughtful legal analysis, not a source of political justifications to back up partisan House investigations. Troublingly, this new OLC opinion contradicts its own very recent opinion," the top Republican on the Senate Judiciary Committee, and a senior member of the Senate Finance Committee, said in a statement.
Grassley noted that the Treasury Department's career inspector general, Richard Delmar, affirmed last year that the Treasury Department separately acted properly when deciding whether to release the returns to Neal.
"There's no legitimate legislative purpose for targeting an individual's tax information like this, even if it's the former president. It's always been obvious that House Democrats wanted to get the former president's tax returns just so they could release them to the public, and the Ways and Means Committee's excuse about doing oversight on the presidential audit program is an obvious pretext that deserves no deference from the Treasury Department. It doesn't matter who it is, such a partisan and targeted abuse of private taxpayer information is a very dangerous precedent that will damage our country," Grassley said.
Other Republicans also weighed in against the decision.
"Whether or not you believe President Trump should have made his tax returns public, every taxpayer should be alarmed by this politically motivated Justice Department ruling," Rep. Kevin Brady (R-Texas), the top GOP member on the House Ways and Means Committee, said in a statement.
"Privacy should matter. Instead, this sets a dangerous precedent that weaponizes the tax code by giving Congress the dangerous power to rummage through anyone's private tax returns for purely political reasons. If politicians in Congress can demand, and ultimately make public, the President's private tax returns, what stops them from doing the same to others they view as a political enemy?"
Neal has previously stated that he wanted to make Trump's returns public, Brady noted.
Dawn Johnsen, acting assistant attorney general for the DOJ's Office of Legal Counsel, said in the Friday legal opinion, that officials can't know whether the information will be made public.
"We presume the Committee will handle the tax information it receives with sensitivity to taxpayer privacy concerns," Johnsen wrote.
Trump has not responded to a request for comment, nor has he or his team responded to the reversal.
Democrats praised the decision.
"Democrats requested former President Trump's tax returns more than two years ago. The law is on our side, but the request was blocked by the Trump Administration. I thank [Attorney General Merrick] Garland for making the right call," Rep. John Larson (D-Conn.) said on Twitter.
"I applaud DOJ's decision directing the tax returns of Donald Trump Treasury be provided to Congress so that it can fulfill its duties, including ensuring compliance and with the Emoluments Clause. No one is above the law, not even a President of the USA," added Rep. Sheila Jackson Lee (D-Texas).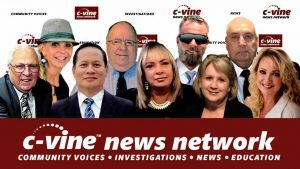 Please click and bookmark:
 C-VINE Social Media Channels 
 *C-VINE.Com, https://c-vine.com
*C-VINE-Telegram,  https://t.me/CVINENEWS
*C-VINE-MeWe, https://mewe.com/join/C-VINE
*C-VINE-Rumble,  https://rumble.com/user/CVINE
*C-VINE YouTube Channel,  https://www.youtube.com/c/CVINENewsNetwork/videos
*C-VINE Commentary & Analysis, https://www.facebook.com/groups/895771901163001/
*C-VINE Business Network,  https://www.facebook.com/groups/1242625425864710
*C-VINE Natural Health News Network, https://www.facebook.com/groups/cvinehealth
*C-VINE Patriot Prayer Brigade, https://www.facebook.com/groups/4826437259486216