July 29, 2021 ~ By
A bipartisan Senate vote late Wednesday means senators will begin debate on an infrastructure package endorsed by members of both parties.
The Senate voted 67–32 to break the filibuster and trigger debate on the package, which is listed as a House bill as Senate negotiators hammer out the package's language.
Republicans backing the package were: Sens. Roy Blunt (Mo.), Richard Burr (N.C.), Shelley Moore Capito (W.Va.), Bill Cassidy (La.), Susan Collins (Maine), Kevin Cramer (N.D.), Mike Crapo (Idaho), Lindsey Graham (S.C.), Chuck Grassley (Iowa), John Hoeven (N.D.), Lisa Murkowski (Alaska), Rob Portman (Ohio), Jim Risch (Idaho), Mitt Romney (Utah), Thom Tillis (N.C.), and Todd Young (Ind.), along with Senate Minority Leader Mitch McConnell (R-Ky.).
"At a time when Washington seems broken, this group of members behind me came together, along with others, and decided we were going to do something great for our country," Portman, who is retiring after his current term is up, told a press conference after the vote.
President Joe Biden endorsed the agreement, which comes in around $1.2 trillion and includes $550 billion in new spending.
"This deal signals to the world that our democracy can function, deliver, and do big things. As we did with the transcontinental railroad and the interstate highway, we will once again transform America and propel us into the future," he said in a statement.
Democrats are also angling to ram through a $3.5 trillion bill through budget reconciliation, which saves them from needing any Republican votes in the upper chamber.
However, Sen. Kyrsten Sinema (D-Ariz.) said the price tag is too high, indicating Democrats will continue to have trouble getting enough votes.
Democrats control the upper chamber, which is split 50–50, through Vice President Kamala Harris, who can cast tiebreaking votes in her role as president of the Senate.
Sinema cheered the bipartisan vote, telling reporters that "we had a strong and broad bipartisan showing to move forward on this historic legislation, which would be the greatest investment in infrastructure in all of our lifetimes."
She said she expects to garner more support as legislators work through the amendment process.
Questions remain on the package's particulars, and critics said funding for infrastructure should only come from repurposing unspent money from previous COVID-19 relief bills.
"Congress can't keep spending trillions of dollars we don't have. The infrastructure package announced today continues the trend in Congress of insane deficit spending. Let's not forget, this is just the first step in the Democrats' plan to pass their $5.5 trillion tax and spend liberal wish list. Our nation is facing a nearly $30 TRILLION federal debt crisis. There are real infrastructure needs across the country. But, with growing inflation and many families struggling to financially recover from the events of the last year, it is not wise to throw fuel on the fire that is the raging inflation crisis and labor shortage we are seeing across America," Sens. Rick Scott (R-Fla.), Mike Lee (R-Utah), Ron Johnson (R-Wis.), Ted Cruz (R-Texas), Josh Hawley (R-Mo.), Marsha Blackburn (R-Tenn.), and Mike Braun (R-Ind.) said in a joint statement.
"Congress can't keep spending trillions of dollars we don't have," they added.
Portman said there were no taxes in the package and that the investments would be made across five or ten years into infrastructure that would be used for 50 or 70 years.
"That's the efficiency of the economy, makes us more productive. Therefore, there will actually be revenue coming back into the coffers," he said.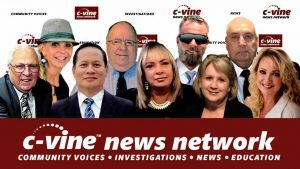 Please click and bookmark:
 C-VINE Social Media Channels 
 *C-VINE.Com, https://c-vine.com
*C-VINE-Telegram,  https://t.me/CVINENEWS
*C-VINE-MeWe, https://mewe.com/join/C-VINE
*C-VINE-Rumble,  https://rumble.com/user/CVINE
*C-VINE YouTube Channel,  https://www.youtube.com/c/CVINENewsNetwork/videos
*C-VINE Commentary & Analysis, https://www.facebook.com/groups/895771901163001/
*C-VINE Business Network,  https://www.facebook.com/groups/1242625425864710
*C-VINE Natural Health News Network, https://www.facebook.com/groups/cvinehealth
*C-VINE Patriot Prayer Brigade, https://www.facebook.com/groups/4826437259486216