November 27, 2019
Contrary to Democrat chatter, it appears, "The USS Shipff may be Sinking…"
---
SINKING SCHIFF: New Polls Show Impeachment Hearings a 'Disaster' for Democrats, Support Drops
posted by Hannity Staff – 18 hours ago
A series of new polls released this week show support for Rep. Adam Schiff's impeachment inquiry evaporating; raising serious new questions over the Democrats' decision to launch the probe less than a year before the 2020 presidential election.
A new survey from the Huffington Post / YouGov reveals just 42% of the public want Trump removed from office. A similar poll from CNN had Trump's approval rating improve since the start of the hearings.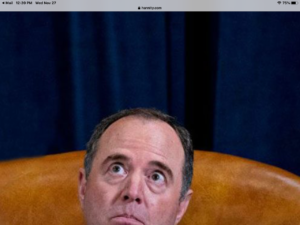 "Days of televised impeachment hearings have left Americans largely dug into their original opinions, a new HuffPost/YouGov poll finds, dashing Democrats' hopes that the testimony might finally splinter the president's base of support and Republicans' predictions that the hearings would backfire on their opponents," writes the Huffington Post.
According to Politico, 44% of independents back Schiff's probe; a 3% drop since the beginning of public testimonies.
"As investigators look to continue making their case for impeachment to the public, support for the inquiry has ticked down over the past week," adds Politico.