By
The Department of Justice has responded to a request by lawyers for former President Donald Trump to have a special master review materials that were seized from his Florida Mar-a-Lago home by federal agents in early August.
In a court filing (pdf) on Aug. 30, the DOJ urged a judge to reject the request, arguing that Trump lacks the legal standing to ask for a special master, and that "even if his claims were properly raised, Plaintiff would not be entitled to the relief he seeks."
"As an initial matter, the former President lacks standing to seek judicial relief or oversight as to Presidential records because those records do not belong to him," the DOJ wrote, citing the Presidential Records Act, which they said, "makes it clear that 'the United States' has 'complete ownership, possession, and control' of them."
The DOJ also stated that the court "lacks jurisdiction" to make a formal judgment on Trump's Fourth Amendment challenges to the validity of the search warrant and "his arguments for returning or suppressing the materials seized," and that "for those reasons and others, Plaintiff has shown no basis for the Court to grant injunctive relief."
The Fourth Amendment provides individuals with protection from unreasonable search and seizure.
The DOJ went on to state that Trump "is not likely to succeed on the merits; he will suffer no injury absent an injunction—let alone an irreparable injury," and that "the harms to the government and the public would far outweigh any benefit" to him.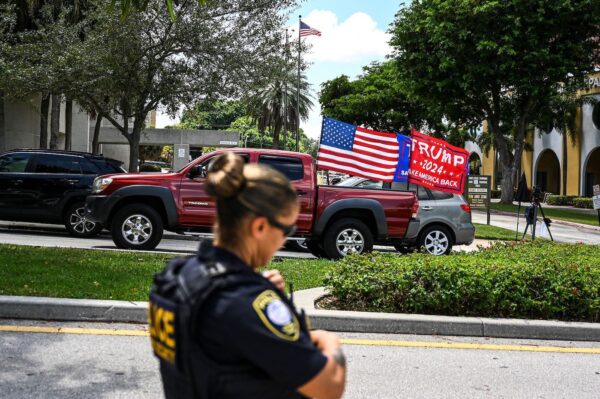 Special Master 'Unnecessary'
It further stated that "even if the Court had jurisdiction to entertain" Trump's claims, appointing a special master is "unnecessary and would significantly harm important governmental interests, including national security interests."
They added that any materials that might be subject to attorney-client privilege have already been separated by the government's filter team.
"The government's investigative team has already reviewed all of the remaining materials, including any that are potentially subject to claims of executive privilege," the DOJ wrote.
"Appointment of a special master to review materials potentially subject to claims of executive privilege would be particularly inappropriate because binding Supreme Court precedent forecloses Plaintiff's argument that review of these materials by personnel within the Executive Branch raises any such privilege concerns," the DOJ wrote.
"Furthermore, the appointment of a special master would impede the government's ongoing criminal investigation and—if the special master were tasked with reviewing classified documents—would impede the Intelligence Community from conducting its ongoing review of the national security risk that improper storage of these highly sensitive materials may have caused and from identifying measures to rectify or mitigate any damage that improper storage caused," they added.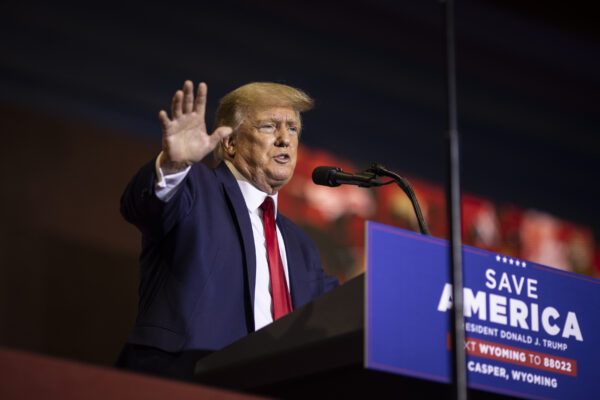 Boxes Returned in January
By law, presidential records must be turned over to the National Archives and Records Administration (NARA) when a president leaves office and in January, Trump returned 15 boxes of government records.
The filing claims that lawyers for Trump "explicitly prohibited government personnel from opening or looking inside any of the boxes" inside a storage room at Trump's Mar-a-Lago home in June when officials sought to retrieve the records.
However, the DOJ said that the FBI's search had "uncovered multiple sources of evidence indicating … that classified documents remained" at Mar-a-Lago, in violation of a grand jury subpoena.
"The government also developed evidence that government records were likely concealed and removed from the Storage Room and that efforts were likely taken to obstruct the government's investigation," the DOJ wrote in Tuesday's filing.
The court filing states that FBI agents said the agency reviewed and identified 184 unique documents "bearing classification markings" including 67 documents marked as "Confidential," 92 documents marked as "Secret," and 25 documents marked as "Top Secret" at his home after Trump returned the boxes in January.
"Three classified documents that were not located in boxes, but rather were located in the desks in the '45 Office,' were also seized" during the search, they said.
Pages 'Torn Up'
The DOJ also stated that NARA had referred the issue to the FBI because there was also "evidence that certain pages of Presidential records had been torn up."
U.S. District Judge Aileen Cannon, who was appointed by Trump, has set a hearing for Thursday at a courthouse in West Palm Beach, according to court documents filed on Saturday.
Trump had asked that a special master be appointed to ensure that the DOJ returns any of his private documents that were seized during the search of his home, and identifies any of the documents that might be protected by executive privilege.
His lawyers have accused investigators of failing to disclose enough information to them about what specific documents were taken from his home. They have also noted that the former president declassified a range of materials during his time in office.
Trump administration officials have said they believe his home was searched because of his possible 2024 presidential ambitions.
Lawyers for Trump will have until Wednesday night to respond to the DOJ's latest court filing.
Reuters contributed to this report.
---
Please click and bookmark:

 C-VINE Social Media Channels 
 *C-VINE.Com, https://c-vine.com
*C-VINE-Telegram,  https://t.me/CVINENEWS
*C-VINE YouTube Channel,  https://www.youtube.com/c/CVINENewsNetwork/videos
*C-VINE Patriot Prayer Brigade, https://www.facebook.com/groups/4826437259486216
News Stories Researched and Posted by our Team of Volunteer Citizen Journalists