March 18, 2020 
The Angel Moroni statue atop the Salt Lake Temple of The Church of Jesus Christ of Latter-day Saints stands with its trumpet missing after an earthquake in Salt Lake City on Wednesday, March 18, 2020. Spenser Heaps, Deseret News
---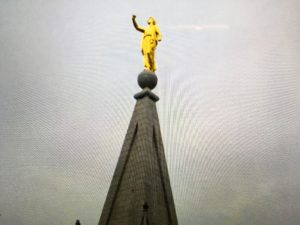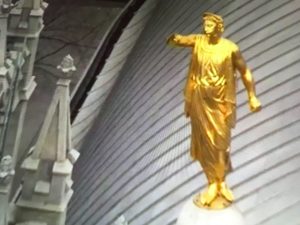 ---
Utah earthquake causes Angel Moroni on Salt Lake Temple to lose his trumpet
Deseret News
By Trent Toone  
SALT LAKE CITY — In the aftermath of Wednesday's 5.7 magnitude
earthquake
, the Salt Lake Temple suffered some minor damage.
Most visible was the Angel Moroni's missing trumpet.
"The Salt Lake Temple, which is undergoing a seismic upgrade, sustained some minor damage during Wednesday morning's earthquake," said Daniel Woodruff, a spokesman for The Church of Jesus Christ of Latter-day Saints. "The trumpet on the Angel Moroni statue fell off, and there is minor displacement of some of the temple's smaller spire stones. No workers were injured. Crews on the job site have been sent home for the day, and a full assessment is underway to determine needs going forward. This event emphasizes why this project is so necessary to preserve this historic building and create a safer environment for all our patrons and visitors."
The statement added that no injuries have been reported to church employees and all church headquarter facilities have been closed to evaluate their safety until further notice.
The Salt Lake Temple is currently under construction and in the middle of a major, four-year renovation. In January the temple was decommissioned and crews demolished the south wall and visitors center.
This is not the first time an Angel Moroni on a temple spire has been damaged. In 2016, a lightning strike hit the statue atop the Bountiful Temple. A few months later a new Angel Moroni replaced the one that was damaged.
---
As a citizen journalist and investigative reporter, I am committed to accurately reporting the news. Wide awake, never asleep, I grew up in a 1960's patriotic household, aware of the truth behind the false narrative.