Where is Everybody?!?!
C-VINE PATRIOT CHALLENGE * THIS WEEK'S WINNER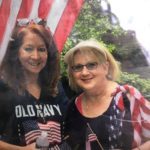 The American People have spoken.  So many empty seats…so few peeps – Whatever has happened to America's Favorite Past-time? 
Maybe it's WAY past the time we allow a few in-your-face dissenters like Kaepernick to carry the ball- (pun intended).
It's about time. The American Spirit is alive and well, and  finally, we are witnessing the American, freedom-loving public make their displeasure known in a very tangible way. Quit messing with our National Anthem, and get back to playing the game of football!  
We are, after all,  Patriotic American Citizens FIRST, before we are football lovers.   
I wonder if those such as Kaepernick, enjoy playing to an empty stadium, and if they will ever get the clue?…  
Game Over: Fans Stunned by Empty Stadium Seats as NFL Season Enters Week
Sports fans were shocked over the weekend as NFL stadiums across the country were filled with vacant seats; a troubling indicator for the beleaguered league as Americans flee in droves following years of protests against the national anthem.
---
"Not many people here at Paul Brown Stadium to see this clash of NFL teams," posted one reporter for ESPN.
---
---
Former NFL quarterback Colin Kaepernick doubled-down on his US anthem protest earlier this year; telling athletes who plan on kneeling during the 'Star-Spangled Banner' to "stay strong" during the upcoming 2019 season.
"My Brothers @E_Reid35 @KSTiLLS @iThinkIsee12 continue to fight for the people, even in the face of death threats. They have never moved past the people and continue to put their beliefs into action. Stay strong Brothers!!!" posted Kaepernick on social media.