March 31, 2022  Jill McLaughlin
To meet its zero-emissions goals, Los Angeles and Long Beach ports will start charging fossil fuel trucks an extra fee on April 1 to pick up or drop off shipping containers.
Most trucks at the port will be charged an extra $10 per 20-foot container—the standard measurement for a container—each time they enter or leave the terminals.
Trucks that run on fossil fuels will be charged the extra "Clean Truck Fund Rate" fee. Trucks that run on clean energy, including natural gas, will be exempt for a limited time, according to the ports.
Los Angeles Mayor Eric Garcetti and Long Beach Mayor Robert Garcia plan to mark the start of the new fee by joining port officials for a public kickoff event at the Long Beach port on Friday.
The fee is expected to generate $90 million each year for the ports.
"As we continue to move record-breaking cargo volumes through our port complex, the need for zero-emissions solutions has never been greater, and I'm proud to see our region leading on this first-of-its-kind step to steer our port toward cleaner air, lower emissions, and healthier communities," Garcetti said in a
statement
.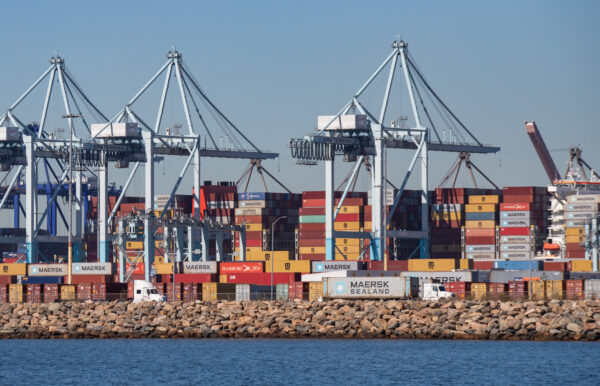 Environmental groups, including Earth Justice and the Sierra Club, support the new fee.
"We appreciate both Ports listening to the community, environmental and health groups that have asked both Ports to invest in zero-emission trucks and infrastructure from the start of the [Clean Truck Fund Rate]," the environmental groups wrote in a letter to the port commissions March 23.
"It will also help the Ports leverage the significant public and private subsidies that [are] being delivered in the hundreds of millions of dollars now for zero-emission trucks," the groups stated.
Harbor Commissions of LA and Long Beach adopted spending plans for the rate program March 25. The plans target the development and deployment of the ports' Clean Air Action Plan for zero-emission trucks and infrastructure.
The ports have a goal of being serviced only by zero-emission trucks by 2035.
As part of the clean truck program, the ports will provide $150,000 vouchers as incentives to licensed carriers when they purchase zero-emissions trucks.
The ports will also work with a contractor to administer government grant programs to provide money to help carriers install or get zero-emissions charging and fueling stations.
The extra fee comes at a time when the twin ports continue to struggle with a surge in deliveries and ongoing supply chain snarls that ramped up last year during the COVID-19 pandemic.
The Port of Los Angeles reported it had about 60,700 containers waiting at the terminal on March 31 to be transported either by truck or rail. Of those, more than 15,000 containers were waiting more than nine days to be transported.
The port also reported it had about 59,000 empty containers at the terminal and off-dock depots waiting to be shipped, a nearly 5 percent increase from the day before.
The new cost hits the trucking industry at a time when companies continue to struggle with labor shortages and record-high fuel prices.
American Trucking Associations, a national organization supporting the industry, called on the federal government this month to find ways to increase domestic energy production to offset costs.
"We cannot afford to ignore our nation's current energy needs in a fog of partisan idealism about the future of energy use," CEO Chris Spear said in a statement.
"The trucking industry supports an all-of-the-above approach when it comes to securing our energy future. But the transition to cleaner and renewable fuels over the horizon requires a practical, common-sense bridge in the here-and-now, beginning with the abundant sources readily available here at home."