July 23, 2021  Commentary

In what may be the biggest story of the week, The Guardian https://www.theguardian.com/news/series/pegasus-project reported that Israeli company NSO, who sells their spy software to governments, intelligence agencies and corporations, has been used to spy on at least 50,000 world leaders and government types over the past few years.
Conservative pundit Dan Bongino has devoted a lot of time to this story within his daily podcasts. Because of the nature of the story, few news outlets are willing to write about it.
If the government deems you to be a risk on some list for criticizing the Global agenda, you should be wary of clicking on strange texts on your smartphones. The spy program literally takes over all the sensor and data functions on your phone, including your camera and microphone without your knowledge.
Conservative pundit CodeMonkeyZ on Telegram was working on a similar story on his private account on Telegram, and right before he could share it to his Telegram "channel", his account's phone number was deleted from Telegram by someone or an AI bot. Only speculation as to how that happened. He was able to restore his account after contacting a human at Telegram. The rest of us may not be so lucky. There are no other documented instances of Telegram censorship to date.
As an aside, the owner of Telegram was on that 50,000 list of phone numbers released, draw your own conclusions and use discernment in your research.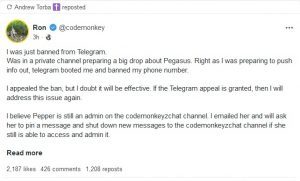 Commentary by C-VINE News Volunteer Journalist: Phil Ingram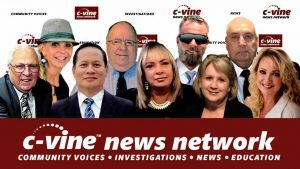 C-VINE Bookmarks to copy :
*C-VINE-Telegram News Channel, https://t.me/CVINENEWS
*C-VINE-Telegram Chat Group, https://t.me/CHATFORCVINE12345
*C-VINE-MeWe, https://mewe.com/join/C-VINE
*C-VINE Gab, https://gab.com/groups/6078
*C-VINE-Rumble, https://rumble.com/user/CVINE
*C-VINE-Parler, https://parler.com/profile/CVINE/posts
*C-VINE YouTube Channel, https://www.youtube.com/c/CVINENewsNetwork/videos
Facebook Groups – subject to censorship :
*C-VINE Patriot Prayer Brigade, https://www.facebook.com/groups/482643725948621
*C-VINE Commentary & Analysis, https://www.facebook.com/groups/895771901163001