October 16, 2021 By Ken Silva ~
U.S. Marine Corps Judge Glen Hines has docked Lt. Col. Stuart Scheller $5,000 in pay and ordered a letter of reprimand against the combat veteran for his criticisms about how senior military officials handled the U.S. withdrawal from Afghanistan.
Hines handed down his sentence Oct. 15, concluding the legal matter. The Secretary of the Navy will decide whether Scheller receives an honorable discharge or a general discharge under honorable conditions.
Defense attorney Timothy Parlatore said he thinks the sentence was fair.
"We were happy with the sentence. I think the judge carefully considered all of the facts and circumstances of this case, and the sentence was an appropriate reflection of what Lt. Col. Scheller did," he said.
"After hearing what government said and going back and viewing videos, [the judge] found a lot more context to them than the cherry-picked statements the government presented," Parlatore said.
According to Parlatore, Judge Hines criticized the government's conduct, including for leaking case documents about Scheller. The judge said it's not the court's role to investigate the leak, but that there should be a probe into the matter.
"He commented on the severity of pretrial confinement for a case of this nature," Parlatore added. "He saw a Marine in pain and in emotional anguish, which is pretty much what we argued."
Parlatore said Scheller won't comment on the matter until his discharge is processed. Neither the prosecution nor a Marine Corps spokesperson have responded to queries from The Epoch Times.
Scheller was charged for making statements such as, "Potentially, all of those people did die in vain if we don't have senior leaders that own up and raise their hand and say we did not do this well in the end."
At his Oct. 14 trial, the Marine apologized for being disrespectful, but renewed his calls for accountability.
"I believe the General officers have demonstrated that they are unable or unwilling to hold themselves accountable. As a result, I believe fundamental change needs to occur in the military," he said. "I am being held accountable for my actions. The General officers should be held accountable for their failures."
Scheller also criticized the Marine Corps for apparently leaking confidential records about him to Task and Purpose.
"I was painted as a violent extremist, fascist, and the journalist even made a connection to Hitler. Obviously, you can understand that I was very angry following the article," he said. "After everything I've been through, I feel it's reasonable to conclude that the Marine Corps and Task and Purpose were working together in an effort to smear my name."
The Marine further pointed out that he hasn't been charged with making false statements "because everything I have said is true."
"If the Marine Corps could have charged me with it, they would have," he said.
Some government officials, for their part, accused Scheller of fanning the flames of insurrection. Task and Purpose reported on case documents that purportedly show how Marine Corps officials believe Scheller's comments about topics such as "revolution" violated Defense Department policy.
Scheller's case captured the national spotlight, with numerous Republican lawmakers criticizing the prosecution as politically motivated. Reps Marjorie Taylor Greene (R-Ga.), Louie Gohmert (R-Texas), and Ralph Norman (R-S.C.) testified on Scheller's behalf at the Oct. 14 hearing.
"It takes great courage to speak out against leaders who lead those under them to failure & to death," Greene said yesterday after testifying. "It takes even more courage to plead guilty in the face of unknown consequences. Why is Scheller the one on trial?"
Greene said on Steve Bannon's War Room that she would either hire Scheller or help find him a job.
C-VINE News Volunteer Citizen Journalists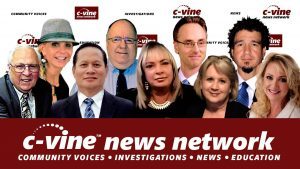 Please click and bookmark:
 C-VINE Social Media Channels 
 *C-VINE.Com, https://c-vine.com
*C-VINE-Telegram,  https://t.me/CVINENEWS
*C-VINE-MeWe, https://mewe.com/join/C-VINE
*C-VINE-Rumble,  https://rumble.com/user/CVINE
*C-VINE YouTube Channel,  https://www.youtube.com/c/CVINENewsNetwork/videos
*C-VINE Commentary & Analysis, https://www.facebook.com/groups/895771901163001/
*C-VINE Business Network,  https://www.facebook.com/groups/1242625425864710
*C-VINE Natural Health News Network, https://www.facebook.com/groups/cvinehealth
*C-VINE Patriot Prayer Brigade, https://www.facebook.com/groups/4826437259486216