October 16, 2021 By Zachary Steiber ~
A new U.S. Navy order released this week says all active-duty Navy personnel who don't get a COVID-19 vaccine by an upcoming deadline will be discharged—with possible financial repercussions as well.
The order applies to any sailor that is not fully vaccinated against the virus that causes COVID-19 by Nov. 28 and has not received a religious or medical exemption or has an application for an exemption pending.
Fully vaccinated refers to getting two shots of the Pfizer or Moderna vaccine or the single-shot Johnson & Johnson vaccine, and two weeks or more having elapsed since the final shot.
COVID-19 is the disease caused by the CCP (Chinese Communist Party) virus.
The Nov. 28 deadline was already known, as is a Dec. 28 date for reserve personnel, but the new order contained fresh details about what unvaccinated sailors face.
Any can be separated as soon as the deadline arrives without compliance, Vice Chief of Naval Operations Adm. William Lescher and Chief of Naval Personnel Vice Adm. John Nowell wrote in the joint order.
The discharge process will be overseen by the COVID Consolidated Disposition Authority, which includes Nowell.
In the weeks before the deadline arrives, commanders were told not to let any sailors refusing a COVID-19 vaccine get promoted, reenlist, or execute orders, with the exception of separation orders.
Additionally, the sailors can be temporarily reassigned, regardless of whether they've received or are seeking an exemption.
Officers and enlisted members serving in leadership roles who have not gotten a shot were informed in writing they had five days to initiate a vaccination series or request an exemption. If they do neither, they'll be relieved and have what's known as detachment for cause, or "administrative removal of a member from a current duty for unsatisfactory performance of duty or misconduct."
Any Navy personnel separated because of vaccine refusal will get a general discharge under honorable conditions or a higher level of discharge. Depending on the level, they could lose some veterans' benefits.
That's not all they could lose.
Officers may be subject to "recoupment of unearned special or incentive pays" in select cases. The COVID authority "may seek recoupment of applicable bonuses, special and incentive pays, and the cost of training and education for service members refusing the vaccine" from sailors, the order also says.
Unvaccinated personnel could also face a court-martial.
The order drew criticism from several lawyers who are representing military personnel who are seeking religious or medical exemptions.
"This is nothing more than pure vindictiveness. There's no legitimate reason to threaten our brave service members with court-martial or involuntary separation. And now the Navy is threatening to hurt them financially?!? You might expect a country like China or North Korea to force its people to choose between faith and country. But this is America. What the Navy is doing goes against the very fabric of our nation," Mike Berry, general counsel for the First Liberty Institute, told The Epoch Times in an email.
R. Davis Younts, another attorney, said the order is "deeply concerning" and "appears to be targeting military members based on their faith."
"My clients are being threatened with this simply for exercising their legal and constitutional right to submit a religious accommodation request. It appears as if the Navy may be signaling a plan to deny all religious accommodation requests without any consideration of individual cases, medical concerns, or natural immunity," he added. "My clients fear political motivations are the priority and the law and military readiness are being ignored. My clients believe it is as important as ever to stand strong against this mandate and continue to exercise all of their legal rights despite any threats they receive."
The COVID-19 vaccine mandate, outlined by Navy Secretary Carlos Del Toro, was announced on Aug. 30, five days after Defense Secretary Lloyd Austin ordered branch heads to develop mandates.
A Navy spokeswoman declined to comment this week when asked if any religious or medical exemptions have been approved.
As of Oct. 13, over 98 percent of active-duty Navy personnel are fully vaccinated or will be before the deadline arrives. Ninety-four percent of the total force have received at least one dose of a COVID-19 vaccine.
Catholic Troops Can Refuse COVID-19 Vaccine: Military Archbishop
October 16, 2021 By Zachary Steiber ~
U.S. troops who are Catholic can refuse to comply with a COVID-19 vaccine mandate, the military's archbishop said Tuesday.
People can sincerely hold a religious belief "that receiving the vaccine would violate his conscience," Archbishop for the Military Services Timothy Broglio said in a statement.
COVID-19 is the disease caused by the CCP (Chinese Communist Party) virus.
Defense Secretary Lloyd Austin in August ordered military branch heads to draw up COVID-19 vaccine mandates, all of which have since been issued.
Lawyers for clients seeking religious exemptions have told The Epoch Times some of the opposition to the jabs center on their use of aborted fetal cells.
Three vaccines are authorized or approved in the United States. The Johnson & Johnson shot used abortion-derived cell lines in design, production, and laboratory tests, according to an analysis (pdf) of the vaccines from self-described pro-life scientists. The Pfizer and Moderna vaccines also utilized the cells.
The companies have said the final products do not contain aborted fetal cells.
Broglio said the testing with the cells done for the Pfizer and Moderna vaccines has long been considered not sinful because of its remote link "with evil." However, he said the Johnson & Johnson shot is "more problematic"
He also said that each Catholic is bound to follow his conscience, quoting St. Paul VI.
"Accordingly, no one should be forced to receive a COVID-19 vaccine if it would violate the sanctity of his or her conscience," he wrote, adding later, "The denial of religious accommodations, or punitive or adverse personnel actions taken against those who raise earnest, conscience-based objections, would be contrary to federal law and morally reprehensible."
Tully Rinckey is representing more than 100 military members in their fight over the vaccine mandate. Sean Timmons, a managing partner and military attorney with the firm, told The Epoch Times he'd seen Broglio's letter. Clients have gotten similar missives from local priests or bishops in their effort to obtain exemptions.
"The accommodation based on religion is not up to a test of the validity of the religious tenets' adherence, meaning the Army and Navy can't say, 'okay, you're Catholic therefore you believe a and b, Catholic leadership says the vaccine's fine, so you're not really a Catholic.' That doesn't affect the way that it works because that would be objective analysis of the contents of religious practice. The military can't possibly do that. The only thing the military can do is look at it subjectively, 'is your religious religious beliefs sincere, yes or no.' If your religious belief is sincere, that's the only analysis necessary, it doesn't really matter what the leadership of a religion says," Timmons said.
Several clients of Tully Rinckey have already secured exemptions while others are working their way through the process. None have been rejected so far.
Asked about the letter, a Department of Defense spokesman told The Epoch Times in an email that each service has put into place processes that let members apply for religious exemptions.
"These exemptions are considered on an individual basis and service members are welcome to apply for religious exemptions," he said.
The branches did not respond to requests for comment.
The Air Force has the earliest deadline, Nov. 2. Nearly 97 percent of the 335,818 active-duty airmen have received at least one vaccine dose, Pentagon spokesman John Kirby told reporters this week.
Army Secretary Christine Wormuth told troops during a town hall on Tuesday, when queried about mandate exceptions, that applications are evaluated by senior Army leaders and considered.
Concerns about health and readiness compelled the mandate, she added, asserting that the vaccines are safe and effective.
C-VINE News Volunteer Citizen Journalists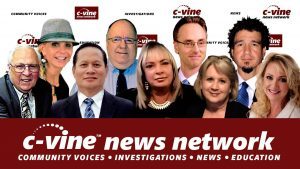 Please click and bookmark:
 C-VINE Social Media Channels 
 *C-VINE.Com, https://c-vine.com
*C-VINE-Telegram,  https://t.me/CVINENEWS
*C-VINE-MeWe, https://mewe.com/join/C-VINE
*C-VINE-Rumble,  https://rumble.com/user/CVINE
*C-VINE YouTube Channel,  https://www.youtube.com/c/CVINENewsNetwork/videos
*C-VINE Commentary & Analysis, https://www.facebook.com/groups/895771901163001/
*C-VINE Business Network,  https://www.facebook.com/groups/1242625425864710
*C-VINE Natural Health News Network, https://www.facebook.com/groups/cvinehealth
*C-VINE Patriot Prayer Brigade, https://www.facebook.com/groups/4826437259486216