August 3, 2022 Video by House of Destiny Network – Kim Clement
On this powerful night in Miami back in 2014, Kim worships and sings his sermon instead of just preaching it in an incredible, tender, and unforgettable act of praise. He then goes on to prophesy a future Latino president to a Spanish-speaking congregation. This is one of those incredible nights that God moved in such a powerful way, you will be blessed beyond words as you watch it!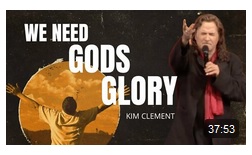 Click here: https://rumble.com/v1eb1di-kim-clement-prophesied-from-miami-in-2014-prophetic-rewind-house-of-destiny.html
We are thrilled to be back in the Prayer Brigade column on C-Vine News. God Bless!
---
News Stories Researched and Posted by Our Team of Volunteer Citizen Journalists.