November 22, 2021 By Jack Phillips ~
Kyle Rittenhouse, who was found not guilty on five charges last week, gave his first televised interview with Fox News' Tucker Carlson after he was acquitted.
The teen, without evidence, was accused by a number of high-profile celebrities and politicians of being a white supremacist or racist. Speaking to Carlson, Rittenhouse, 18, said the shooting incident during riots and protests in Kenosha, Wisconsin, last year had nothing to do with race.
"This case has nothing to do with race. It never had anything to do with race. It had to do with the right to self-defense," Rittenhouse told Carlson in a clip from the interview that was released online on Sunday. The full interview is scheduled to be aired on Monday night.
"I'm not a racist person. I support the BLM movement. I support peacefully demonstrating. I believe there needs to be change," Rittenhouse added, referring to Black Lives Matter. "I believe there's a lot of prosecutorial misconduct, not just in my case but in other cases. It's just amazing to see how much a prosecutor can take advantage of someone."
Rittenhouse added that after the shooting, he told others that "I had to do it. I was just attacked. I was dizzy, I was vomiting, I couldn't breathe."
During the trial, the jury agreed with Rittenhouse's argument that he acted in self-defense when he shot and killed two men and wounded a third, in an incident that was mostly corroborated by video footage. His lawyers were successfully able to make the case that the first man, Joseph Rosenbaum, charged Rittenhouse and tried to grab his gun during a night of arson and looting incidents.
In the same moment, another man, Anthony Huber, hit Rittenhouse with a skateboard several times before he shot and killed him, according to the video footage and Rittenhouse's defense. A third man, Gaige Grosskreutz, came at Rittenhouse with a pistol in his hand.
Under questioning from the prosecution, Grosskreutz said he had his hands raised as he closed in on Rittenhouse. Prosecutor Thomas Binger asked Grosskreutz why he didn't shoot first.
However, Grosskreutz later acknowledged to Rittenhouse's lawyer that he actually did point his gun at Rittenhouse, prompting the teen to shoot him in the arm. Defense lawyers also showed the jury a photo of Grosskreutz pointing his gun at Rittenhouse, who was on the ground with his rifle pointed upward.
Going into the trial, many legal experts said they believed the defense had the advantage because of provisions favorable to Rittenhouse in Wisconsin self-defense law and video showing him being chased at key moments. Testimony from some of the prosecution's own witnesses also seemed to buttress his claim of self-defense.
Rosenbaum's fiancee also disclosed that the man was on medication for bipolar disorder and depression. Rittenhouse's lawyers, during the trial, described Rosenbaum as unhinged and also pointed to video footage showing Rosenbaum screaming threats that he would kill Rittenhouse if he caught him alone.
The Associated Press contributed to this report.
C-VINE News Volunteer Citizen Journalists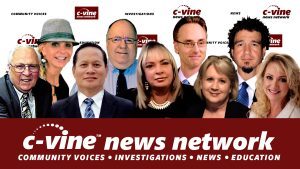 Please click and bookmark:
 C-VINE Social Media Channels 
 *C-VINE.Com, https://c-vine.com
*C-VINE-Telegram,  https://t.me/CVINENEWS
*C-VINE-MeWe, https://mewe.com/join/C-VINE
*C-VINE-Rumble,  https://rumble.com/user/CVINE
*C-VINE YouTube Channel,  https://www.youtube.com/c/CVINENewsNetwork/videos
*C-VINE Commentary & Analysis, https://www.facebook.com/groups/895771901163001/
*C-VINE Business Network,  https://www.facebook.com/groups/1242625425864710
*C-VINE Natural Health News Network, https://www.facebook.com/groups/cvinehealth
*C-VINE Patriot Prayer Brigade, https://www.facebook.com/groups/4826437259486216