By Allan Stein  August 8, 2022 
A contentious electoral battle pitting four-term incumbent Sen. Lisa Murkowski (R-Alaska) against Donald Trump-endorsed Kelly Tshibaka will go to Alaska's voters in the Aug. 16 primary.
Voting in the ranked-choice election will take place in person throughout America's Last Frontier.
The primary ballot has seven Republicans, three Democrats, five Independents, two Alaska Independent Party candidates, and one Libertarian.
The top four vote-getters will advance to the Nov. 8 general election.
In July, data analyst Morning Consult reported that 46 percent of Alaska voters approved of Murkowski's job performance.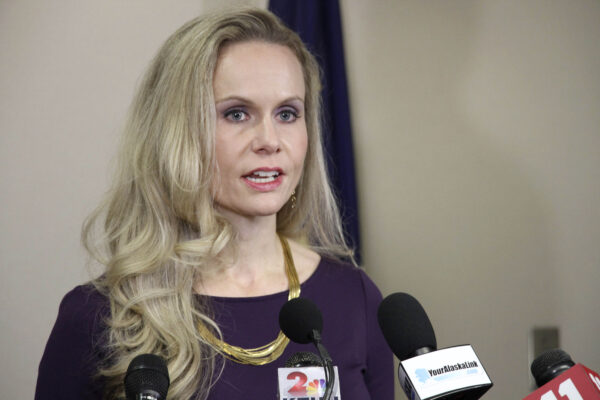 How that stacks up against Trump-endorsed Tshibaka's growing popularity with conservative Alaska voters, however, remains to be seen.
Murkowski took office in 2002 when her father appointed her to his own U.S. Senate seat which he vacated upon being elected Alaska's governor. She is currently the second most senior female member in the Senate after Sen. Susan Collins of Maine.
'Clout and Seniority'
"Every day, I use my seniority, clout, and bipartisan relationships to advance and secure policy victories that benefit our state," Murkowski said on her campaign website.
"Alaska is important to me because it's my home, and because it's yours," she said.
During her tenure, Murkowski said she authored and passed "the most significant infrastructure law in U.S. history, delivering much-needed relief and critical funding to hardworking Alaska families and businesses during the COVID-19 pandemic."
She listed as other accomplishments basing F-35 fighter jets at Eielson AFB in Alaska, supporting "responsible resource development" and renewable energy.
However, she faces a conservative credibility challenge as one of seven Republican senators who voted to convict Trump of incitement to insurrection in his second impeachment trial after the Jan. 6 Capitol protest.
Trump Flexes Electoral Muscle
Trump hopes to test his influence in defeating Murkowski in the primary through his endorsement of Tshibaka.
During a recent stop in Anchorage, Trump called Murkowski "one of the most destructive two-faced senators."
"Get Murkowski out of here because she is not a Republican," Trump told the crowd of around 5,000 supporters.
Murkowski also drew ire from conservatives over her co-sponsorship of a bipartisan bill to codify federal abortion protections following the Supreme Court's overturning of Roe V. Wade in June.
Tshibaka said she's running for a change from the destructive policies of the Biden administration.
"We've watched in horror as our resource industries have been destroyed by President Biden and his radical cabinet members–over 90 percent of whom have been confirmed by our Senator," Tshibaka said on her website.
"We've felt our freedoms stripped away and our land confiscated through federal whims. And we've seen jobs and opportunities leave our state because our senator hasn't been fighting for us in the U.S. Senate."
Tshibaka has served as a commissioner of the Department of Administration of the State of Alaska. She also worked as a special assistant to the Department of Justice's Inspector General and the Office of the Director of National Intelligence.
She was the acting inspector general at the Federal Trade Commission and assistant inspector general, and chief data officer at the United States Postal Service.
Polls Unclear on Projected Winner
Recent polling throughout the campaign has shown mixed results.
One survey, conducted by the research firm Cygnal for the Tshibaka campaign, found Tshibaka would defeat Murkowski by a slim 2 percent margin—51-49.
On the other hand, an Alaska Survey Research poll showed Murkowski benefiting from the new ranked-choice election system, beating her opponent in the third survey round.