July 1, 2020
C-Vine vetted
When will Rep. Desjarlais' alleged violations of ADA & HIPPA be looked into?
Shocking accusations have been made against Representative Scott Desjarlais, the GOP incumbent for Tennessee's 4th United States Congressional District, and his campaign. Doug Meyer, GOP challenger in the upcoming 2020 elections, made the accusations during a GOP 'Meet & Greet' rally held Tuesday, June 23rd in Winchester, Tennessee. Franklin County GOP Chairman Bradley Sherman hosted the event for the GOP candidates currently running for office in Tennessee's 4th District.
At the rally, challenger Doug Meyer asked Rep. Desjarlais why he had leaked Mr. Meyer's private medical records to Mrs. Joanne Davis, State GOP Executive Committeewoman. Then, according to multiple witnesses, he asked both Rep. Desjarlais and Mrs. Davis why they had leaked his private information to the GOP chairmen in all 16 counties of the 4th District three days prior to the Franklin County (TN) 'Meet & Greet'.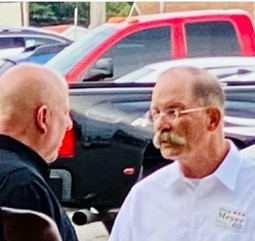 Initially, Rep. Desjarlais denied any knowledge of the leak to Mr. Meyer, but then he wondered aloud as to how Mr. Meyer's private information could have been accessed. In actuality, Rep. Desjarlais has had access to Doug Meyer's Constituent Services file since 2018.
In March 2018, Doug Meyer applied for assistance from Rep. Desjarlais and was required to provide his private medical information. Doing this created Mr. Meyer's Constituent Services file.
For the record, Mr. Meyer has a condition that is the result of serious musculoskeletal injuries that occurred during his military service, with persistent symptoms continuing to the present time. This medical condition does not prevent him from running for and serving in public office.
Who directed one of Rep. Desjarlais' staff members to access Doug Meyer's private information and why? Who in Scott Desjarlais' employ actually acquired Mr. Meyer's private information without his verbal or written permission? When did Rep. Desjarlais and Mrs. Joanne Davis receive his private information and from whom?
Why was Mr. Meyer's private and confidential information given to each of the District's 16-county GOP offices three days prior to the Meet & Greet rally? At publication time, both Rep. Desjarlais and Mrs. Davis have yet to respond to these specific questions.
For that matter, why did Mrs. Joanne Davis, (a member of Franklin County's GOP since changing from Democrat to Republican in 2010), also leak Mr. Meyer's private information across the 4th District, which covers more than 6,000+ square miles? And why did both Rep. Desjarlais and Mrs. Davis decide to leak Doug Meyer's private information to the American Legion Posts as well as multiple Veterans' service organizations in the area?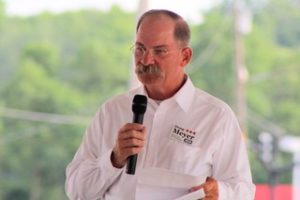 Subsequently, multiple eyewitnesses, including a VanBuren County GOP executive, have heard both Rep. Desjarlais and Mrs. Davis state that Mr. Meyer should not be running for office because 'he was unfit and shouldn't even be traveling or campaigning'.
Also, according to Doug Meyer, Mrs. Davis threatened to 'destroy him' when he announced his intentions to run against incumbent Scott Desjarlais. Mrs. Davis has allegedly made the same threats to previous contenders in past elections as well.
In addition, Mrs. Davis was also heard spreading malicious lies about Doug Meyer, including that he's a 'falling-down drunk' and a 'raging alcoholic'. Nothing is further from the truth. It's dirty politics at its worst. For the record, Doug Meyer is a teetotaler.
Thursday, June 25th, Doug Meyer released the following press release to several mainstream television and newspaper media in Middle Tennessee:
For Immediate Release: "Beginning on Saturday, June 20th, 2020, The Scott Desjarlais Campaign put out statements claiming to have "DIRT" on Congressional Candidate Doug Meyer. According to witnesses, Congressman Scott Desjarlais allegedly called all 4th District county GOP chairmen, Republican functionaries and other GOP leaders in order to spread malicious and/or untrue information about Doug Meyer.
Desjarlais' statements allegedly included that Doug Meyer was a disabled veteran who is unfit for office and should not be traveling, much less campaigning. He allegedly implied that Doug Meyer's disability claim was a scam.
When Mr. Meyer asked Representative Desjarlais if he had performed these highly unethical & probably illegal actions, Rep. Desjarlais first denied then said a staff member must have pulled Mr. Meyer's private & confidential information from Rep. Desjarlais' own 'constituent services files'.
 After providing his private & sensitive medical information to Desjarlais' Constituent Services Offices in March 2018, Mr. Meyer won his claim base SOLELY on medical evidence despite receiving NO assistance from Rep. Desjarlais or his staff."
The next day, Friday, June 26, Doug Meyer produced his video rebuttal which was immediately broadcast on GCTV-6 Cable News, Monteagle, Tennessee. GCTV-6 reaches eight counties and 25,000 viewers in Tennessee's 4thUnited States Congressional District, and is available on multiple social media platforms. Click link to watch Doug's video:
https://www.facebook.com/ggunn3/videos/10222000299789703/
It is extremely unsettling that Rep. Desjarlais and members of his campaign would stoop to these disturbing actions to discredit an opponent. Not only are these actions unethical, they are a direct violation of the ADA (American Disabilities Act) and/or HIPPA.
As an elected public servant, Congressman Desjarlais has a fiduciary responsibility to protect all his constituents, not discriminate or disclose their private information. Instead, Mr. Meyer's private medical records were secretly released by someone inside the Desjarlais campaign without his knowledge or written permission.
This fiduciary responsibility falls on Mrs. Joanne Davis as well. An avid campaigner for Rep. Desjarlais since his first race in 2010, Mrs. Davis absolutely knows this, and she should. Her husband is a long-time Franklin County attorney and judge while her brother Bob Peters is a long-time criminal attorney. All three are lifelong residents of Franklin County, Tennessee as well.
It now appears that further investigation of the local GOP offices in Tennessee is needed. For instance, while gathering information for this story, I've learned that lifelong Democrat Joanne Davis changed her party affiliation to the Republican Party in 2010, during Obama's second year in office. She then handpicked physician Scott Desjarlais to run for the 4th District House seat. Why did she change parties? Why did she pick Scott Desjarlais?
*July 1 @ 4:40 pm  After this went to press at 2:23 pm, Scott Desjarlais's Chief of Staff Richard Vaughn provided this comment in response to the allegations made in this article: "Rep. Desjarlais denies these accusations, they are unfounded and untrue. He also said that he communicated this directly to Mr. Meyer."
According to Mr Meyer, in conversation Rep. Desjarlais denied any personal knowledge of Mr. Meyer's records being accessed, then said "I don't know how it could have gotten out!" 
Stay tuned! There's more to come from C-Vine's newest Citizen Investigative Journalist!
---
Marti Faith
I'm a proud retired USArmy veteran, a graduate of DINFOs (the Defense Information School), w/a BS degree in News Editorial Journalism. I'm a defender of our Constitution, an advocate for truth & justice, and I live my life to serve my Father, YeHoVah. "If it needs to be said, Marti Faith will say it!"