October  11, 2020
C-VINE received another round of questioning from NewGuard, about concerns they have about some of our content.
The following below, is Part IV in our series of taking the public through the process of having your website "rated" by factcheckers. C-VINE was contacted by NewsGuard advising us that we were selected to be rated as a service to the public. (I will be attaching a video about this process after post the report).
In return, C-VINE has been investigating NewGuard, their process and history.  All is being conducted in front of We the People.  And We the People ARE C-VINE.  You decide if their process is fair because fact checkers are providing a SERVICE to YOU!
The investigative journalist assigned to C-VINE is Anicka Slachta. Thus far, Anicka has been very professional, polite and accommodating. Frankly, I learned quite a bit from her.
See below a copy of NewsGuard e-mail, and the C-VINE response in Maroon….
---
Hi Linda,
NewsGuard: As we move through our editorial process, I have a couple of follow-up questions for you. If possible, it would be great to hear back about these in the next few days.
1. In regards to opinion content on the website, you had noted in your reply that you occasionally add an opinion piece to the Breaking News section of the site, but in those cases the word "opinion" is added to the headline. However, I've found numerous examples of opinionated language in stories filed under Breaking News that don't include the word "opinion" in the headline. Among them are:
C-VINE RESPONSE: Thank you for pointing these out and agree with your findings in these instances.
Three of the above articles are an abbreviated report, (Proverbial bullet points), of the X22 Reports that are on video. The videos are lengthy and cover multiple news pieces.  JoLynn Live is a Citizen Journalist, who volunteers to listen to the report and then writes up the highlights.
If you look at the bottom of her reports… they do say "Opinion". But we agree that it should also say that in the title, so it has been added. All her future X22 Report encapsulations will include the word "Opinion" in the title.
The other report was written by me, and was factual based on my personal observation of the overwhelming response of angry citizens on Twitter, (having to do with the false allegations from the MSM report sourced).
I went back and updated the report to add the word "Opinion" in the title, because I had indeed voiced some of my own personal thoughts based on my observations. I will also instruct the team that in the future, all opinion based articles be labeled as such in the title.
NewsGuard Statement:
For some background on this criteria, if websites do lean one way or another politically, we require them to disclose that. Websites pass our opinion criteria if they use opinionated language in articles but disclose their position. The Gateway Pundit is a good example—we pass them for using opinionated language in articles because on their About page, they disclose that "editorially, The Gateway Pundit espouses politically conservative world view that support conservative positions on most issues…" (
https://www.thegatewaypundit.com/about/
). On the other hand, the Huffington Post does not meet our criteria for handling the difference between news and opinion responsibly because it uses opinionated language in articles without disclosing a liberal perspective.
C-VINE Response: NewsGuard "REQUIRES" a declaration of a political leaning on the "About Us" page? Editorials labeled as "Opinion" is a fair request. But declaring a political leaning,  assumes people can't think for themselves and immediately places division. 
In the interest of universal fairness for NewsGuard "requirements", I am seeing a large number of MSM that are obviously Left leaning that do not follow your "criteria". The New York Times is one example according to your website that you fact check. If you are factchecking as a "SERVICE" for the reader, fairness is paramount and should be universal for all.  Editorials are meant to illicit thought… your criteria immediately tells them HOW to think. It is not fair to immediately plant seeds of division when people can clearly see the direction of editorial content without having it declared. People are capable of making their own observations. 
That being said, C-VINE does completely agree that transparency is important. We added the following verbiage to the top of our C-VINE "About Us" page, in a comprehensive Declaration of how we lean politically as follows…
"The existence of C-VINE is for WE THE PEOPLE of America and made BY "We the People".  It is by and for those who love our country, believe and follow the traditional Constitution of the U.S, follow and implement the rule of law and support our duly elected President. Most importantly, made for those who KNOW we have the right to Freedom of Speech UNCENSORED, which includes the Freedom of the Press.
This grassroots wave of love for our country has amazingly spread globally, as demonstrated from our many international members who recognize a duplication of the same problems we have here… 
C-VINE is the voice of the people, and we CLAIM our RIGHT to that voice."
2. My second question has to do with your response to one of the stories I mentioned in my email — "CDC Quietly Lowers C-19 Death Count to 6%." You mention in your reply that "many of your 'sources' for information are NewsGuard investors, or lobbyist as our investigations have found out…you are paid by some of the people who make the assertions." I'm hoping you can clarify this for me —to which sources are you referring? I mentioned the CDC, health experts and The Associated Press—are you talking about those?
C-VINE RESPONSE: The above statement I made was in reference to NewsGuard in general which was discovered through our investigators.
But for clarification of your specific question having to do with COVID-19, yes there are some health experts, and a number of your investors who are closely tied to NewsGuard that have obvious agenda toward the left that you receive benefit from.
In addition, the Health Expert opinions used as NewsGuard sources, are not in agreement with many other reputable practicing Health Experts. These other Opinions that are not used as your sources, have been quite vocal about their disagreements. (Including the Health Professional Experts team which spoke at the Whitehouse). Factcheckers need to make certain information is well rounded for the reader to think for themselves….a number of which who are well schooled in Medicine. (Physicians, researchers etc.)
There is a reason they call it "PRACTICING" Medicine
.
"Why not fairly allow reports from these others?  Instead, there is silencing, and attempts to discredit or censor proven Health Experts. Those actions show great bias." 
As for the investors listed on your website… most are Left Leaning as found from our investigations.
Investors, advertisers, and even members who use your services, can do much to influence

NewsGuard's

direction for content.
C-VINE Members suggest you consider implementation of your own declaration criteria to NewsGuard about being a political "Left Leaning" Fact Checking Service… because they certainly are not coming from a position of being unbiased as based on our in-depth investigations! Is NewsGuard willing to consider this in the interest of Universal fairness?
Our report on our findings will be forthcoming.
Anicka, I offer you the opportunity again for us to conduct a taped Zoom discussion/debate for the public. If you are judging content, then in the interest of transparency… coming out of the shadows and explaining fact-checker actions is essential. In fact, substantial amounts of readers are demanding it. The following is a case in point where a fact checker was wrong, but there was no recourse…
We are including this here as an area of great concern to the general public, using it as one example. Please consider the following an additional response of interest having to do with our previous COVID-19 report that we posted on our C-VINE News Facebook Group page. The attached report was declared FALSE by the independent Facebook Fact Checkers that remain anonymous.
My question to you is, are they from an outbranch of NewsGuard? Your website declares a Social Media aspect to NewsGuard, but we don't know if NewsGuard had anything to do with it. Please clarify.
The information we had posted (screenshot copy displayed below), came directly from the CDC as you can see from the source links. Active links are added below them for you to fact check.
Observe the statement the fact checkers are declaring as false. That statement was never mentioned or alluded to in the posted report but yet it was docked.
Observe the sentence at the top that clearly states; "TOTAL US DEATHS (ALL CASES)." Nowhere,  does it say COVID is less fatal than the flu.
It is for censoring like this, C-VINE was created in the first place.
Anicka, is NewsGuard willing to work together to correct areas on your end that need improvement for the purpose of the greater good? For the purpose of transparency and fairness? This is a gesture that will go far in the eyes of the public.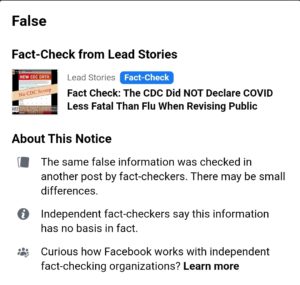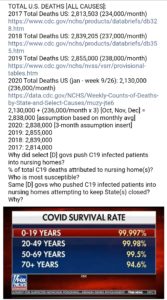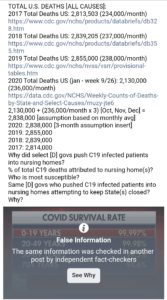 TOTAL U.S. DEATHS [ALL CAUSES]:
2017 Total Deaths US: 2,813,503 (234,000/month)
2018 Total Deaths US: 2,839,205 (237,000/month)
2019 Total Deaths US: 2,855,000 (238,000/month)
2020 Total Deaths US (jan – week 9/26): 2,130,000 (236,000/month)
2,130,000 + (236,000/month x 3) [Oct, Nov, Dec] = 2,838,000 [assumption based on monthly avg]
2020: 2,838,000 [3-month assumption insert]
2019: 2,855,000
2018: 2,839,000
2017: 2,814,000
Why did select [D] govs push C19 infected patients into nursing homes?
% of total C19 deaths attributed to nursing home(s)?
Who is most susceptible?
Same [D] govs who pushed C19 infected patients into nursing homes attempting to keep State(s) closed?
Why?
Linda Forsythe is a Volunteer Citizen Journalist. Patriot, Grandma, Reporter of the 9/11, KSM et al,  Pre-trial Tribunals from GTMO and Founder of C-VINE.You May Join Lively Discussions with other Members on the C-VINE Website Forum or on the Facebook GROUP Page here… https://www.facebook.com/groups/CvineNewsTalk/
We would be grateful for one time donations at: https://c-vine.com/donate-now/ OR become a Member of C-VINE for a regular monthly donation at: https://c-vine.com/membership-donation/