BY JOLYNN LIVE
January 16, 2021  UPDATE: January 16, 2021
"Truth is truth even if no one believes it.
A lie is a lie even if everyone believes it."  ~author unknown
If anyone has been awake for any length of time, we have bore witness to the spins, the lies, and the fake news spewed by various news sources.  Reports claiming to have the 'story of the century,' are flying in all directions begging us to take a look and dare to believe.
With President Trump's final days of his first term coming to an end, the mis-information campaign has advanced at a rapid pace. We are finding contradicting information everywhere!
At such a pivotal time in history, many ask, "What is the truth? How do we find it? Where do we look? When do I have the time to find reliable news?"
If you work a job requiring hours and hours of your time; and if you have a family which requires even more hours of your time, not to mention chores, errands, and other day-to-day essentials, then you most likely fit into the range of people who simply do not have time to research, and mostly rely on news being fed to you. Don't worry, you are normal!
Living on a small dairy farm, and raising and home-educating ten children, I didn't have time to research politics. While I was busy contributing to society, wasn't this what I voted my elected officials to do: to oversee my state's affairs while my tax dollars paid them to do it?  
It was supposed to work this way.
We have now learned that while Americans were working to survive, very little accountability had been placed under our elected officials. Uncovered corruption was quickly being debunked by the MSM as 'conspiracy' while the level of corruption continued to climb.
With all this being of valid concern, the questions beg: Where does the busy person find reliable news?  How does one who doesn't have time to spend hours researching current events, find the truth?
Look no further than what clues the censorship gods (a.k.a Silicon Valley, the big tech giants) have given.  By them removing numerous YouTube channels, Facebook, Twitter, Instagram and Snapchat accounts, they inadvertently revealed who to listen to.
There is a tight network of Patriots working tirelessly, many for free(dom), putting forth news not covered by mainstream media.  Scores of people are flocking to these sites on Bitchute, Rumble, GAB, MeWe, Telegram and many others.
Often, they will interview one another with opinion pieces. X22Report.com is an excellent place to begin. Subscribe to their websites and piece together the truths they are uncovering.  
The Epoch Times (TheEpochTimes.com) has an excellent rating for reporting accurate news.
At such a time of uncertainty in the days to come, don't feed into this mis-information campaign, which is designed to create chaos, division, and fear.  President Trump knew coming in to office what these last days of his first term would look like. It's not over.
In its completion, the 'story of the century' has not yet been told. Remember… the best is yet to come!
Opinion: JoLynn Live, C-VINE Contributor
C-VINE.com, Mewe.com (https://mewe.com/join/c-vine)

---

MyPillow CEO Visits Trump in Oval Office Carrying Mysterious Notes
BY ALLEN ZHONG
January 15, 2021;  UPDATE: January 16, 2021
TheEpochTimes.com
Mike Lindell, the CEO of MyPillow and a staunch ally of President Donald Trump, was seen leaving the Oval Office Friday with mysterious notes.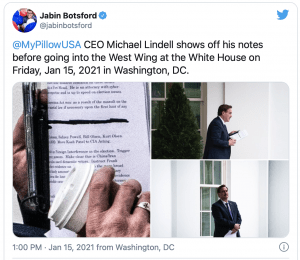 The notes were photographed by Washington Post photographer Jabin Botsford, but were folded in the middle and most sentences are incomplete.
However, the title of the document reads "…TAKEN IMMEDIATELY TO SAVE THE … CONSTITUTION."
"Move Kash Patel to CIA Acting" is also visible on the notes.
Patel is chief of staff to acting Secretary of Defense Christopher Miller. Gina Haspel currently heads the Central Intelligence Agency (CIA).
The document appears to mention martial law.
"… martial law if necessary upon the first hint of any …" read the notes.
It's hard to tell what exactly the document is about.
The White House didn't immediately respond to a request for details about the meeting.
According to a Washington Examiner report which Lindell posted on Twitter, he said he shared with Trump and White House lawyers a document advising the president to replace Haspel. But he said he was just a "messenger" for an attorney which he didn't name.
Trump read the document and returned it to him.
"It wasn't an official thing. It was from a lawyer who said it was a suggestion for him [Trump]," he told The Epoch Times. "That's what I get for trying to be a nice guy and deliver something for someone."
He said he gets things every day from people who want to pass documents.
However, the 5-minute discussion between him and the president is not about the document, and martial law wasn't discussed.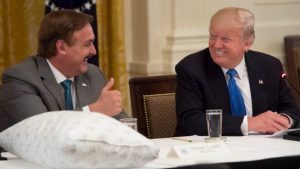 Pool reporters said Lindell entered the West Wing at 3:05 p.m. He declined when he was asked to come before the pool reporters to answer questions.
"I'm sure you'll write something nice," he told the reporters.
Joshua Philipp and Mimi Nguyen Ly contributed to this report.
---
Opinion: JoLynn Live, C-VINE Contributor

Please bookmark C-VINE.com, Parler.com (user name @CVINE), Mewe.com (https://mewe.com/join/c-vine)
---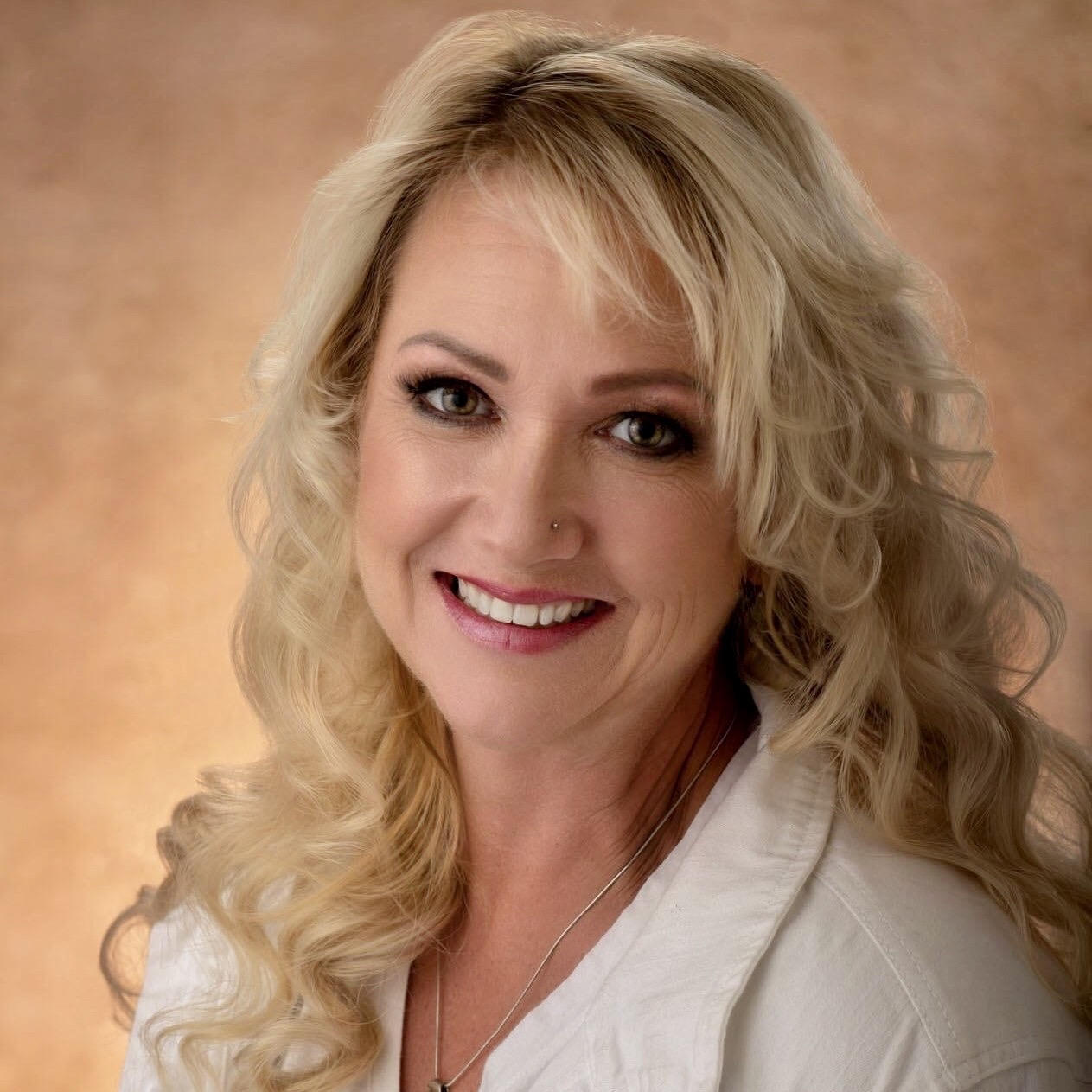 News Posted by: C-VINE Citizen Journalist, JoLynn Live! She is a Singer; a Wife of 37 years; Home-school mom to 10; Grandma to 11; Chicken Farmer; Patriot; and an active C-VINE News contributor.