Police Officer Fired for Refusing to Remove Video
Advocating Protection of U.S. Constitution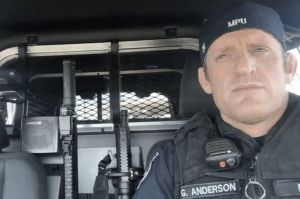 April 10, 2021
Opinion: C-VINE Contributor
*The following OPINION is an interview and recording originally made for AM 590 Radio, but turned into a video with all commericals removed for social media. 
On May 5th, 2020, Police Officer Greg Anderson, in uniform and from his patrol car, created a live video that very quickly went viral. With over 100 million views, his critical warning to fellow police officers on where we are headed as a nation was acknowledged by many, if certain actions held by our elected officials continued to violate the Constitutional Rights of the public.
Greg's opinion is even more important in today's world!
C-VINE's founder, Linda Forsythe, along with retired police officer & C-VINE Citizen Journalist Leonard Bacani, brought Greg Anderson onto our show to discuss what has transpired over the past year since Greg launched his video.
In addition, they outline what our Constitutional Rights are as citizens and the moral, ethical dilemma many law enforcement officers are placed in when some of their orders coming from the top are clearly unconstitutional.
Many LEO's (Law Enforcement Officers) are turning in their badges because of these violations against the people, but what is taking their place, are new officers who are viewed as more compliant in some cases.
What are our rights as U.S. citizens, and what do we as responsible citizens do about it?
C-VINE reports the news. YOU DECIDE after listening to these points of view.
Opinion: C-VINE Contributor

---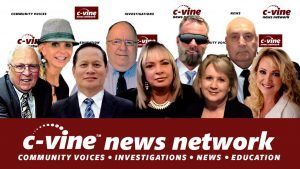 News Posted by: C-VINE Citizen Journalists. 
Please Like, Share and Subscribe to our Channels.
Click and bookmark:

 C-VINE Social Media Channels 
 *C-VINE.Com, https://c-vine.com
*C-VINE-MeWe, https://mewe.com/join/C-VINE
*C-VINE-Rumble,  https://rumble.com/user/CVINE
*C-VINE-Parler,  https://parler.com/profile/CVINE/posts
*C-VINE-Telegram,  https://t.me/CVINENEW
*C-VINE YouTube Channel,  https://www.youtube.com/c/CVINENewsNetwork/videos
*C-VINE Commentary & Analysis, https://www.facebook.com/groups/895771901163001/
*C-VINE Business Network,  https://www.facebook.com/groups/1242625425864710
*C-VINE Natural Health News Network, https://www.facebook.com/groups/cvinehealth
*C-VINE Patriot Prayer Brigade, https://www.facebook.com/groups/482643725948621