May 24, 2019
Could the term "Intervention" be code for assassinate? (Yes) Isn't this what we just heard come from Nancy Pelosi's mouth today? (Yes) "Intervention" against President Trump??
VIDEO:  Listen carefully as you watch this brief eye-opening snippet – how John McCain (Deep State player) utilized the same word. Be enraged.
This is not conspiracy – this is the way the Deep State sends out their messages to each other. Right under our noses. But, we are naive no more. We hear them clearly now.
~  Bonnie Nirgude' for C-Vine News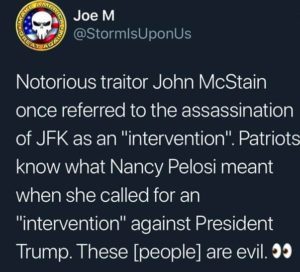 Joe M@StormIsUponUs