November 7, 2021 By Allan Stein ~ The Epoch Times ~
It's a simple fact of life for the commercial trucking industry: without replacement parts, the big semis stop rolling.
When the trucks stop rolling, store shelves across the United States won't be refilled with products.
"It's getting horrible" simply finding parts to fix the long-haul trucks, said Patrick Benford, general manager at Rocky Mountain Truck Centers, in Flagstaff, Arizona.
"We've run into a situation where parts are just not available."
"What we've started having to do is search anywhere [parts can be found]. We're using vendors we've never had to before," he said.
Need a new water pump?
That part could be weeks away on back-order.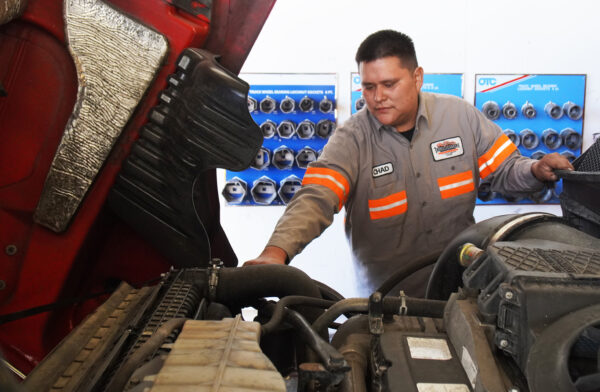 The same thing goes for any other part that uses a computer chip, due to a worsening global supply shortage of semiconductors.
At Rocky Mountain Truck Centers, the big white Freightliner semi parked in the service bay needed a new clutch, but even that part took longer to arrive.
"I don't see us getting out of this any time soon," Benford told The Epoch Times. "We believe it's going to get worse over the next two years."
At one of Rocky Mountain Truck Centers' Colorado facilities, customer relationship manager Tony Downs said the parts shortage has had serious implications for commercial trucking—and truckers.
"We're having serious disruptions in parts supplies, there' no question," Downs told The Epoch Times. "Of course, anything with a chip is in really short supply these days."
Downs said the shortage is due in part to cargo ships waiting to be off-loaded at ports of entry in California.
The situation is being made worse with overseas parts manufacturers having to shut down during the COVID-19 pandemic and then start back up.
And with the federal vaccine mandate for companies with more than 100 employees set to go into effect Jan. 4, that could spell more trouble for the parts supply chain, Downs said.
He said if the truck transport industry were to lose 30 or 40 percent of drivers who refuse the vaccine—"then we go into panic mode."
"Truckers are a pretty independent lot. They don't like being mandated," Downs added. "A lot of these guys will just quit driving a truck."
As bad as the situation is now, he said, it can only get worse with truck companies scrambling to find parts anywhere they can find them.
Downs said companies are already having to "cannibalize" parts from older semis, although parts from newer trucks aren't as readily available at salvage yards, which are "doing more business than ever."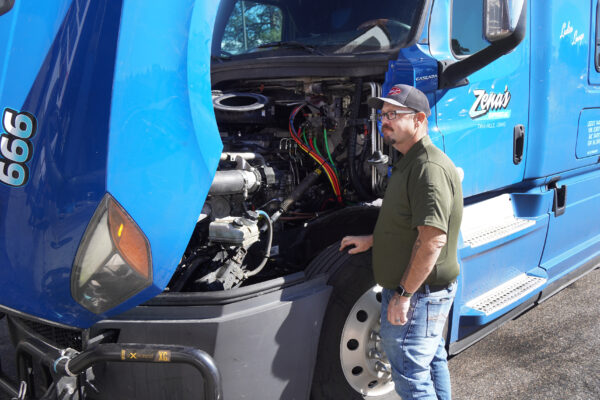 At C&H Truck Parts in South Sioux City, Nebraska, parts manager Ray Anderson said the company has been keeping busy in 2021 selling used semi parts.
"We're seeing a change in a lot of the phone calls we're getting," Anderson said. "People have always been interested in keeping older trucks running."
Anderson said with 2007 diesel-fuel trucks—and older—parts are more plentiful, since newer truck parts haven't had time to accumulate yet.
With newer trucks (2015 or later) certain air quality sensors have a tendency to fail, in which case some truck engines won't operate. To make matters worse, newer parts aren't generally compatible with older trucks.
Anderson said trucks minted in 1999 (and earlier) are exempt from many restrictive government air quality regulations. This provides further incentive to keep older vehicles in good working order.
Still, he said it's becoming more difficult to find parts given the dwindling supply and increasing demand.
"We've seen the demand on these older trucks—enough to keep us busy," he said.
John Elliott, CEO of Load One in Michigan and vice chairman of the Truckload Carriers Association, said parts in short supply include turbo chargers, air quality sensors, and batteries.
As a result truck companies have been moving heaven and pavement to keep older trucks on the road, he said.
"We've never seen as bad a [parts] shortage in our company," Elliott told The Epoch Times. "Unfortunately, it's in the newer trucks with all the bells and whistles."
Wait times for parts on back order are also taking longer than usual—sometimes three weeks or longer.
While larger truck transport companies are better equipped to weather these shortages, "it's pretty much a perfect storm" for the industry as a whole, Elliott said.
"Everything I see, and everyone I talk to, says it's going to get worse before it gets better. We haven't seen the worst of it yet," he said.
"The factories are having to play catch-up while the market is demanding more," said Cathy Roberson, President of Logistics Trends and Insights LLC, in Atlanta, Georgia. "The minute they produce [parts], they get snatched up."
"It's crazy," Roberson said regarding the log-jam of cargo ships along the west coast. Demand for parts is "crazy up."
According to USA Trade Online, ocean freight imports of motor vehicle parts and accessories are up 8.1 percent in 2021 versus 2019, and up 40 percent versus 2020.
During the same January-August time frame, 2021 over 2019, air freight imports of parts rose 87.6 percent in 2021 versus 2019; 100 percent versus 2020.
"It just shows the demand is so much," Roberson said. "Semi-conductor chip [shortages] impact every single industry."
"It's not like you can just turn on the light switch and it's all taken care of. This is going to take some time to unwind," she added. "The problem is, you've got to have trucks to move the parts."
In the meantime, "everyone is freaking out," Roberson said. "There's going to be stuff on the shelves [but] those specific Nike shoes—you may not get those [in time for Christmas]."
Tony Bradley, president and CEO of the Arizona Trucking Association, said the nationwide shortage of truck drivers —80,000 in total—has only exacerbated worsening supply chain issues.
"Even before the pandemic the situation was we had a shortage [of drivers]," Bradley said. "It's an older work force. We are doing everything we can to get [younger] drivers. The reality is, it's difficult."
Benford, at Rocky Mountain Truck Centers in Flagstaff, said it's not easy to find new talent to fix newer, electronically sophisticated big-rigs.
"Even here, it's just trying to hire people—and it's all gone downhill," Benford said. "I just don't get it."
Asked what the future may hold for truck parts, Benford laughed nervously.
"If we can't get parts we can't fix vehicles. Then things are going to stop moving," he said ominously.
C-VINE News Volunteer Citizen Journalists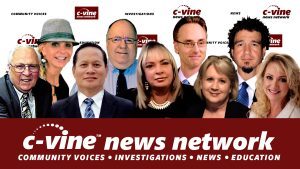 Please click and bookmark:
 C-VINE Social Media Channels 
 *C-VINE.Com, https://c-vine.com
*C-VINE-Telegram,  https://t.me/CVINENEWS
*C-VINE-MeWe, https://mewe.com/join/C-VINE
*C-VINE-Rumble,  https://rumble.com/user/CVINE
*C-VINE YouTube Channel,  https://www.youtube.com/c/CVINENewsNetwork/videos
*C-VINE Commentary & Analysis, https://www.facebook.com/groups/895771901163001/
*C-VINE Business Network,  https://www.facebook.com/groups/1242625425864710
*C-VINE Natural Health News Network, https://www.facebook.com/groups/cvinehealth
*C-VINE Patriot Prayer Brigade, https://www.facebook.com/groups/4826437259486216