September 16, 2021 By Jack Phillips ~
Texas Gov. Greg Abbott shut down six ports of entry with Mexico amid a surge of illegal immigrants trying to cross into the United States in recent months. However, hours later, Abbott said that the Biden administration changed course and decided against closing down the border crossing areas.
"I have directed the Department of Public Safety and the Texas National Guard to surge personnel and vehicles to shut down six points of entry along the southern border to stop these caravans from overrunning our state," said Abbott, a Republican, in a statement to news outlets on Thursday.
But Abbott later said that the decision was reversed by the federal government.
"Six hours after the U.S. Customs and Border Protection requested help from Texas to close ports of entry and secure the border, the Biden Administration has now flip-flopped to a different strategy that abandons border security and instead makes it easier for people to cross illegally and for cartels to exploit the border," the governor said in a statement to news outlets. "The Biden Administration is in complete disarray and is handling the border crisis as badly as the evacuations from Afghanistan," Abbott said.
It's not clear what ports of entry were shuttered by Abbott's order. The Epoch Times has contacted Abbott's office and CBP for comment.
Dennis Smith, a CBP spokesman, said the agency has received no directive from the federal government to close ports of entry.
BORDER NOW: Heard from sources last night that there's 6,000 illegal immigrants under this international bridge in Del Rio now.

Chatter about another 20k on the way, unconfirmed. Mostly Haitians, some Cubans, Venezuelans.

Most transported to BP station, processed, released. pic.twitter.com/mK3e1d07Ov

— Charlotte Cuthbertson (@charlottecuthbo) September 16, 2021
"I couldn't comment on anything the governor said, I don't have any information on that," Smith told the Texas Tribune.
Texas Department of Public Safety Regional Director Victor Escalon earlier in the day said that all points of entry in Del Rio would be closed due to the large numbers of illegal aliens in the area.
"Six, seven days ago, Del Rio saw 400 migrants sitting, underneath the bridge, the (point of entry) in downtown Del Rio … there's about 6,000 sitting there right now and more are coming," Escalon told CNN. "Before I came here today, my last instructions are, we're going to shut down all the POEs in Del Rio," he continued.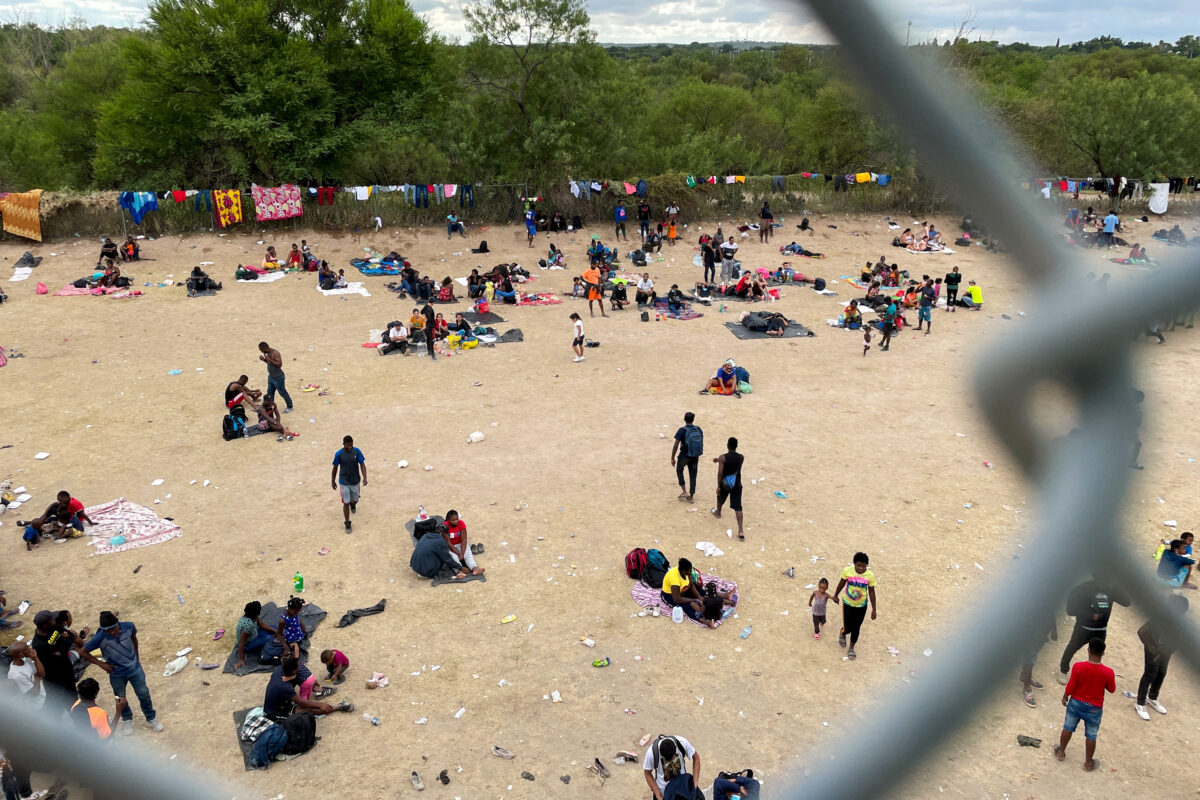 Images captured by The Epoch Times this week showed thousands of illegal immigrants amassing under a bridge in Del Rio, Texas. A source with the Border Patrol said that about 8,000 illegal aliens, including Haitian, Cuban, and Venezuelan nationals, are in the area.
Val Verde County Sheriff Joe Frank Martinez, meanwhile, said that Border Patrol agents are overwhelmed by the sheer number of illegal immigrants who arrived in the area.
"They just can't process them fast enough, so there's a backlog of these individuals underneath the bridge. They're not detained, they're just gathered there waiting their turn to get processed," he told the Tribune.
C-VINE News Volunteer Citizen Journalists