US President Donald Trump makes a video call to the troops stationed worldwide at the Mar-a-Lago estate in Palm Beach Florida, on December 24, 2019.

(Photo by Nicholas Kamm / AFP) (Photo by NICHOLAS KAMM/AFP via Getty Images)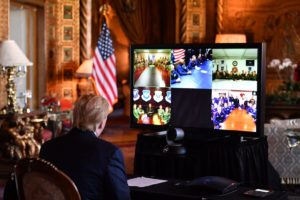 President Donald Trump spoke to troops stationed around the world during a teleconference call on Christmas Eve.
The president spoke from his Mar a Lago resort in Florida, where he and his family are spending the holidays.
"Hello everyone and I want to wish you an amazing Christmas and Happy New Year," Trump told the troops, who were in five different locations including Kuwait, in Afghanistan, and aboard the USS Forrest Sherman, located in the Gulf of Aden.
The president was seated at a desk at his resort and facing a large television screen with the troops that tuned in pictured on the screen.
"You're tremendous warriors and we appreciate it so much.
We're in Florida right now, speaking to you through this technological advance that's been made, that's been incredible," Trump added.
"Because of your brave and selfless service, Americans can celebrate Christmas in safety and in peace. We all appreciate what you do so much and we thank you very much."
Trump greeted airmen at Whiteman Air Force Base in Missouri, adding: "You know what happened recently, you helped us so much and won very, very big."
"You crushed ISIS from the air, kept the Taliban running scared and conducted countless lethal airstrikes against the enemies of freedom," he said.
'What happened with ISIS was incredible. As you know, we took over 100 percent of the caliphate and destroyed them. That doesn't mean they don't come back in smaller sections and we handle them as they come back. And Al-Baghdadi is dead. The leader of ISIS, the founder of ISIS is dead. His replacement is now dead. And we have our sights on the new replacement.
I don't know why anybody would want that job, frankly," Trump added.
Trump said the troops deserve the pay raise he recently signed in the national defense bill and took questions from the groups.
One troop asked whether "Home Alone 2" is Trump's favorite movie. "Well, I'm in 'Home Alone 2,'" Trump said, prompting laughter.
"It's sort of, a lot of people mentioned it every year, especially around Christmas."
"I was a little bit younger, to put it mildly, and it was an honor to do it, and it turned out to be a very big hit," he said.
Gen. David Odom, assistant division commander of 2nd Marine Division, in Afghanistan, wished Trump and his family "a very happy holidays" on behalf of all of the Task Force Southwest.
"We're very honored for the opportunity to speak with you, interact with you today," he said.
"We know how busy your schedule is and we're humbled that you would take the time out of your schedule to spend time with us on your holiday, sir."
Follow Zachary on Twitter: @zackstieber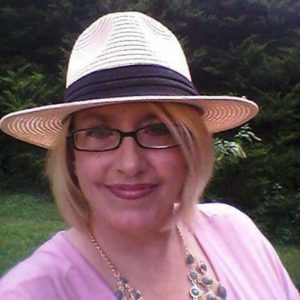 Citizen Journalist for C-VINE International News Network, Mother of two boys, Author, Public Relations Manager, Editor, Social Media Expert, and wife of a Professional Tennis Coach.