HONG KONG/NEW YORK—A Hong Kong protester was injured after falling from the second story of a shopping mall during cat-and-mouse chase with the police. Police also fired volleys of tear gas and water cannon to empty the streets across the city, as protesters took to shopping malls on Christmas Eve.
The incident occurred around 8:00 p.m. in Yoho shopping center in Yuen Long, after police raised flags demanding a crowd of protesters inside to leave.
The man, who was chased by two officers, jumped off from the second floor of the mall, Tommy Cheung, the elected district councilor for the Yuen Long region, who witnessed the event, said in a Facebook post.
The man suffered from fractures on the right hand and the spine, according to witnesses who accompanied the man to the hospital.
Video footage from People's Campus Radio showed the man running into a baton-wielding officer in the shopping center.
Police have arrested the man on charges of assaulting the police, after he was briefly treated at the hospital. The broadcast radio is affiliated with the Students' Union of Hong Kong University of Science and Technology.
Activists have continued to protest on the streets through holidays, saying it was not time to celebrate the holidays in the light of the looming threat from Beijing.
Police also beat up demonstrators with batons in shopping malls, with one officer pointing his gun at the crowd, according to Reuters.
In a statement after 9 p.m. local time, police declared that they would use "minimum necessary force to effect dispersal and arrest" on Nathan Road and Salisbury Road in Tsim Sha Tsui, where protesters had set barricades with bricks and other objects.
Protesters had called off an authorized evening parade from Tsim Sha Tsui to the Nathan Road thoroughfare in Kowloon, after police asked the organizers to change the route and to finish the event by 10 p.m.
Instead, they gathered at shopping malls and surrounding streets in five districts, including Time Square, Yuen Long, Sha Tin, Tsim Sha Tsui, and Mongkok.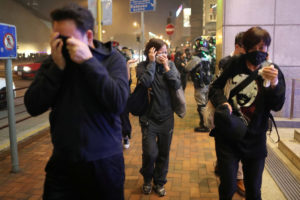 At Times Square shopping center, some over 200 people stood across at least six floors singing the official protest anthem, Glory to Hong Kong. Italian tenor Stefano Lodola also held a mini concert as black-clad protesters formed a circle around him, waving flags in support of the pro-democracy movement.
R, a protester who works in hospitality, told The Epoch Times that their "will to defend Hong Kong will never diminish."
Explaining why he and others would be protesting rather than spending time with families, R said: "We know that if we allowed ourselves to enjoy the good times right now, years or maybe decades from now our children would not have the happiness that we have—they would lose their freedom."
In Mong Kok, some protesters smashed windows and sprayed black paint on the doors of HSBC.
The bank had suspended the account of a local aid group that assisted protesters, and frozen around HK$70 million (around $8.99 million) in donations held by the group.
The glass door of sports brand Adidas storefront was also shattered, with a tear gas canister spotted inside.
By late night, police and protesters were still locked in a standoff in the area. Officers who have lined up on the street pushed back reporters and shone lights in their face, warning them to "bear any responsibilities" if they continued to stay there.
In response, some locals have cursed the police, calling them slaves of the Chinese Communist Party.
Near a skybridge on Tong Mi Road in the same district, a group of men attacked a young couple with axes, wooden sticks, and knives, leaving the two bleeding on the head, according to Tsang local Democratic Party member Tsz Ming Douglas.
Local activist group Civil Human Rights Front has received police approval to hold a protest on New Year's Day, paving the way for another potentially major demonstration in the holiday period.
"The Chinese Communist Party told us that they would not change our way of living in 50 years, but … every aspect of our lives is under the control of the central authorities," R said as others shouted "reclaim Hong Kong" in the background.
Follow Eva on Twitter: @EvaSailEast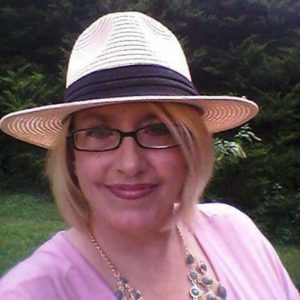 Citizen Journalist for C-VINE International News Network, Mother of two boys, Author, Public Relations Manager, Editor, Social Media Expert, and wife of a Professional Tennis Coach.