Democrats have said the release of the transcript won't slow down their impeachment push. Trump and his allies have said it vindicates them, noting it shows no "quid pro quo."
---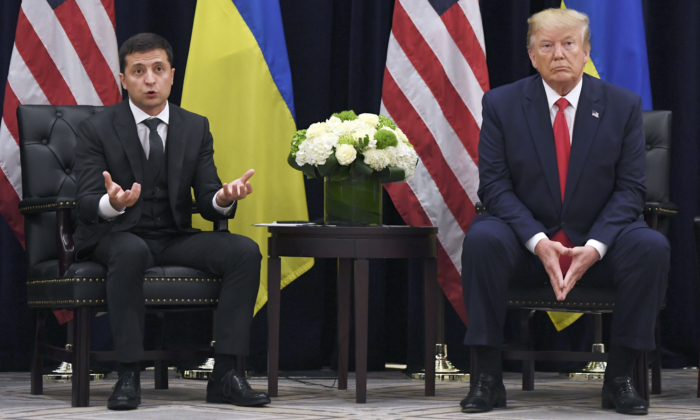 President Donald Trump and Ukrainian President Volodymyr Zelensky hold a meeting in New York on the sidelines of the United Nations General Assembly on Sept. 25, 2019. (Saul Loeb/AFP/Getty Images)
Ukrainian President on Call With Trump: 'It Was Normal, Nobody Pushed Me'
 September 25, 2019 Updated: September 25, 2019
Ukranian President 
Volodymyr Zelensky
 said on Sept. 25 that he didn't feel pressured by President Donald Trump during a phone call the two had in July.
The call has been the focus of an impeachment inquiry by Trump critics who say he acted untoward during the call by asking Zelensky to probe former Vice President Joe Biden for his role in getting a Ukranian prosecutor fired.
Biden bragged last year that he pressured then-Ukranian President Petro Poroshenko in 2016 into firing the prosecutor, who was probing Burisma. Biden's son Hunter Biden was on the board of Burisma from 2014 through 2019.
Speaking to reporters at the United Nations before a meeting with Trump, with the American president by his side, Zelensky said it was a "good phone call."
"I don't want to be involved to democratic open elections of USA [sic]," Zelensky said. "You heard that we had good phone call. It was normal. We spoke about many things. I think, and you read it, and nobody pushed me."
"No pressure," Trump added.
The transcript was released earlier Wednesday, a decision Trump said was cleared with Ukraine through Secretary of State Mike Pompeo.
Trump was set to have a 4 p.m. press conference at the U.N. headquarters in New York after meeting with Zelensky.
Democrats have said the release of the transcript won't slow down their impeachment push. Trump and his allies have said it vindicates them, noting it shows no "quid pro quo."
President Donald Trump and Ukrainian President Volodymyr Zelensky shake hands on the sidelines of the United Nations General Assembly in New York on Sept. 25, 2019. (Saul Loeb/AFP/Getty Images)
Ukranian officials have said since Saturday that the call between Trump and Zelensky didn't involve any pressure from Trump.
In an interview with media outlet Hromadske, Ukrainian Foreign Minister Vadym Prystaiko said: "I know what the conversation was about and I think there was no pressure. This conversation was long, friendly, and it touched on many questions, sometimes requiring serious answers."
Prystaiko added Ukraine is an independent state and would not take sides in U.S. politics even if "in theory" the country was in a position to do so. He added that Kiev appreciated the assistance it received from Washington.
Zelensky said earlier Wednesday that "nobody can put pressure on me because I am the president of an independent state."
"The only one person by the way who can put pressure on me … is my son, who is six years old," said Zelenskiy whose comments were broadcast by the Rossiya 24 channel.
Asked whether he would ask Trump for anything when they met, Zelenskiy said: "Asking for something is not Ukraine's style. It's a new strong country and isn't asking anyone for anything. We can help others ourselves."
Reuters contributed to this report.