September 21, 2020
C-VINE Was Advised We Were Being "RATED" by NewsGuard… the Mother of all Fact Checkers.
We Will in Turn, Research the History/Achievement and Credentials of the "Fact Checker".
This is all about transparency and truth in the news. We the People are hungry for honest reporting.
Many are curious about the fact checkers in Social Media, because they appear to be anonymous or hidden from view.
These are the people who judge, accuse and censor the news. They have the power of life or death, thrive or starve,  and It's time to open the doors to what it is about.
C-VINE received the following e-mail from a company called News Guard. Initial Investigations have shown News Guard has fact checked CNN and Epoch Times. We responded below the screenshot. Both are made available for your scrutiny, as will all additional dialogue.
---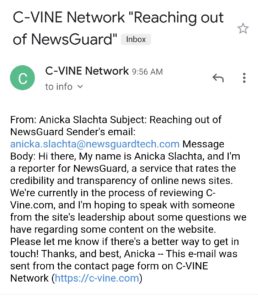 Hello Anicka,
We will be happy to answer your questions about some of C-Vine's articles, as we gladly do with anyone who asks.
Please feel free to list your questions in the response e-mail. It is important that you are specific about the article title and date. I will respond in writing for documentation purposes and a paper trail.
As for your introduction about who you are and work for… please clarify the following, from your note:
1) "I'm a reporter for NewsGuard" ~
Are you paid in some manner by NewsGuard, or a volunteer? Free Lance?
2) "NewsGuard, a service that rates the credibility and transparency of online news sites." ~
A service? A service is a business who is generally
paid. Who hired and paid NewsGuard for this service specifically? We will require an identity that can be fact checked.
3) "Rates the credibility and transparency of online news sites." ~
In order to "RATE" anyone's credibility, they better have proven credibility of their own.
I will need to know much more about your credentials and that of NewsGuard. Please send those over at your earliest convenience.
Be aware our C-VINE Team, has determined your answers are important for public awareness. They will need to see how your process works.
Social Media platform members have been concerned about "Fact Checker" lack of credibility. Hopefully that isn't the case with News Guard.
In fact and in all fairness… you should be aware of who you are talking too.
C-VINE was created specifically BECAUSE of rampant fake news. It was designed in such a way, that information from any source… is always vetted and researched before release.
No one is paid. NO ONE. Everyone is a volunteer. All funds donated, are to cover operating expenses or defray travel expenses if enough available. Many volunteers pay their own way.
Volunteers are highly skilled and trained, with years of experience in their area of expertise.
We are the workers who keep America running.
Retired Police Officers with Investigations background, Active Duty Officers, and Licensed Private Investigators, Licensed Investigative Journalists, Attorney's from various fields, CPA's, Book Keepers, Physician's of all types, College Professors, IT, Webmasters, Graphic Designers, Retired Managers of all types, etc. etc.
Also included are 31,000 volunteers from our Research and Study Group on Facebook where we work together to discuss and debate the news with proven source always provided for others to fact check. We have a strict list of Rules that are enforced to keep conversation cordial and honest.
We encourage diverse opinions and debate, as long as it is respectful.
C-VINE is not a business, it is a Charitable Trust.  There are no advertisements. We are not monetized in a significant way.
C-VINE was designed so no one can ever own, take over, or buy it out. No one will ever become rich as part of it. NO ONE will ever hijack information to be used for propaganda purposes again.
There are Checks and Balances in place to keep it this way.
There are an additional 24,000 members on You Tube who came originally to hear C-VINE report on the KSM et al Pre-trials they witness LIVE via cctv from Ft. Meade. A high security clearance officer from the DOD in charge of Media at GTMO works closely with us to make sure our reporting is accurate. Transcripts from the proceedings are provided to our readers to fact check. All our GTMO reporters had to go through DOD clearance.
But, the Pandemic canceled all proceedings at GTMO since February and it remains that way at present.
C-VINE is an acronym that stands for Community Voices ~ Investigations ~ News ~ Education, and is run by We the People.
We also believe in absolute transparency,  and since We the People are who form C-VINE, and are the leadership… your email and this response is available for their scutiny and on our News site for public education purposes.
We all will await your response and discuss accordingly.  If you like, we can interview each other on Zoom LIVE… for additional transparency.
Respectfully,
Recent generations are taught to believe what they are told without question.
Those who use their inherent Critical Thinking skills…are thinking for themselves, researching, fact checking and coming together for discussions with those who simply want to know the truth.
These are those who can now see clearly.
JOIN us 24/7 for a lively discussion on our C-VINE News Facebook Group about this and other News; https://www.facebook.com/groups/CvineNewsTalk
C-VINE is a Charitable Foundation. We are all volunteers, working hard to dig deep until the truth is found.
Linda Forsythe is a Volunteer Citizen Journalist. Patriot, Grandma, Reporter of the 9/11, KSM et al,  Pre-trial Tribunals from GTMO and Founder of C-VINE.You May Join Lively Discussions with other Members on the C-VINE Website Forum or on the Facebook GROUP Page here… https://www.facebook.com/groups/CvineNewsTalk/
We would be grateful for one time donations at: https://c-vine.com/donate-now/ OR become a Member of C-VINE for a regular monthly donation at: https://c-vine.com/membership-donation/