November 12, 2020
 Kari Donovan
The fallout between cable news viewers and Fox News has been going on for a few years but was escalated during the 4 years of President Trump's first administration, and came to a head on election day with what appears as highly orchestrated collusion with the Joe Biden campaign to give him a lead he did not deserve.
The Fox News Decision Desk was supposed to be above the political corruption that dominates cable news, yet in the end, after many promises to be fair, Fox News betrayed at least- over 73 Million voters with their partisan "calling" of states for Biden and ignoring states for President Donald J. Trump.
Bret Baier, an anchorman on the network, has shown his hostility many times toward Trump supporters. Toward the president, so many people expected his emotions about Trump and unfair coverage to taint his reporting. Now he has admitted he was wrong last Tuesday night when he broadcast a message from the highly faulty "Fox News Decision Desk."
"Democrats have clinched a majority in the House by reaching 218 seats," anchor Bret Baier announced on Special Report Wednesday evening.
NOTICE THE WORDING
A Newsman wants credit for predicting something- very obvious- right, after getting many things terribly wrong.
"There are still a handful of races undecided. On election night, the FOX News Decision Desk correctly predicted soon after 9:00 Eastern that Democrats would retain control of the House. But they also estimated Democrats would add about five seats to their majority," said Baier.
On Election eve when things were looking very strong for Trump to win the election in a huge landslide, Fox News and Baier were pivotal in drawing down enthusiasm with a series of calls, and at one point had the Democrats in a blow out, taking far more seats then they would later actually win.
It was the perfect set up and gave Biden the opportunity to go to the media to broadcast this victory, and then to start acting on his victory, further shaping public opinion that he had won.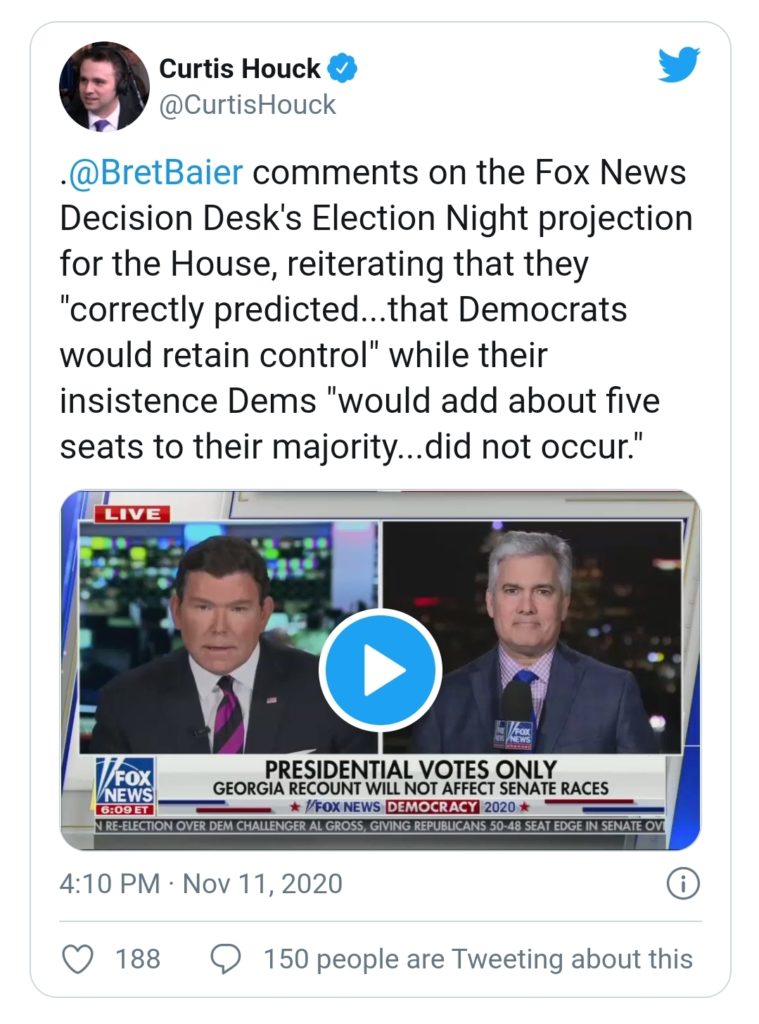 ---
Posted by Bonnie Nirgude'
C-VINE News Network
As a citizen journalist and investigative reporter, I am committed to accurately reporting the news. Wide awake, never asleep, I grew up in a 1960's patriotic household, aware of the truth behind the false narrative.