November 29, 2021 By Jack Phillips ~
Twitter CEO and co-founder Jack Dorsey is stepping down as the social media firm's chief executive, and Twitter CTO Parag Agrawal will succeed him as the firm's new CEO, effective immediately, according to the company.
"I've decided to leave Twitter because I believe the company is ready to move on from its founders. My trust in Parag as Twitter's CEO is deep. His work over the past 10 years has been transformational. I'm deeply grateful for his skill, heart, and soul. It's his time to lead," said Dorsey in a statement, who helped found the firm in 2006, that was released by the firm on Monday.
The San Francisco-based company's Board of Directors unanimously approved Agrawal, who has been with the firm for more than a decade, to become the company's new CEO, according to a Twitter news release.
Dorsey, who is also the CEO of payments firm Square, will remain a member of Twitter's Board of Directors until next year when his term expires, the firm said.
"I love twitter," Dorsey wrote on the social media platform late on Sunday ahead of the announcement.  He also posted an email that he sent to Twitter's employees about the departure.
"This was my decision and I own it," Dorsey wrote, adding that "it was a tough one for me."
Another executive, Bret Taylor, was named Twitter's new chairman of the board, while the previous chairman, Patrick Pichette, will stay on the board and will chair the Twitter Audit Committee, a news release said.
Bret Taylor was named the new Chairman of the Board, succeeding Patrick Pichette who will remain on the Board and continue to serve as chair of the Audit Committee. Agrawal has been with Twitter for more than a decade and has served as Chief Technology Officer since 2017.
Dorsey, 45, faced being ousted in 2020 when Twitter stakeholder Elliott Management attempted to replace him as Elliott founder Paul Singer had wondered whether Dorsey should run both Square and Twitter.
After helping found Twitter in 2006 with Noah Glass, Biz Stone, and Evan Williams, Dorsey was CEO of the firm until 2008 when he was pushed out of the role. He returned to become the company's CEO in 2015 after former CEO Dick Costolo stepped down.
But Dorsey also faced significant criticism from conservatives and free speech proponents for the platform's decision to ban former President Donald Trump in January 2021. At the time, Dorsey acknowledged that "this moment in time might call for this dynamic, but over the long term it will be destructive to the noble purpose and ideals of the open internet."
And for years, Dorsey has appeared alongside Facebook CEO Mark Zuckerberg and Google executives during televised congressional hearings in which elected officials asked about whether his platform was responsible for the spread of so-called "disinformation" or whether it actively is silencing viewpoints that are contrary to the mainstream.
On Monday, Twitter's stock rose by more than 4 percentage points following reports of Dorsey stepping down.
Walmart Veteran Biggs to Step Down as CFO Next Year
By Uday Sampath Kumar ~ Reuters
Walmart Inc. said on Monday longtime executive Brett Biggs will step down from his role as chief financial officer of the world's largest retailer next year.
Biggs, the finance chief since 2015, helped oversee a period of rapid change at Walmart as the brick-and-mortar retailer launched and expanded a number of initiatives to help fend off competition from Amazon.com Inc.
Walmart made its biggest overseas investment in 2018 with a $16 billion deal to buy a majority stake in Indian online marketplace Flipkart, and beefed up its U.S. e-commerce business through the purchase of apparel retailers Modcloth and Bonobos.
Monday's announcement came as a surprise to some analysts who had viewed Biggs as next in line for Walmart's top job.
"Bret Biggs was a candidate to ultimately succeed Doug McMillon as CEO, given his long tenure at the company and broad experience across business units and functions outside of finance," said Jason Benowitz, senior portfolio manager at Roosevelt Investment Group.
"However, we expect McMillon to serve many more years at the helm," Benowitz added.
Walmart's shares were down 1 percent in late morning trade.
Biggs had held several finance positions, including CFO of the company's international division and U.S. business, since joining the company in 2000.
Biggs will remain in the role until a successor is named next year, Walmart said, adding he will continue to represent the company as a board member of its fintech startup until January 2023.
The startup, a joint venture with investment firm Ribbit Capital, aims to develop financial products for Walmart's employees and customers.
Walmart said it was considering internal and external candidates to replace Biggs, as the company deals with surging labor and supply chain costs that have eaten into its profit margins.
C-VINE News Volunteer Citizen Journalists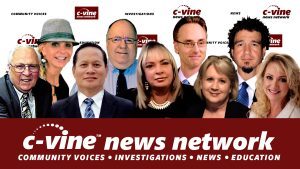 Please click and bookmark:
 C-VINE Social Media Channels 
 *C-VINE.Com, https://c-vine.com
*C-VINE-Telegram,  https://t.me/CVINENEWS
*C-VINE-MeWe, https://mewe.com/join/C-VINE
*C-VINE-Rumble,  https://rumble.com/user/CVINE
*C-VINE YouTube Channel,  https://www.youtube.com/c/CVINENewsNetwork/videos
*C-VINE Commentary & Analysis, https://www.facebook.com/groups/895771901163001/
*C-VINE Business Network,  https://www.facebook.com/groups/1242625425864710
*C-VINE Natural Health News Network, https://www.facebook.com/groups/cvinehealth
*C-VINE Patriot Prayer Brigade, https://www.facebook.com/groups/4826437259486216