­OPINION: This article may contain commentary which reflects the author's opinion.
The majority of the 9/11 pre-trial proceedings have been continually suspended or outright canceled after the January 2020 KSM et al proceedings, when the Defense Team laid out a laundry list of FBI/CIA shannigans.
Now three years later, the January 2023 Pre-trials are again Canceled.
Plea deals continue in Top Secret behind closed doors beyond public purview.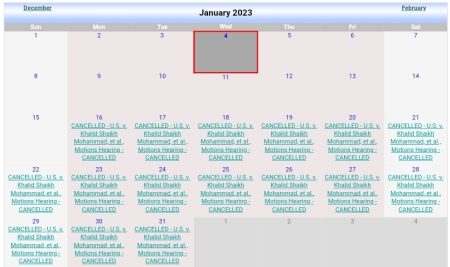 Carol Rosenberg of the New York Times states in a Twitter post;
"Sept. 11 case prosecutors are awaiting a Biden administration position on issues in ongoing discussions towards a plea agreement. The judge has ordered prosecutors to update him every two weeks.
Carol says, "My sources say the military judge just canceled the January 2023 pretrial hearing session in this case. Both defense and prosecution teams had supported delay. The next hearings are in March, although one defense team wants that one canceled too. #AE901B"
The goal has already been reported by the Biden Administration, to continue taking steps in closing GTMO down completely.
The Plea Deals remain classified in Closed Door proceedings.
The aggregious lack of transparency, stall tactics, postponements and the 20 year+ 911 pre-trial that will never make it to Tribunal, has many wondering if there will ever be justice.
---
News Stories Researched and Posted by our Team of Volunteer Citizen Journalists